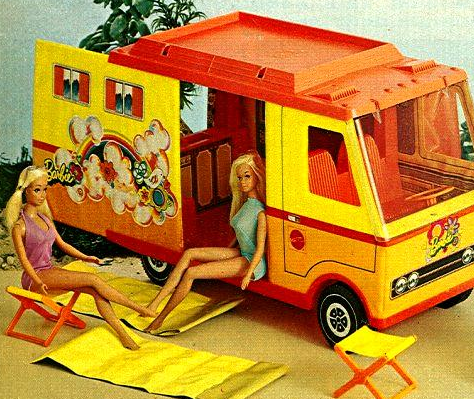 If you grew up in the 70's you might recall Barbie's Yellow & Orange (vinyl covered cardboard) RV looking camper. You may have even owned one. I remember mine and the hours of fun I had playing with my RV camper. Fast forward to 2017, and Barbie is living large. The hottest new toy for the Barbie brand this year is the Barbie Dream Camper. This hot pink camper is the ultimate Barbie doll destination and sure to be on many wish lists.
Simply press the button at the top of the vehicle to activate the pop-out feature that expands the set to more than 2 feet long. The open side becomes a pool with a water slide and stairs that fold out. Fill up the pool with water for added play value.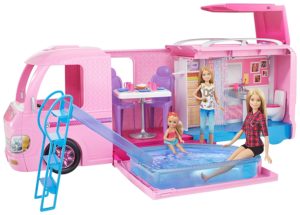 Inside the camper, there is a dining space with surprise pop-out table. A bathroom fills the back of the camper with a toilet with an open and closing lid, sink and shower with curtain. There is a full kitchen with stove-top, oven, and fridge on the opposite side. Both the refrigerator and stove have working doors.
Ready to sleep under the stars? The rooftop space of the camper doubles as a deck or use it as bunk beds. There are two hammocks, enough room for four dolls.
The camper comes with lots of accessories from pillows and blankets to dishes and marshmallows on sticks. The set also include a customized Barbie license plate, window stickers that offer a peek inside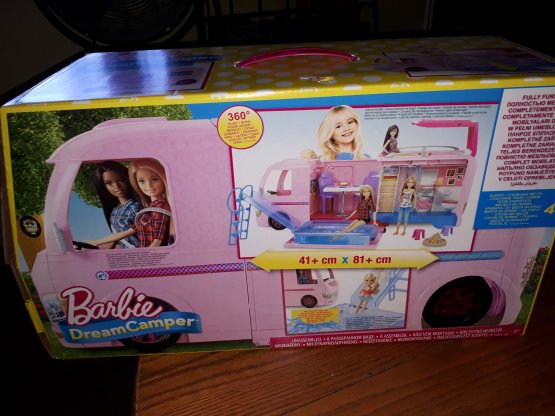 on the road, and more.
For young Barbie fans like my daughter, the different settings hidden within the Barbie Dream Camper are perfect for role-play. The dream camper will engage any child come Christmas morning, in hours of imaginative play as they take their Barbie dolls on all sorts of camping adventures.
While the Barbie Dream Camper does not include any dolls, Barbie Sis Campfire Doll from Mattel makes a great accessory to the camper.
The Barbie Dream Camper is already sold out online at Walmart  & Amazon.ca, so hurry fast.  At the time of this post Toys R Us has the camper on sale for just $79.95.
What are your memories growing up of Barbie?
About Mattel

Mattel is a creations company that inspires the wonder of childhood. Our mission is to be the recognized leader in play, learning and development worldwide. Mattel's portfolio of global consumer brands includes American Girl®, Barbie®, Fisher-Price®, Hot Wheels®, Monster High® and Thomas & Friends®, among many others. Mattel also creates a wealth of lines and products made in collaboration with leading entertainment and technology companies. With a global workforce of approximately 31,000 people, Mattel operates in 40 countries and territories and sells products in more than 150 nations. Visit us online at www.mattel.com.