Connects Chain Link Pieces are not only a great building toy, but a fun fashion accessory. If you are yet to hear about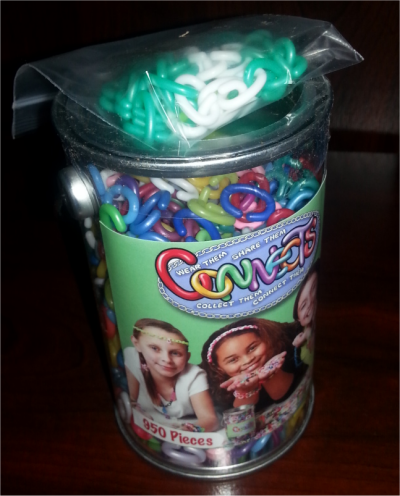 Connects, allow me to tell you about this wonderful new product that makes it super easy to make bracelets, necklaces, and more. Connects are small, chain link pieces that come in an array of colors. Children connect the pieces together to make endless patterns.  This is the perfect Christmas gift that will appeal to any child with an interest in arts, crafts or jewelry making.
The brainchild of Marcela Hollywood, Connects began when she was cleaning toys from the bathtub. Noticing a chain link piece she remembered all the fun her friends and her had playing with plastic chain links as a child. After some experimentation, Connects was born as a compliant set of link-able accessories.
Fathom Company provides children with an affordable and portable toy product that is great for hand-eye coordination, hand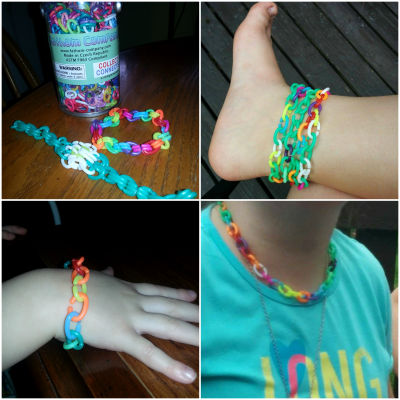 strengthening, solving/cognitive skills, finger dexterity, as well as assist children in gaining knowledge of color combinations and pattern design.
So as you see, Connects not only promote creativity, but they are fun and educational! too.
Parents, Connects are not just for girls, boys will have fun playing with these small, multi-colored chain links too.
Make a colorful bracelet with just 18 connects. Sets of 200 will give enough Connects for 10+ simple bracelets. The tall pail includes over 900 pieces and will make up to 50 bracelets.
Use Connects to create accessories  for backpacks and purses,  to make a layard for ones keys, necklaces, headbands, a belt, hair accessory or incorporate them into pretend play. The building toy comes with no instructions. Therefore, parents can encourage their child to be creative and make whatever they want.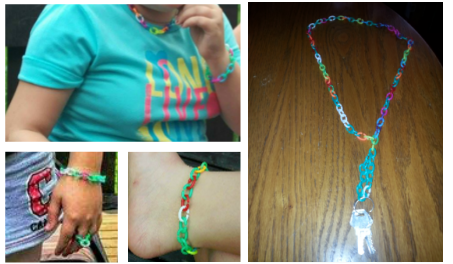 Connects have become my neighbor's granddaughter's new fashion craze. She has spent hours making bracelets, rings, and necklaces. The building toy really does offer open ended play.
Are you looking for gift ideas for creative kids this holiday season – then Connects Chain Link Pieces are perfect!
Please keep Connects away from young children. The the links are very tiny and can easily be swallowed.
Connects are available to purchase exclusively at fathom-company.com .
Purchase via Amazon.com or Amazon.ca.