Have you started your Christmas shopping? This upcoming holiday season, why not choose a gift that challenges and inspires. Jigsaw puzzles make great gifts, as they combine fun with education. Puzzles continue to capture the attention of young and old, even in this technological age- where a great time is spent looking at a screen.
Ravensburger have been making some of the most diverse, puzzles anyone has ever put together and they continue to renew and create ever more sophisticated ones each year.
From a detailed and colorful 300 piece jigsaw puzzle featuring all their favorite characters from the popular film – Disney Frozen to a stunning replica of a traditional lighthouse with working signal lights powered by two LEDs that pulsate when the sun goes down, Ravensburger, offers a huge selection of puzzles for the whole family to enjoy.
Ring in the spirit of the holidays with one of Ravensburger's holiday theme Christmas jigsaw puzzles. It is the perfect activity to bring the family together while you enjoy some hot chocolate and homemade shortbread cookies, hot from the oven.

Designed for children aged 3 and older, this cute and colorful Ravensburger puzzle is ideal for little puzzlers to familiarize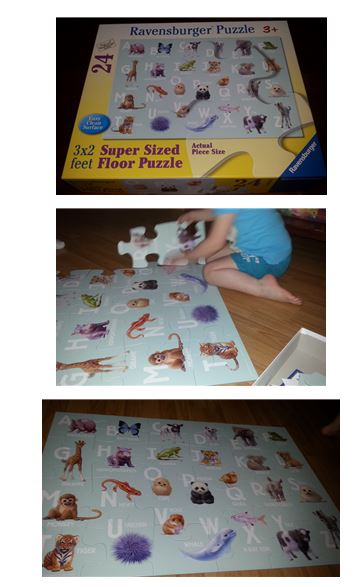 themselves with letters and animals. The puzzle has 24 colorful jumbo-sized thick pieces that are simple for little hands to grasp and place. The pieces are all interlocking and fit together tightly.
I worked on the puzzle with my daughter who is 32 months old. She did need some assistant finding which piece of the puzzle went wear, but with practice she'll be able to do it without help in no time.
In addition to puzzles, Ravensburger also offers an extensive assortment of games.
You can feel confident about buying Ravensburger products, knowing that everything they make is not only fun and educational, but crafted from the highest quality materials as well.
With a rich history and stellar reputation for built-to-last products, it only makes sense to shop a name you know and can trust- shop Ravensburger.
Ravensburger Jigsaw Puzzles are sold at national retail chains and specialty toy stores, including Toys 'R Us, as well as on Amazon.com. Readers also may visit Ravensburger.com.