Halloween is just a few weeks away and my daughter has been having fun making some easy preschool Halloween crafts to decorate the house with. She has been putting her craft supplies from International Arrivals to good use this past week.
Preschool Halloween Crafts
Here are a few Preschool Halloween crafts that you can do with your child(ren).
Bat Toilet Paper Roll Craft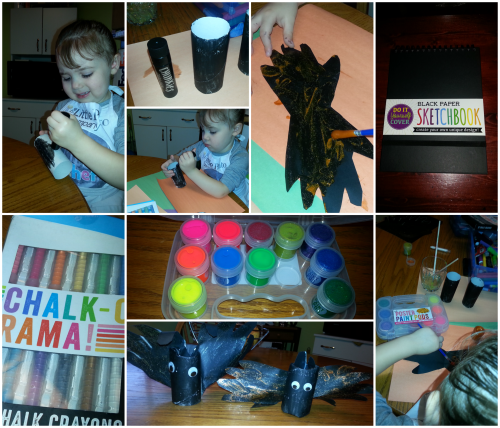 We made a fun toilet paper roll bat for a Halloween craft this year! It's pretty simple to make and you can hang them up for some Halloween decorations.
For our bats we used:
Toilet paper roll
Double sided tape
Googly eyes
Chunkies Washable Paint Sticks ( black paint stick)
black paper sketchbooks
Chalk-O-Rama Dustless Chalk Crayons
lil' Poster Paint Pods – Glitter and Neon
Start by folding the ends in on the empty toilet paper roll. Paint the toilet paper roll black.
Fold the paper in half and trace your child's hand on the paper with white chalk.  We used Chalk-O-Rama Dustless Chalk Crayons. I love that these chalk crayons work on almost any surface. They also work well to decorate pumpkins.
Next, cut out the hands to make wings. We decided to paint our black wings using  lil' Poster Paint Pods from International Arrivals.  I love glitter, but it can be so messy to work with. The Glitter paint is really nice and does not come with all the mess of regular craft glitter.
lil' Poster Paint Pods are washable, so kids can paint freely with no worries about it staining things.  I also love the variety of colors offered in the set. Lil' Paint Pods Poster paints come with 6 vibrant Neon colors, 6 Glitter colors, a paintbrush and a handy travel case.
When you are finished with the hand wings, glue the hands onto the painted toilet paper role. We used two sided tape instead of glue. For finishing touches, stick on two googly eyes! We purchased ours at Dollarama.
My daughter used a black paint stick from her set of Chunkies Paint Sticks to paint her toilet roll.
Toilet Paper Roll Pumpkin Stamp Craft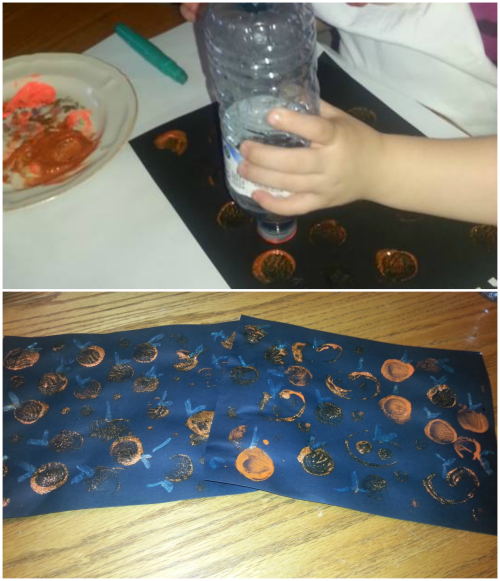 Here's a simple pumpkin craft for toddlers and preschoolers to make for Halloween.
Have the kids dip a toilet paper roll into some orange paint and make little circles unto the black paper.  Pinch the roll just a little bit to make a heart-ish shape.  Next, take a small paintbrush and add a stem/leaf with paint or you can use "Sparkle Watercolor Gel Crayons" like we did. You can also use the cap of a water bottle to make smaller pumpkins. With the watercolor gel crayons, you can use them as a crayon (dry) or you can add colour to your page and then 'activate' the paint with some water and a paintbrush. I prefer the crayons when used dry as apposed to when you add water to them.
Materials:
Orange paint ( We used Lil' Paint Pods Poster paints )
Sparkle Watercolor Gel Crayons
Water bottle
Paintbrush
Black paper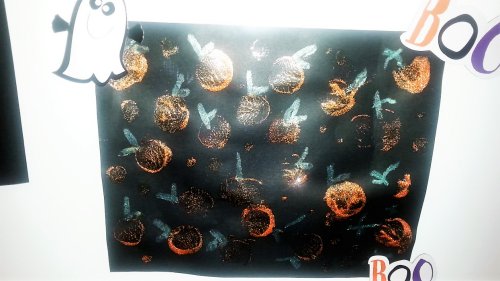 No-Carve Pumpkin Decorating Ideas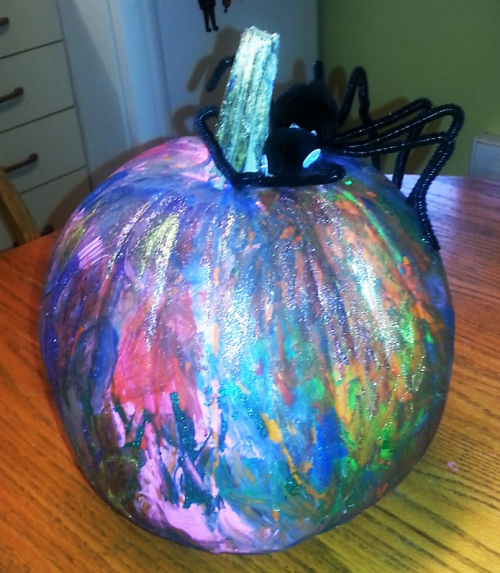 If you're crafting with children and want to keep the mess to a minimum I recommend Chunkies Paint Sticks. My daughter used he paint sticks, last year and this year to paint her pumpkin.
Chunkies Paint Sticks are a mess free paint in a solid stick form that draws smoothly over paper without the need of brushes or water. They're easy to use, quick drying and portable, making them perfect for little hands! Each pack includes 12 different vibrant colors. We love them at our house.
Halloween is not only a fun time for kids as they dress up and embark on their trick or treat ventures, but is also an excellent time for them to express their creativity. I hope your little ones have as much fun with these preschool Halloween crafts as my daughter did.
This pumpkin was made using an unfinished wood pumpkin cutout. We purchased ours from the dollar-store, but you can find several on Amazon.com. My daughter painted it using Lil' Paint Pods Poster sparkle paint.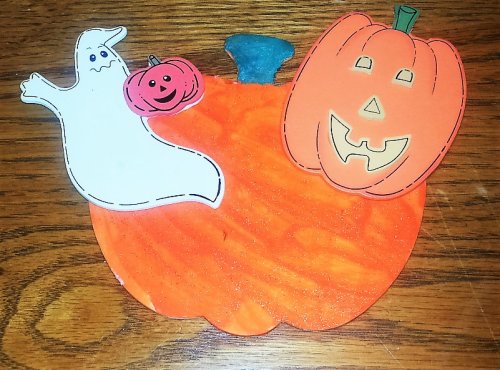 Footprint Ghost Craft
Make these adorable footprint ghosts with your kiddos this Halloween!
Spread white washable paint in a thin layer in a plastic container and have your child dip their foot in.  Help them roll their foot inward to get paint on their instep as well. Next, have them step on a black piece of card stock paper. I used a sheet from my black paper sketchbook. The sketchbook has come in handy for a number of our Halloween crafts. Let paint dry and add googly eyes or paint on eyes.
Be sure to check out: 21 Preschoolers Halloween Crafts.
What are your favorite Halloween Crafts for Kids?