Kingston, Ontario is a premier Canadian destination for travelers and summer is the perfect time of year to plan a vacation to the Limestone City. Offering something for everyone, visitors to Kingston will find themselves impressed with all that the city has to offer. Whether dining at one of the fabulous restaurants,  enjoying sorbetto at Mio Gelato, taking the kids to Playtrium,  strolling through Confederation Park, catching a sunset ceremony at Old Fort Henry, or walking the downtown streets, Kingston, Ontario will never cease to amaze you.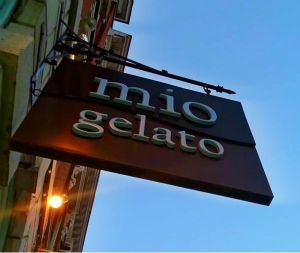 Summer is undoubtedly the busiest season for events and festivals in the city of Kingston. The area boasts many special events during the summer from the annual Kingston Buskers Rendezvous in July to the Limestone City Blues Festival in August. For one day in July, Princess Street, from Division to Ontario, becomes a pedestrian-only zone.  Retailers, restaurants, and other Promenade participants offer activities throughout this day-long event. Past years have seen Princess Street packed with everything from climbing walls to bouncy castles, caricature artists, live music, and expanded patios!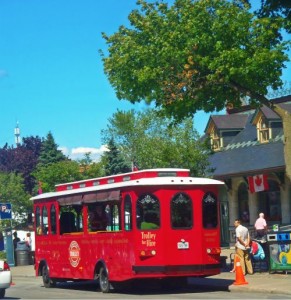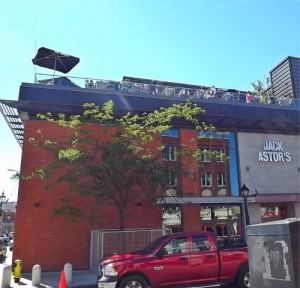 Take in the sites of historic Kingston, aboard a fleet of three comfortable thirty-two passenger trolleys. It's the ideal way to enjoy Kingston's history and attractions. During the summer the trolley makes six stops in the heart of the most popular visitor destinations, including Fort Henry, the Penitentiary Museum, and Queen's University.
Kingston 1000 Islands Boat Cruises offers a variety of 1000 Islands sightseeing cruises several times daily boarding at the city wharf at 1 Brock St within walking distance of Delta Hotel. Leave your car parked at the hotel and enjoy a 3-hour cruise through the heart of the 1000 islands.  (1000islandscruises.ca)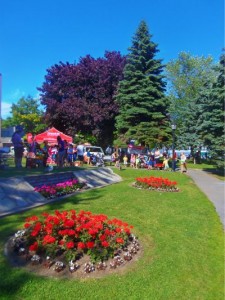 Every other week, kids big and small can flock to Market Square at dusk to enjoy an outdoor cinematic experience complete with various goodies from the concession stand. Check out the full schedule for what will be screening throughout the remainder of the summer at downtownkingston.ca.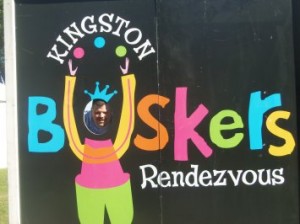 The Haunted Walk is Kingston's most popular walking tour company. Choose between the Original Haunted Walk of Kingston through the streets of the limestone city, or Ghosts of the Fort which explores the haunting at Old Fort Henry. (hauntedwalk.com)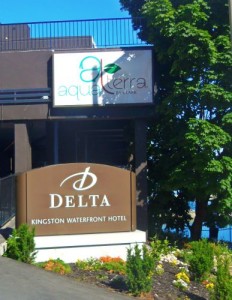 If you are looking for a hotel in the heart of downtown Kingston,  Delta Kingston Waterfront Hotel will not disappoint. Previously owned and operated by Diamond Hotels and the Springer family since 1996, Delta Kingston underwent an extensive $10 million renovation to completely revamp the property in 2013.
A boutique-style hotel situated on beautiful Confederation Harbour, Delta Kingston Waterfront Hotel is also situated near a number of entertainment venues.  The hotel is a ten-minute walk to Kingston's K-Rock Centre, a premier sports and entertainment facility. Previous shows at K-Rock have included Elton John, Bryan Adams, and Cirque du Soleil.
The actual hotel entrance is directly inside the covered parking lot, but well lit. Self-parking costs CAD 18.00 per day with in/out privileges. Delta Hotel amenities include an indoor pool, hot tub, business Centre, Fitness Centre, and on-site dining options.
Though a business hotel, Delta Kingston Waterfront Hotel loves children.  Upon check-in, our daughter received an age-specific "Kids' Essentials" kit, which is given to all children from infant to age 7.  Playpens are also available from the Front Desk. We were offered a playpen but had brought our own.  The front desk staff were very friendly and welcoming and check-in was quick and efficient. Delta Kingston Hotel helps you lighten your load by providing luggage carts for your convince and a concierge to help you with your bags.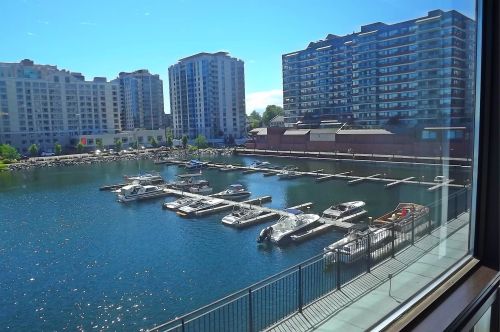 Guest rooms are offered in three categories – Mode, ModeDeluxe, and ModeSuites. We recently stayed in a ModeDeluxe Room on the 2nd floor. Our suite had a nice view of the Marina and the waterfront.
As soon as we entered our hotel room, we access in immediate danger. Staying in a hotel is part of the family vacation fun. However, just like at home, it's important to prepare your surroundings for the safety of the little vacation-goers. We didn't need to childproof the room at all, as chords were out of reach and lamps were built into the headboards.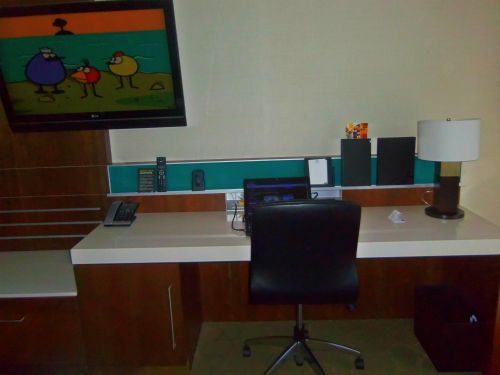 The non-smoking room was furnished with modern décor and adaptable technology features aimed at today's connected travelers. The stylish rooms feature a king-size bed, pull-out sofa, flat-screen TV, a refrigerator, and a sitting area.  The room also has a SmartDesk, a fully-wired, multi-purpose area with clutter-free space, built-in power, a connectivity dock, and links for my laptop and other mobile devices.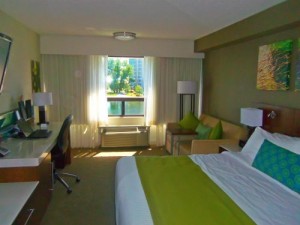 From pinpoint reading lights in the headboard to custom bathroom vanities that leave lots of space for our belongings, to bedside plug-ins for our cellphones, the room provided a sense of comfort though I may be too attached to my bed at home. The bed in the room was a tad too soft and the pillows on the bed you sunk right into were too low with no support to the neck. Advice: Bring your own pillows. The bed comes with down comforters and Egyptian cotton sheets, which were very comfortable, though the bleach used to launder the sheets was a little overpowering.  Although there was no tub in the bathroom, there was a huge shower,  and although our daughter only takes a bath she had no problem adjusting to the shower.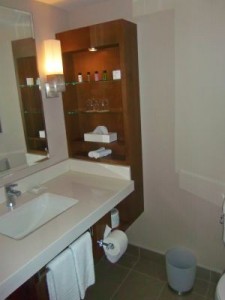 Amenities in the room are limited to other hotels we have stayed at. Amenities include soap, body wash, shampoo, and skin creams. A coffee maker with complimentary tea and coffee is also offered. Leave your hair dryer at home as the hotel provides you with one, and it is not attached to the wall, which is a nice change. The ModeSuites rooms offer upgraded services and amenities including turn-down service.
The walls in the room are rather thin and during the evening we unfortunately had some loud neighbors who had checked in on a business trip,  but our disadvantage was remedied the next day upon checkout. The front desk clerk waved our parking fee, which was a nice surprise.
If going for an extended stay, pack as light as you care to. The hotel offers laundry facilities right in the hotel.
The onsite restaurant, AquaTerra by Clark offers beautiful panoramic waterfront views. Recommended in "Where to Eat in Canada," AquaTerra features regional dishes and a vast selection of local Canadian and international wines.  Upon looking at the menu we did find the restaurant to be a bit pricey, but the typical prices you pay for an up-skill dining experience. Children 6 and under do eat free from the children's menu.
You can also enjoy selections from the AquaTerra by Clark menu in the privacy of your hotel room.  The in-room dining menu offers a full range of dining services for your convenience. Menu items, reservations, and more information about AquaTerra can be found at www.aquaterrabyclark.com and you can follow AquaTerra on Twitter @AquaTerraYGK or on facebook.com/aquaterrakingston.
We didn't dine at the AquaTerra but instead drove to Kingston's Denny's, which is a great place to dine with an active toddler. Their kid's menu offers plenty of delicious all-day options like Mac & Cheese or you can order a side of bananas, goldfish crackers, or yogurt.
Kingston has a variety of options from fine restaurants to recognized eateries like Lone Star that despite outdoor reservations, was a hopping place. Serving Thai & Cambodian food, Apsara Angkor Cuisine appeared to be a very popular spot for locals and travelers.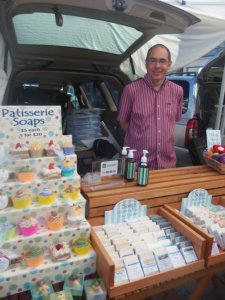 Located directly behind city hall and a 4 min walk from Delta Kingston Waterfront Hotel the Kingston Public Market is worth visiting. Many local farms are represented here, as well as many local artisans, like Kingston Soap Company.
Robert offers a wide variety of all-natural, hand-crafted, environmentally friendly soap and cosmetic products. I couldn't resist purchasing one of Robert's soaps. Be sure to drop by the market and say hello to Robert or give him a shout-out on Twitter ( @kingstonsoap).
Through the spring, summer, and fall the Farmer's Market operates Tuesday, Thursday, Saturday & Holiday Mondays from 6:00 am to 6:00 pm. The Antique Market operates every Sunday.
With so many reasons to stay and play in Kingston during the summer, it' was hard to return home.
Be sure to sign up for Delta Privilege loyalty program.  The more you stay, the more you enjoy, including credits that can be used towards dining, room, and meeting room charges, plus room upgrades and exclusive partner benefits.
How would you like the chance to win a $100 Starbucks gift card? Check into any @DeltaHotelsLtd on @Foursquare and share it via Twitter. You could win a @StarbucksCanada coffee at Delta Hotels. Don't forget to use the hashtag #ExpectEvenMore.
Stay with Delta Kingston or any Delta location across Canada from now until September 1 and get up to 25% off per stay and 10x the Aeroplan® Miles.
About Delta Hotels and Resorts
A leading Canadian hotel management company, Delta Hotels, and Resorts operates and franchises a diversified portfolio with 39 full-service, city center and airport hotels and resorts under the Delta brand. Widely regarded as Canada's "brand of choice" by guests and owners, Delta also distinguishes itself as an exemplary employer. It is the only hotel company to have been recognized for its sustained focus on business excellence by the prestigious Excellence Canada with three Canada Awards for Excellence, including the award program's highest honor, the Order of Excellence (2007). The hospitality company has also consistently ranked as one of the country's 50 Best Employers for 13 years and has been named to the Green 30 since 2010. As well, as its national sustainability program, Delta Greens is the most comprehensive and ambitious in the hospitality industry touching on every aspect of the hotel business. Delta's Corporate Social Responsibility platform, Delta Helps, includes a chain-wide commitment to the communities it serves through a national partnership with Habitat for Humanity Canada, participation in the Hotel Association of Canada's Green Key Eco-Rating program, and work with various other charitable groups. Delta Hotels and Resorts is privately owned by the British Columbia Investment Management Corporation. For more information, please visit www.deltahotels.com