By Tanya K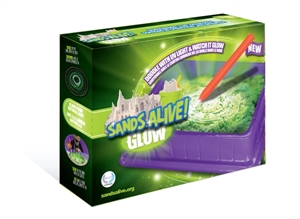 Following the remarkable success of Sands Alive, Incredible Novelties Inc. has introduced Sands Alive! Glow – the original playful sand with an added customizable glow feature!
My seven year old daughter and I had a magical time experimenting and playing with the Glow Sands Alive kit.
The kit included a bag of Sands Alive 'sand', a plastic container to empty the sand in, UV light glasses, and a special designing 'tool'. The glasses and the special tool also included the batteries, which of course makes life simpler. So often you purchase an item that requires batteries, bring it home, open it up, only to realize that you don't have the right size of batteries.  Which results in another trip to the store, more money spent and a disappointed child that wants to start playing right away. Good job Incredible Novelties Inc. on including all the batteries needed.
The kit was  super easy to set up.. You simply pour the Sands Alive sand into the container and wait. The instructions advise to let the sand sit for at

least a couple of hours to allow for the air to activate the glowing feature in the sand. We actually started playing with it right away though. The texture of the sand was soft, silky, and slightly sticky. The sand did not readily stick to your hands or leave any messy residue on your hands. I was pleased with this, simply for ease of cleanup. We molded and sculpted the sand into castles, faces, and abstract art-like creations.
Once we played for a bit we decided to give the UV glasses and special glow tool a try. This was incredibly exciting for both my daughter and myself. When the glow tool made contact with the sand, the sand glowed in a purple hue. Even without theUV glasses, where the tool was used, it was glowing purple. This was such a neat chemical reaction. We continued to sculpt and mold the sand. Once you drew on the sand with the special tool and placed the UV glasses on, it brought the change to a whole new level. The colour was so vibrant. It was like the sand was illuminating in the dark.
We have actually left the Sands Alive in the container on the desk for quite some time and periodically play with it and create a sculpture for the week. There is no mess and no fuss. We have had so much fun playing and creating with our Glow Sands Alive kit and plan on creating many more sculptures and castles in time to come.
Sands Alive! Glow is recommended for ages 3+ and is available at most major retailers.
Have you tried Sand Alive?
Check out the latest Sands Alive! contest with Disney Jr. Don't forget to enter for your chance to win