I recently had the pleasure of trying the 'Blooming Collection' of nail art pens by 'Be Me'. I am the furthest from a professional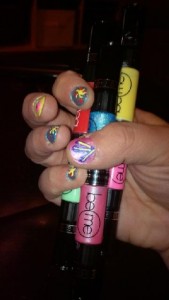 nail technician, but I certainly enjoy painting both mine and my daughter's nail. I always try to be as creative as I can be when adding nail polish. In the past I have actually used a wooden kitchen skewer to draw intricate designs on our nails by dipping the pointed end in the nail polish and then drawing on the nail. The 'Blooming Collection' of nail art pens takes my creativity to the next level and are much easier than my previously chosen method.
The 'Blooming Collection' contains a wonderful assortment of bright spring colours. There are three other collections available in the nail art pens by 'Be Me'; the Harvest Collection, The Breezy Collection and the Festive Collection. I prefer the colours available in the Blooming Collection, as this set contains both shimmering colours as well as solid colours.
Included with the set is an information pamphlet. The information pamphlet has detailed instructions for the basic use of the nail art pens, as well as a step by step guide of nail art designs. The guide includes basic designs that even a novice nail painter could carry out to advanced designs that most people could achieve with a bit of practice.
The set included eight colours, which twist together in sets of two, creating a set of four nail art pens with a different colour at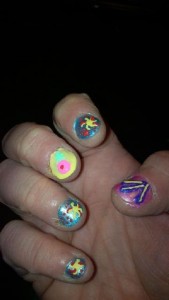 each end.
The polish was quite easy to apply and went on very smoothly. The polish also dried quickly. I am always pleased when a polish dries quickly, as most of the time I deter from painting my nails, merely because I do not have enough time to allow for long drying polishes.
Initially the pen part of the polish was difficult to open, but with my continued usage it became much easier. To use the pen portion you simply squeeze the nail polish bottle, which is made of plastic, to force the polish out the tiny tip. A small amount of polish comes out of the tip and with that you 'write' or design on the nail. There is not a lot of pressure required to force the polish out of the pen. My seven year old daughter was able to use these pens with ease. Once finished with the pen, the lid is replaced by just pushing back on.
I was also impressed with the overall quality of the nail polish. This polish stood the test of time and stayed on the nails for an extended period.
My daughter and I had so much fun painting and creating many designs on our nails. Overall, I am incredibly impressed with the Nail Art Pens by 'Be Me'. We look forward to more creating and expanding on our nail designing techniques. I am thinking that the purchase of another set is in order.