Nothing cools down summer like exciting water toys. The leader in innovative water play since 1989, the Nerf Super Soaker brand brings you two new blasters-just in time for your summer water battles.
Only 17 inches long, this super soaker is light weight, and easy to use. Able to cover a distance of 38 feet, Nerf Super Soaker FlashFlood Blaster is sure to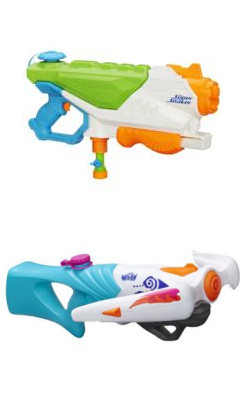 leave your opponent wet. It has 2 separate nozzles, one for a Flood Strike which is like a bucket of water being thrown at you and one for a Flash Strike which is a pump-action.
The blaster has a holding capacity of 23 ounces of water. The cap is easy to remove and the blaster is easy to fill. Be warned though with this much power, you do go through water pretty fast. Whether you're up close and personal or attacking at a distance, the FlashFlood blaster will have you covered this summer.
Like the 2014 Nerf Super Soaker Tri Strike Crossbow, Nerf Rebelle Super Soaker Tri Threat Blaster is a pump-action water blaster crossbow that shoots from each end of the blaster's crossbow arms, with a third stream blasting from the center barrel. This is something quite unique that you don't see in other blasters.
It holds 25 ounces of water and covers a distance of 35 feet. The large opening makes it super easy to fill, which unfortunately occurs often due to three times the water being used at once.
With Super Soaker toys, kids of all ages can get together and head outdoors to unleash maximum soakage.
Both soakers reviewed here are recommended for ages 6 and up. Enough said; now let's get out there and have some fun.
Tell us, what blaster will you be using?
About Hasbro
Hasbro, Inc. (NYSE:HAS) is a worldwide leader in children's and family leisure time products and services with a rich portfolio of brands and entertainment properties that provides some of the highest quality and most recognizable play and recreational experiences in the world. As a brand-driven, consumer-focused global company, Hasbro brings to market a range of toys, games and licensed products, from traditional to high-tech and digital, under such powerful brand names as TRANSFORMERS, PLAYSKOOL, TONKA, MILTON BRADLEY, PARKER BROTHERS, CRANIUM and WIZARDS OF THE COAST. Come see how we inspire play through our brands at http://www.hasbro.com.