Toddlers and children have long been drawn to make believe and a kitchen set is a great way to encourage imagination. There
are several types of play kitchen sets on the market. One of the best, in terms of craftsmanship, is the Kidkraft play kitchens.
Available in a number of styles (including vintage, grand gourmet, uptown Espresso and ultimate chef), Kidkraft play kitchen sets are some of the most popular around.
Kidkraft Vintage Kitchen
The Kidkraft Vintage Kitchen is on the top of the list of best children's play kitchen for both girls and boys. My daughter owns the KidKraft Pink Vintage Kitchen, which is simply adorable.
It comes in red, pink and white. This is a reproduction of the classic wooden kitchens that were popular in the 1950s and 1960s.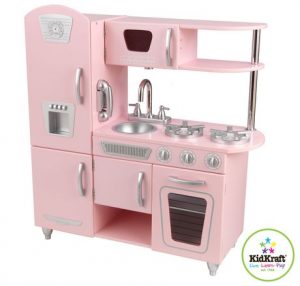 Made from a wood composite material, this is one of the strongest kids wooden play sets we have ever seen. Chances are regardless of endless daily play, this kitchen will be around for some time to be passed down in the family for other children to enjoy.
Compact yet full-featured, parents will appreciate the size and extraordinary value of this kitchen set.
Also the realistic look of the kitchen makes it perfect for hours of imaginative play. All of the doors on the microwave, refrigerator, and stove open and close. All the knobs on the sink and oven also turn.
There is additional storage space above and below the sink for play food, pots and pans, and utensils – which is something you do not get with most toy kitchens. The sink has decent depth, so children can actually wash dishes and cutlery. Parents will appreciate the sink is removable, which makes clean up super quick and easy.
The instructions to put it together are very clear, and it was rather easy to assemble. It took my son and husband about 2 hours to assemble. Building this "play" kitchen was like putting together cabinets, but once built we were all in love!
If you are shopping for a cute and interactive kitchen play set, then the 'Vintage Kitchen' by Kidkraft is the right toy kitchen for your child.
KidKraft Gracie Kitchen
My niece, owns the "KidKraft Gracie Kitchen." Measuring 25.39L x 12.8W x 36.81H in, the play kitchen is smaller in size than the KidKraft Pink Vintage Kitchen, and yet big enough for both toddlers and preschoolers to enjoy.
The kitchen features storage space, both above and under the sink for for play food, pots and pans, and utensils. And like the KidKraft Pink Vintage Kitchen, the sink lifts out for easy cleaning. The oven, microwave, and European-style mini-fridge have doors, which open and close. The oven knobs even click when you turn them.
Parents will appreciate that the play kitchen doesn't take up a lot of room, so it is perfect for small spaces.

My only complaint is, I do wish the burners were more realistic on the "KidKraft Gracie Kitchen."
Assembly takes about two hours, so you will want to plan accordingly, but the instructions for assembly are pretty straight forward.
Play kitchens are a great starting point for group play. Both Kitchens are big enough for two children to play at once, so it is great for families with multiple children. Together children can work together to put on their own dinner.
I am also pleased that each Kidkraft kitchen comes with a wall anchor kit.
If you plan on giving either of these KidKraft play kitchens as a birthday gift, you might want to set them up first and give it completely assembled
KidKraft play kitchens
Might I add that purchasing a play kitchen is not only for girls, young boys love playing chef also. For parents of boys looking for a neutral color, the red Vintage Kitchen might be a wise choice.
Looking for a kitchen play set that can be played by more than one child or can be played with by both boy and girl, then I recommend the Kidkraft Uptown Espresso Kitchen or Junior Chef's Kitchen. Kids will love the the pretend ice machine on the Uptown Espresso Kitchen refrigerator.
If you are looking for a larger Kitchen for older children, might we recommend KidKraft Large Kitchen. The size is perfect for older kids and the color scheme is suitable for both boys and girls.
Will you be buying a play kitchen set this year?
If you are still undecided – check out the full range of toy kitchens available at KidKraft KidKraft.com.