I love sensory play as it allows kids to explore freely. Sensory play also supports cognitive growth, problem-solving skills, fine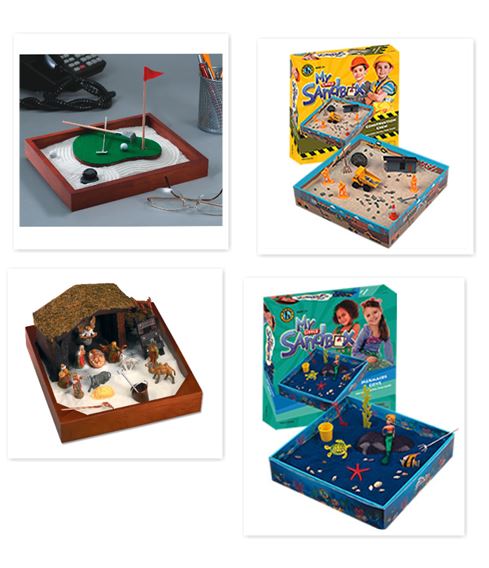 and gross motor skills, language development, and social interaction.
There are many sensory activities. My daughter's favorite is anything to do with water. Over the summer my daughter had loads of fun with her new water table. We actually owned two- though at the end of summer, we gave our "Kidoozie Pirate Ship Sand & Water Table" to my niece.
My daughter has been known to spend up to an hour straight playing with her water-only table. At preschool, the water table is her go-to item. I swear my daughter just can't get enough water play!
Now that fall is here I was desperately searching for some fun sensory activities to enjoy indoors. That was when I stumbled upon the "Be Good Company," which carries a number of different miniature sandbox play sets for kids ages 3 & up.
Mom, Dad, grandparents, you will want to add a "My Little Sandbox" to your Christmas gift-giving list. I'm sure that these fun little kits must be on a holiday top toy list somewhere.  And now that Thanksgiving is over in Canada. I know many of you will be starting your Christmas shopping if you haven't already.
These are so much fun that "Be Good Company" even carries kits for teens and adults- a zen garden- your own little place of peace, to be kept right on your desk.
We own Mermaid's Cove, which like the other sets the "Be Good Company" carries, includes all the items you need to build your own table-top-themed sensory play area. While the set comes with a 20″ x 20″ play mat, I recommend taking a plastic tablecloth or even newspaper and covering the table. You can also add other some small rubber or plastic animals you would find in the ocean.
This sensory set took a very short time to put together and yet kept my daughter entertained for over 35 minutes- until mommy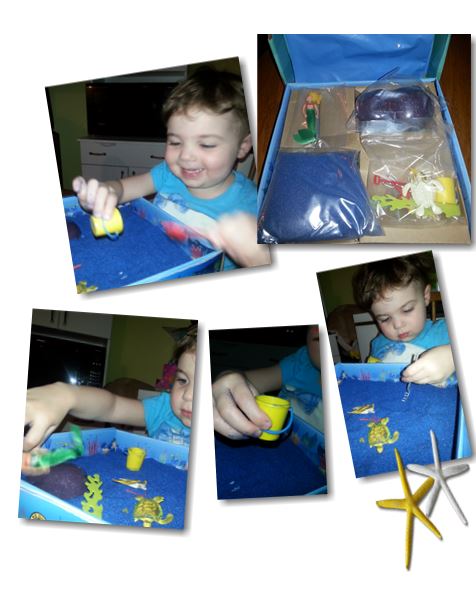 said it was time to clean up.
Normally, my daughter mostly just like to scoop and pour with sensory materials such as water and sand, but with "My Little Sandbox Mermaid's Cove" she actually used the miniature items to act out scenes. Because children learn best by having "hands-on" experiences with materials, sensory experiences like "My Little Sandbox" from the "Be Good Company" are vital to young children's learning.
As she played we took time to look at the various objects included and the set- such as the curious mermaid, a glittery ocean rock, and an ocean friend's turtle and fish. We talk about the color of the sand, and how the sand felt. Such questions help young children like my daughter develop their vocabulary. As she manipulates the materials, she also learns to understand concepts such as more and less, full and empty.
"My Little Sandbox" is a great indoor play item for the winter months when children don't have access to outdoor sand tables and sandboxes. If you don't want to use the sand included, you can use colored rice. Making colored rice is a really easy activity. See "Coloured Rice for Sensory Play."
Messy fun- that's what sensory experiences are made of!
For a 3-year-old, My Little Sandbox might be messy, but isn't that all a part of the learning fun? I will admit the first few times playing, Mermaid's Cove made for quite an interesting messy play experience and my daughter did not know quite what to think about the blue sand on her hands!
As with any sensory play, remain close by for appropriate supervision. "My Little Sandbox Mermaid's Cove" does contain small pieces that may not be suitable for young children. We didn't use the shells that came with the set as this mom believes they were much too small for a 3-year-old- even with supervision.
My Little Sandbox Mermaid's Cove and other "My Little Sandbox" sets can be purchased via Amazon.
Website: begoodcompany.com
What is your favorite sensory activity and what do you think of these miniature sandboxes from the "Be Good Company?"