I love the idea of giving a gift to a child that involves quality time together, discovery, and maybe even a little learning! The following Christmas gift idea offers just that.
Winner of "Dr. Toy's Best Vacation Children's Products Award", Griddly Games 'Just add Milk' science + art kit not only
sparks your child's imagination, but it also exercises their brain. Just add Milk encourages a curiosity for science, combined with a love for experimenting with art.
The instructions are very easy to follow. The kit includes 4 bottles of food colouring, 1 bottle of liquid soap, and 5 sheets of heavy paper. Aside from what is supplied, milk, a shallow dish, and a toothpick or straw are also required.
The instructions indicate that approximately 1/4 cup of milk is required, but we found that this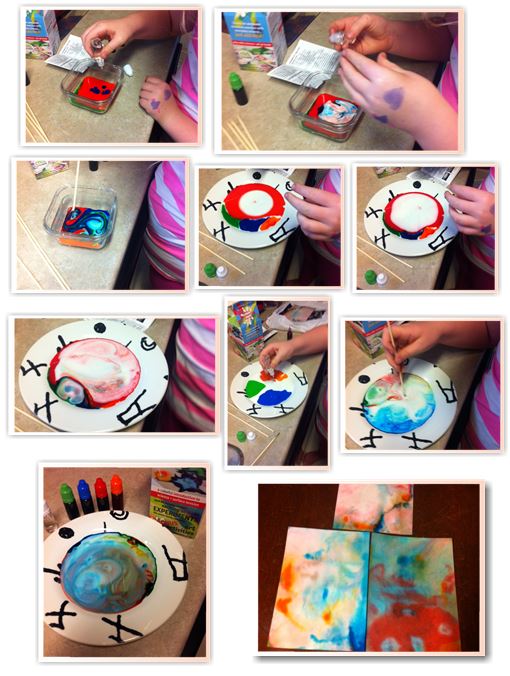 could possibly vary, depending on how many experiments/craft projects you plan to do.
First, you pour a thin layer (approximately 1cm deep) of milk into a shallow dish, the instructions recommend using a clear dish.
Then you carefully add a couple of drops of each of the food colour to the milk.
Then you squeeze a drop of the soap onto the surface of the milk.
This is when the magic happens, as the dish automatically becomes a whirlwind of colour.
The reaction of the soap making contact is simply amazing. The colours begin to swirl and create a dish of tie died magic.
Why does this happen you ask?
The secret behind this colour marvel is called surface tension. Surface tension is the elastic tendency of liquids which makes them acquire the least surface area possible. Surface tension is what initially keeps the molecules of the milk bonded together, but it is also what causes the swirls of colour when the soap is added to the mixture.
The soap is able to weaken the bonds that keep the proteins and fats together in the milk. The molecules of the proteins and the fats bend and twist as the soap races to join with the milk fats. During all of the dancing molecules the food colouring is pushed and shoved every which way, allowing us to see this virtually invisible chemical reaction.
This kit is such an incredible way to introduce science and basic chemistry to children. I have always been such a science nut, and I love the fact that my daughter is following in my scientific footsteps.
Creating art: From this chemical reaction you are left with a beautiful dish of swirling colours. You lay the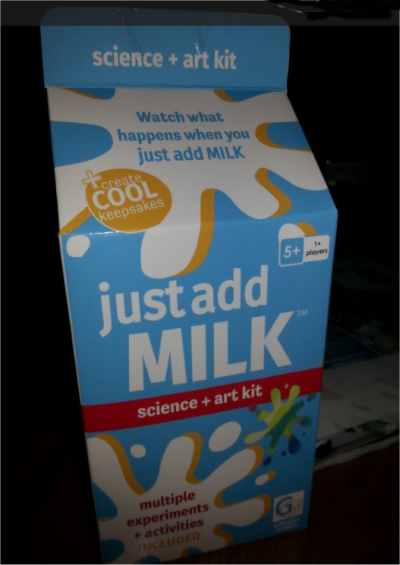 thick piece of paper across the liquid, allowing the food colouring to attach to the paper. Drain any excess liquid from the paper. Then lay the paper flat to dry.
You can also use this kit to create beautiful picture frames, mouse pads, etc. To swirl the colour more and customize your craft, use a toothpick or straw. Take the tip and swirl the liquid then submersed your chosen item to colour.
The possibilities are endless with the 'Just Add Milk' science and art kit by Griddly Games.
My daughter and I had so much fun playing, creating and learning with this kit. I would highly recommend this kit to any child that loves art or science.
Although we created many beautiful things already, we have plenty more food colouring and soap left to continue creating.
Look for more Just Add _(ingredient)__ products coming in the future!
Ages: 5 and up
About Griddly Games: Griddly Games are games that get you going. The company, based in Richmond, near Vancouver, British Columbia, creates award-winning party and board games that deliver innovative, engaging fun that brings people together. Founded in 2007 by Reisa Schwartzman, a mother of three boys, who took it upon herself to deliver wholesome family fun that multiple ages could enjoy at once, Griddly Games offers products that inspire laughter and fun, while promoting an active and healthy lifestyle. Griddly Games instill a strict company philosophy to encourage social interaction, learning, strategy and challenges that anyone (from across the grid) can enjoy.  To discover more about Griddly Games, visit www.griddlygames.com and get all of the most up-to-date, immediate information by interacting with the company on Twitter and Facebook.
Give this unique gift to a special child in your life!