Supporting Canadian farmers and businesses has never been more important to me that is why I need to brag about this Saskatchewan Canadian company. When considering what to give to your adult children, a cousin or aunt, friends, neighbors or coworkers for Christmas, why not give the gift of Saskatchewan, Canada's very own Tu-Bees Gourmet Honey. The company is owned by two daughters and their mom- Ms. G. Gaye Sheppard who we refer to as Mama Bee. Nicole (Nikki) Hein is the founder and Queen Bee at Tu-Bees while Jessica (Jessie) Hein is the co-owner and Worker Bee at Tu-Bees. Gaye handles the marketing, sales, and maintaining the companies social media platforms.
Tu-Bees all started in 2007 over the desire for Nikki age 12 at the time to buy a horse! Nicole was too young to get a job to buy a horse, so she needed to come up with a great idea. It was honey in a tube. From there the business was born. Since its beginning in 2007, Tu-Bees has expanded its product line from marketing two types of creamed honeys, packaged in squeezable tubes, to 375 g honey tubs and various beeswax gift ideas.
Tu-Bees Gourmet Honey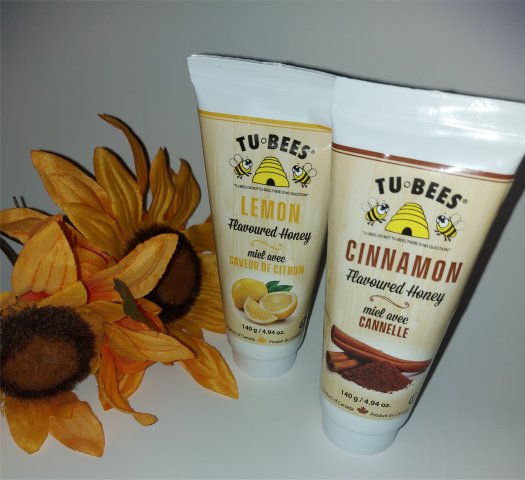 Made with 100% Canadian honey, Tu-Bees Honey squeezable honey tubes come in a vast away of flavors. The honey is gluten, nut, and dairy free. It also contains no wheat or wheat derivatives.The tubes makes it much easier to take honey on the go. It is also incredibly versatile and the perfect gift.
Tu-Bees Gourmet Cinnamon Honey: Made with 100 % Canadian honey and freshly ground cinnamon Tu-Bees Gourmet Cinnamon Honey is a healthy, spreadable addition to your cinnamon toast or oatmeal. You can also use this to sweeten your chai or gingerbread tea and add it to coffee to make a spiced latte. Skip Starbucks and make your lattes at home with Tu-Bees Honey. Blended into a smooth creamy spread this cinnamon honey is also perfect for homemade cinnamon rolls. Tu-Bees Gourmet Cinnamon Honey also has several health benefits too, like combating oxidative stress, fighting infections and inflammation. I love Tu-Bees Gourmet Cinnamon Honey on my raisin bread and in my tea.
Tu-Bees Gourmet Lemon Honey: Mix Tu-Bees Gourmet Lemon Honey with extra virgin olive oil for a simple dressing that tastes amazing drizzled over a salad.
You can also add the Lemon honey to butter to make an amazing lemon honey butter that tastes delicious on corn on the cob. You can in addition use it as a spread for grilled peaches or on steamed buttery carrots.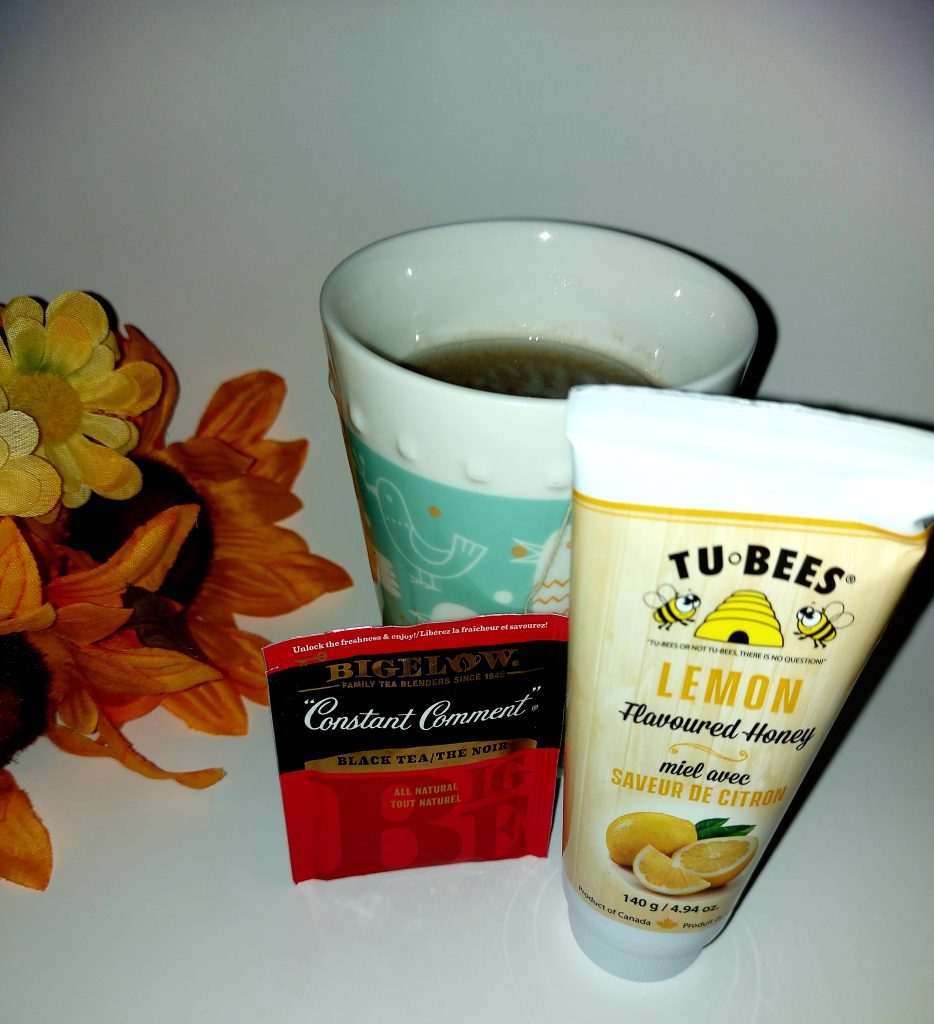 Tu-Bees Gourmet Lemon Honey has so many uses. Not only is it the perfect food topping, but it also gives a delicious burst of flavor to tea or hot water. While honey lemon water is normally served hot, it is also nice chilled and enjoyed with a few ice cubes. Or why not add it to your preferred rum? It added a pleasant touch of sweetness to our Chic Choc rum. You can also gift Tu-Bees Gourmet Lemon Honey with a bottle of your favorite Canadian Whiskey. When the cold winds start to blow, a hot toddy warms up the inside.

When a tube just isn't enough, you can purchase Tu-Bees tubs! They are available in the same delicious natural flavours as the squeezable honey tubes. Tu-Bees tubs are perfect for those that enjoy cooking and baking with gourmet honey.
Tu-Bees Natural Fire-Starter Biscuits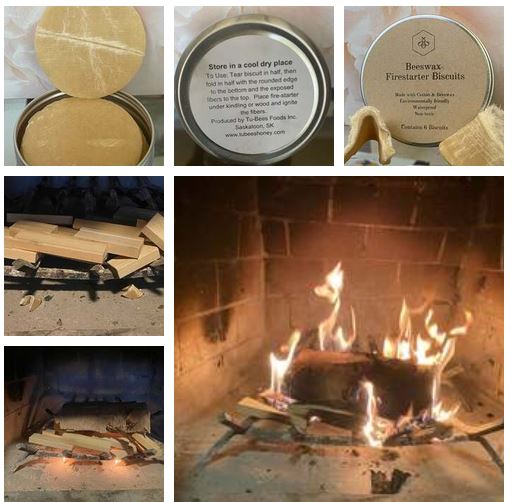 When it is cold outside it is nice to warm up by the fire with Natural Fire-Starter Biscuits. Each tin contains six hand dipped fire-starter biscuits that are waterproof, non-toxic and environmentally friendly. Anyone who enjoys honey will love these fire-starter biscuits. They are so much better than commercial starters filled with nasty chemicals. Beeswax fire starters are a practical item, so they are ideal for a gift too. Even Santa himself uses Tu-Bees Natural Fire-Starter Biscuits.
Natural beeswax candles
Tu-Bees candles are hand poured using 100% natural beeswax that is sourced from local beekeepers. These natural beeswax candles purify the air while filling the room with a mild, sweet scent. Plus, there is something very soothing about a pure beeswax candle. The wax is environmentally friendly, non-toxic and bio degradable. They also burn with little to no soot.
Beeswax Beehive Votive Gift Pack :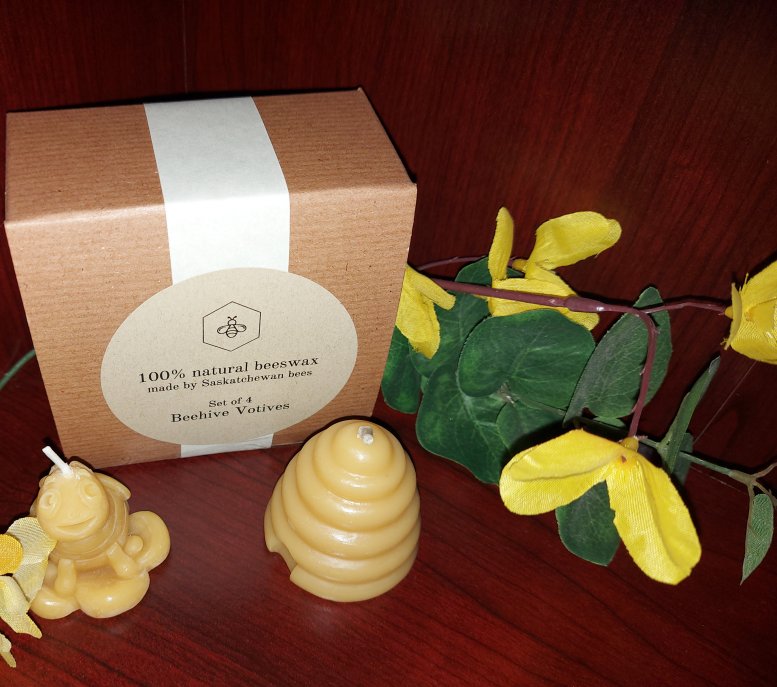 The beehive votives will burn for approximately 8 hours. Beeswax burns at a higher temperature than paraffin, so a non-flammable plate is a good surface for burning your candle or use a votive holder. You can use any left over beeswax into another pure beeswax candle. The gift pack contains four beehive votives. Give the entire set as a gift or break up the set and give one beehive with a votive holder to each of your friends. These beehive votives are also the ideal size for Christmas pyramids.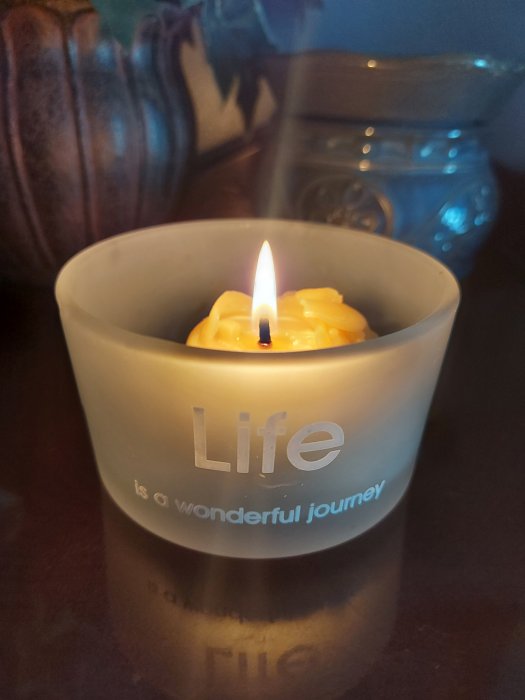 Beeswax Tea-lights (Paw-some): The 'paw'-some tea-lights will provide you with approximately 4-5 hours of burn-time. Each package contains four cupless tea-lights. These should be burned in an appropriate tea-light holder. The paw'-some tea-light candles are the perfect gift for pet lovers. Pair it with a paw print candle holder for the ultimate gift. It would also be a nice gift paired with a paw print memorial candle holder. A memorial candle holder can be a beautiful keepsake for a life lost and can bring comfort to those in mourning.
Beeswax tea lights:Tu-Bees 100 % beeswax tea light candles will provide you with approximately 5-6 hours of burn time, burning longer, cleaner and brighter than traditional paraffin tea lights. The tea light comes in a readily recyclable cup. Why not also include a package in your car emergency safety kit. They are also ideal for setting a relaxing mood around the bathtub, or for setting a romantic atmosphere in the bedroom. Like all pure beeswax candles, they release negative ions into the air boosting our mood. Why not add a set to a me time gift basket for the special woman in your life who is struggling with mental illness.
Colour Your Own DIY Beeswax Wrap Kit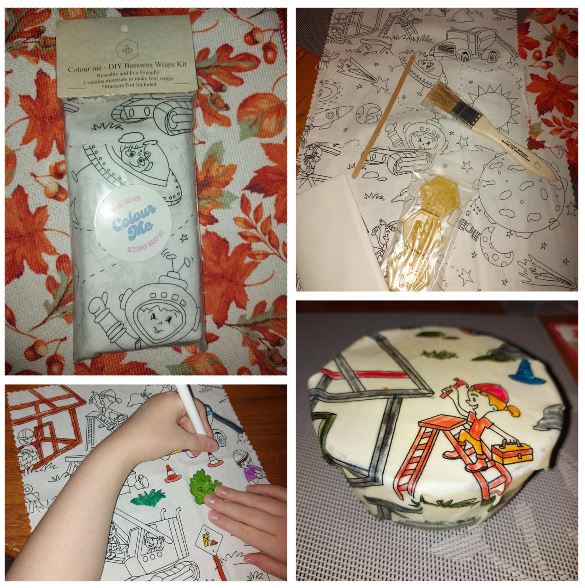 In a world where less plastic is better, Beeswax wraps are becoming a popular kitchen stable. TuBees Honey Colour Me DIY Beeswax Wrap Kits include everything you need to create and colour your own beeswax food wraps for you to enjoy or to use as a gift. All you need to do is grab your washable markers and put your creativity to work. Colour the fabric, and then iron it to set the colour.
Preheat the oven to 220°F or the lowest setting. Line a baking sheet with parchment paper and place the fabric on top. Place wax compound in a double boiler or glass measuring cup and set in a saucepan of water. Let melt! Evenly distribute wax compound all over your fabric with the included paint brush. Place the sheet in the oven for about 5 minutes. Remove from oven and look for any dry spots. Brush mixture over these uncovered areas, applying more coating as needed. Place back in the oven for a couple more minutes. Place the next wrap (s) you are going to make on top of the finished fabric to soak up any excess coating mixture. Walf the fabric in the air until it cools. Hang the fabric up to dry or set it on the back of a chair to dry. Do not lay directly on the table as stuff will stick to it. I found that it was easy to oversaturate, so keep this in mind.
To clean: Wash your wraps by hand in cool water with a mild dish soap. Place them on a drying rack or clothesline to dry.
Kits include: 2 medium (10″ x 11″) fabric and 2 small (6″x 7″) fabric to make a set of four wraps that can be used over and over again.
Two Kit Styles to Choose From: Kid Friendly Patterns and Advanced Adult Patterns.
This fun product is a collaboration of Tu-Bees Honey, Urban Evergreen and Colour Me Cushions.
The kits are perfect for those individuals that would like to make their own beeswax wraps or you make them as a personalized gift for someone else.
Overall thoughts
Each of Tu-Bees Honey products are packaged in a gluten-free facility that is also OU Kosher certified. From humble beginnings to an established brand, Tu-Bees continues to be a down to earth company. Having spoken to the Bee Mom on several occasions this Canadian business is truly relationship-based, valuing every single customer. Thank you Ms. G. Gaye Sheppard for the acceptation customer service.
Tu-Bees' products can be found online and at select retailers in Saskatchewan and Alberta. Happy Holiday Honey Shopping!
Oh, in case you're wondering, Nicole did get her horse in the end.

Tu-Bees is an example that sometimes the sweetest things in life can come from one simple question: "Have You Squeezed Your Honey Today?"
https://tubeeshoney.com/
Instagram
@tubeeshoney
Twitter
iBusiness Directory
Pinterest
Win a Handcrafted 100% Pure Beeswax Luminary Gift Set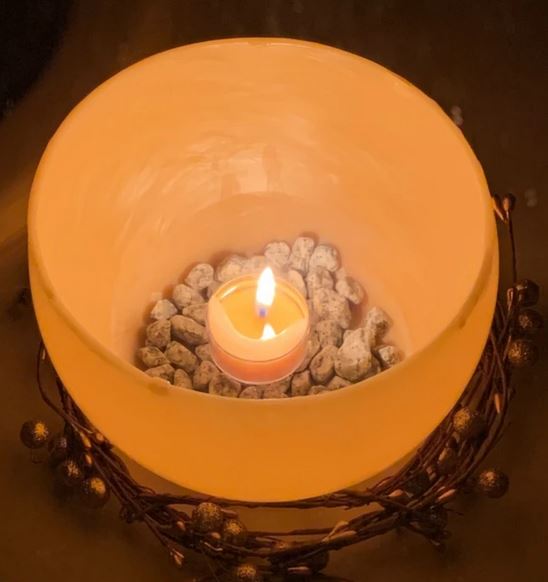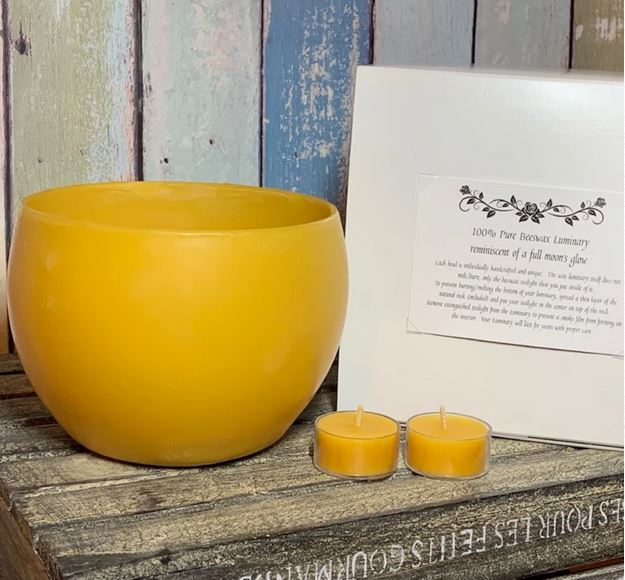 Create a relaxing atmosphere indoors or out with a delicate yet durable 100% pure beeswax luminary. It looks beautiful, smells amazing, and is a great conversation piece.
Each bowl is individually handcrafted, hand dipped, and unique. Made with 100% pure beeswax, the luminary itself does not burn or melt, just the tealight that you place inside it. When the tealight is lit, it creates a warm and inviting ambience of a beautiful glow that is reminiscent of the glow of a full moon. Perfect for patio or garden parties or indoors as a table or room accent.
Each luminary is approximately 6″ in diameter and 5″ – 6″ in height and includes: Rocks to line the bottom, two clear cup tea-lights for immediate use, and instructions on the use and care of the luminary. With proper care, this item can last for many years.
This product is pre-packaged in a gift box (7″ x 7″ x 7″) with instructions on the care and use of the luminary included. It is strongly recommended to use clear cup tea-lights in the luminary to protect the integrity of the bottom.
Giveaway is open to Canadian residents. No purchase required to enter.  You must complete the mandatory entry. One person per household may enter. Winner is drawn at Random using a Giveaway tool. Winner will be notified in the giveaway post and via the email provided with the winner's entry. Winner must reply within 48 hours.  If a response is not received within 48 hours from when the original email was sent, the winner will be disqualified and another winner will be drawn. Today's Woman is not responsible for shipment of any prize offered in a giveaway. Shipment of prizes is the responsibility of the Sponsor. Today's Woman will not be held responsible in the unlikely event that a winner does not receive their prize from a Sponsor.  Today's Woman will do everything possible to try to assist a winner in receiving their prize. Odds of winning the giveaway is  dependent upon the number of entries received.
Handcrafted 100% Pure Beeswax Luminary Gift Set

Shop Local Saskatchewan