Outdoor play is a vital part of childhood, enabling your child to seek out exercise, fresh air, activity, and a chance to explore natural surroundings. Now that summer is here it is time for you to get outside with your child and have fun with water. Kidoozie Pirate Ship Sand & Water Table provides countless hours of summertime fun. Kidoozie designed this activity table to inspire toddlers and preschoolers to play with sand or water.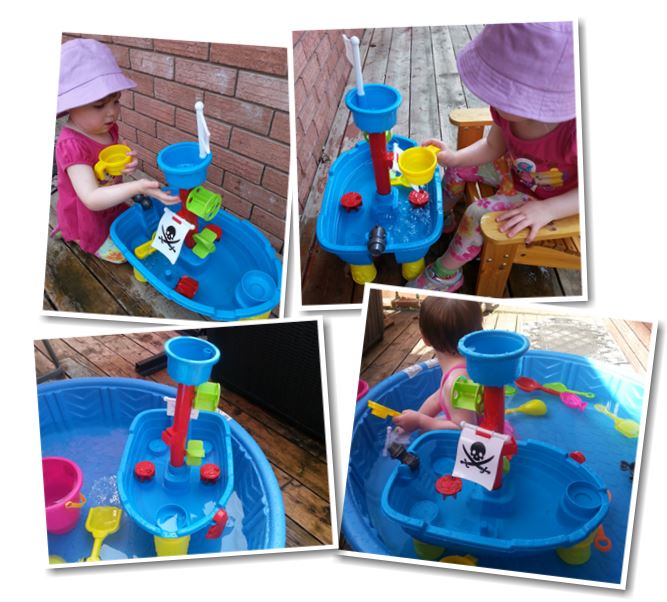 Little ones will develop their fine motor skills as they dig and splash in the sand and water. The pirate theme is great for both boys and girls. The fact that it is in the shape of a boat is a cute added touch.
The table comes with several accessories to keep your child's interest- and you can always add more. Children love to use their imagination. Suddenly a plastic cup becomes a fun water toy.
Accessories include 1 shovel, 1 pail, 1 skull, and crossbones sand mold, 1 anchor sand mold, 1 water scoop, 1 pirate flag, 1 regular flag, and 1 canon.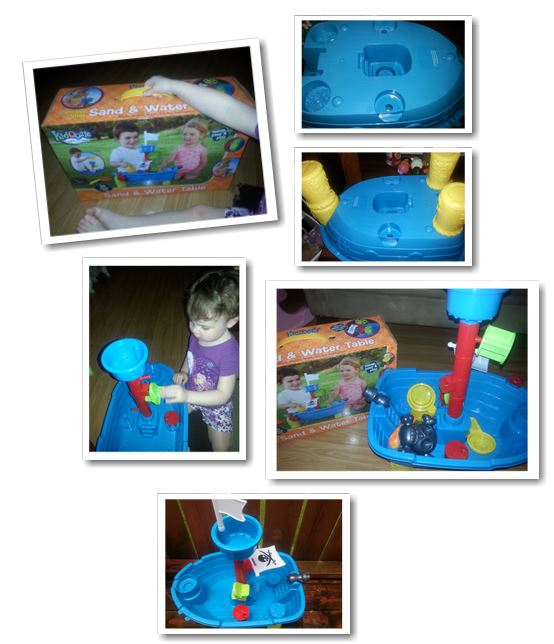 I must admit that when I first removed the table from the box, I was taken by how small it was. However, my 2-year-old is able to sit on her knees to reach the table or sit in a child-sized chair to reach the table. She doesn't care about the size. She just wants to play with water.
The table was no hassle to assemble; in fact, my two-year-old helped me put the table together and it is just as easy to dissemble for take-along play or storage.
I love that the table is small enough to take on trips to the cottage or beach and is perfect for indoor play as well, so even if it's raining outside my daughter can still have fun.
The table also doesn't take up much space, making it perfect for our deck.
The table also fits in my daughter's wading pool perfectly, allowing her to gain confidence in the water while she plays.
Kidoozie Pirate Ship Sand and Water Table Toy is also versatile. Besides water, you can also fill the table with sand, which we haven't done yet- but look forward to.
It is also easy to clean. When playtime is over, we just tip over the table and dump the water, then store it away for the next day.
By making your backyard a fun place with toys such as the Kidoozie Pirate Ship Sand and Water Table, you can help your child get the most out of outdoor play.
Kidoozie's broad range of high-quality toys has won numerous awards and is safe and well-designed. Innovative toys encourage movement, problem-solving, and pretending to play through various themes. The new Kidoozie Cozy Cutie dolls and accessories are perfect for role-playing. Sized for little hands, the line features sweet dolls, pretty outfits, and cute accessories that are sure to become favorites of little mommies everywhere! The next toy on my Kidzoozie wish list is the Pirate Ship Sand & Water Table.