I am always on the lookout for great dramatic and role playing toys for my daughter. One company that has never steered me in the wrong direction on my search is International Playthings. I am participatory fond of their brand Kidoozie, which is a line of toys for toddlers and preschoolers, which are engaging, educational and FUN.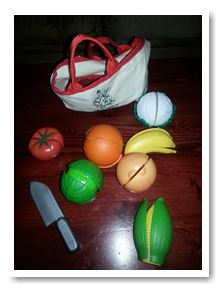 Kidoozie Garden Fresh Fruits & Veggies is a puzzle, matching game, a memory game, and a food play cutting game all in one. In the words of my two year old daughter, this toy can be summed up to one word "Wow."
If you are unsure what to get your son or daughter for Easter, let me tell you that this toy is a must. I think I had as much fun playing with it as my daughter did.
Kids love to mimic mom and dad in the kitchen and Kidoozie Garden Fresh Fruits & Veggies reinforces that love.
Recommended for children two years and up, the artificial fruits and vegetables set includes peach, cauliflower, lettuce, tomato, banana, corn, orange, and a plastic knife for cutting.
The set also includes a canvas tote for easy storage. The tote is the right size for little hands. My daughter delights in putting the fruit and vegetables into the bag and taking them out of the bag. All the items are all very well made and are holding up to my daughter's daily play.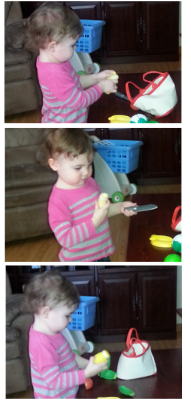 My daughter had no trouble peeling the items, but did need some help stabilizing the items for cutting. After a few attempts she was able to do it on her own without my assistance.
Assembling and dissembling the different fruits and vegetables is almost like putting together a 3D puzzle. My daughter has experience some difficulty putting the items back together, but overtime that skill will improve too.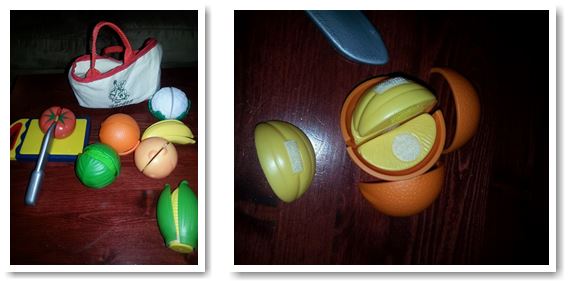 I love the way all the fruits and vegetables are so realistic. The orange that comes with the set is the most complex of all the items, as it allows my daughter to peel and cut the toy orange just as she would a real orange.
My daughter loves peeling the banana and then pretending to eat it and taking the veggies apart and cooking them in her pots and pans.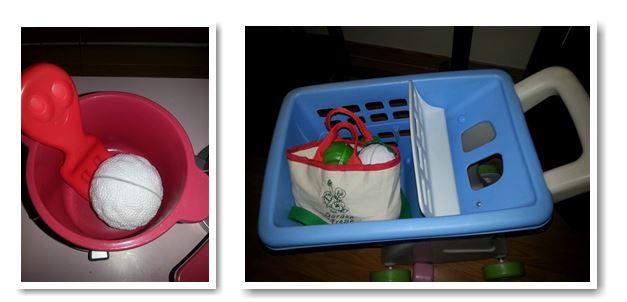 Kidoozie Garden Fresh Fruits & Veggies, takes play further by allowing children to engage in grocery store dramatic play with the set. My daughter loves to pretend she is going to the grocery store, by placing her artificial fruits and vegetables in her shopping cart.
Overall, Kidoozie Garden Fresh Fruits & Veggies made a wonderful addition to my daughter's collection of role playing toys. I love that the set can grow with her and once she is a wee bit older, be a prop in other dramatic play, such as a produce stand, and garden.
Kidoozie broad range of high-quality toys have won numerous awards and are safe and well designed. Innovative toys encourage movement, problem solving and pretend play through various themes. The new Kidoozie Cozy Cutie dolls and accessories are perfect for role playing. Sized for little hands, the line features sweet dolls, pretty outfits and cute accessories that are sure to become favorites of little mommies everywhere! The next toy on my Kidzoozie wish list is the Pirate Ship Sand & Water Table.
Website: intplay.com