Designed for children aged 3 to 8, Trucky 3 is  quite the brain teaser with 48 exciting challenges that are easy at first, then gradually become more and more difficult to solve.
The object of Trucky 3 is to fill up one or more trucks using one, two, or three trucks and different blocks as shown in the included booklet. None of the puzzle pieces should stick out higher than the border of the container.
My Thoughts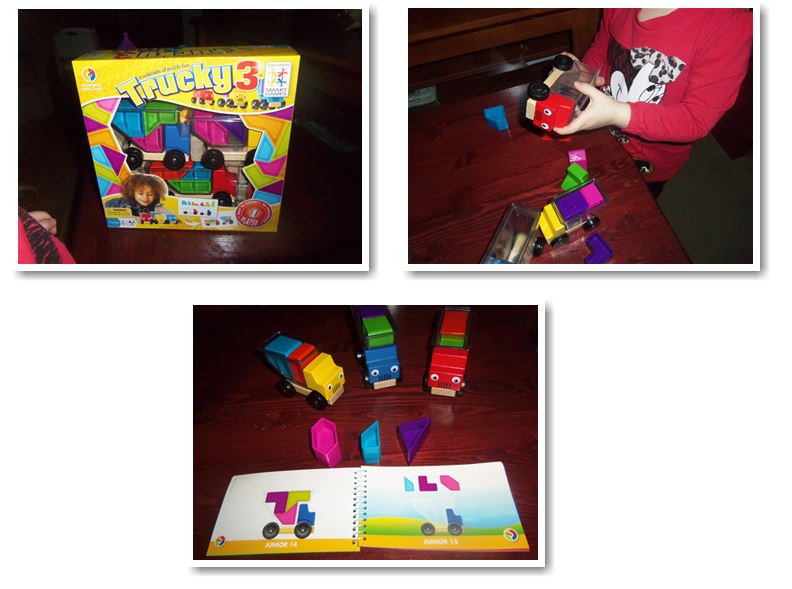 If you think, Trucky 3 is just or boys- think again. My daughter loves the game. Although she is only two she was able to complete some of the challenges without any assistance from me. As her skill level grows she will be able to complete even more of the complex challenges.
Don't worry though, if your child is still too young to solve the challenges, as they can play with the trucks- using them as part of their imaginative play.
Because there are multiple levels to this game, as your child's skill level evolves they will be able to complete complete the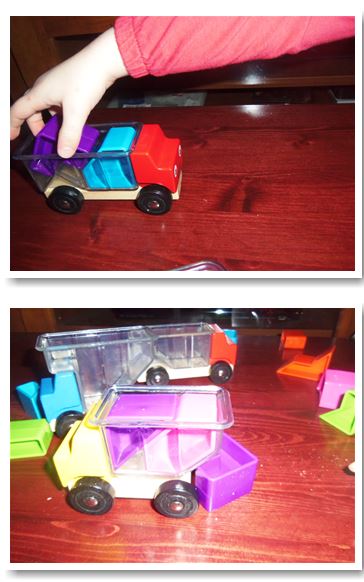 different challenges at their own pace. Learning levels are: Starter for ages 4 and up, Junior for ages 5 and up, Expert for ages 6 and up, and Master for children ages 7 and up.
However, I highly recommend that you introduce your child to Trucky 3 as early as 2.
The trucks themselves are small and light and fit perfectly into a small child's hands. The basis and cabins on the trucks are made of wood, and the 10 different puzzle pieces are made of colorful ABS plastic. The containers are made transparent, so your child can see just how the blocks are stacked inside.
Trucky 3 is a a wonderful way to develop logical thinking skills and spatial reasoning abilities. While the games learning levels start at age 4 , don't think for a moment that some of the more difficult challenges won't stump adults as well.  I had to result to the booklet- several times during play.
I have always been a fan of logic games and puzzles and look very forward to adding more games from Smart Games to my daughter's puzzle collection. Next on my wish list is Smart Car and Day and Night.