Is there a doctor in the house? Now your child can rush to the patient with their little toy doctor kit from Kidzoozie, the leading
brand in traditional toys and classic fun. This quality toy doctor kit is an excellent dramatic play toy for both boys and girls.
The kit includes an Otoscope to see into ears, a medicine dropper for dispensing liquids and a reflex hammer; everything you need to treat the patient. There is also an electronic stethoscope that makes heartbeat and coughing sounds, a blood pressure gauge with arm cuff, which includes a pump with a spinning dial and much more.
We found the instruments to very well constructed, except  the pump from the blood pressure arm cuff is hard to keep connected.  I really like how comprehensive the set is though and the fact that it comes with a carrying case to keep track of everything. It should be noted that the blood pressure cuff has to be taken apart in order to fit back in the case.
Overall, though this is the perfect role playing set for the aspiring doctor, nurse, paramedic or veterinarian. In fact, the toy doctor kit can even help kids feel better about their own doctor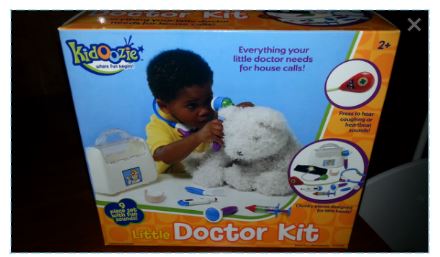 visits.
A child's imagination is something to be encouraged and treasured. Young children learn many skills through imagination, from interactive play to independent play, cognitive skills and language. Educate your child through play with the little doctor kit from Kidzoozie.
Do you remember the classic toys that we enjoyed when we were kids; Doctor Toy kits, dolls that wet, tool kits, pogo jumpers, beauty sets; there are all back for a new generation of kids to enjoy.
Since its inception in 1967, International Playthings, LLC has excelled in the delivery of innovative and entertaining products with integrity, superior play value and child developmental qualities to consumers. Over the course of its 40-year existence, IP LLC has grown to become one of the largest and most respected suppliers of quality products to the North American specialty industry.
Website: intplay.com