When it comes to toys for toddlers and preschoolers, one of the best toys you can give them is a puzzle. My little girl is obsessed with preschool puzzles right now. She honestly can't get enough of them.
"My First Lift & Learn tray puzzles" from The Learning Journey features thick, chunky pieces that fit neatly into the puzzle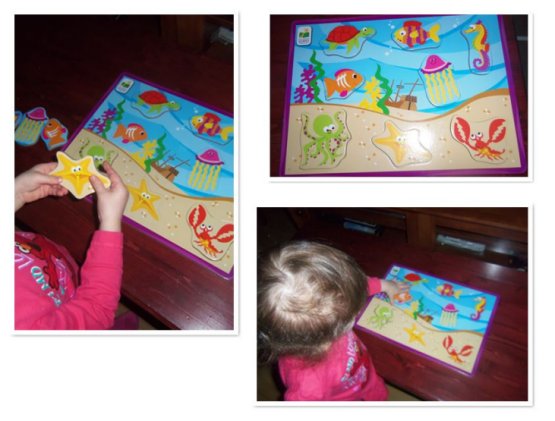 board. The sizes of the pieces are perfect for small little hands to grip and maneuver. My daughter is also drawn to the bright colors.
The pictures are printed under the pieces to guide younger children in solving the puzzle. Associating the pictures underneath with the correct puzzle pieces also helps improve my daughter's memory!
Of course like most two year old children, my daughter is at that curious age of wanting to know who and what everything is.
"My First Lift & Learn Ocean tray puzzle" from The Learning Journey is a great way to expand my daughter's vocabulary by visually seeing each ocean specie and talking about what each one is.
It is also a good opportunity to start talking about "same" and "different," as in,"Look, this is a fish just, like the fish in Daddy's aquarium.
The Learning Journey Lift and Learn puzzles would make a wonderful edition to your toddlers Easter basket.
Since 1995, The Learning Journey has been designing and manufacturing an exclusive line of award-winning children's interactive educational products. With The Learning Journey, children have fun while learning and parents and educators know they have the right quality educational products for their children.
Hoppy Easter! Easter is only two weeks away and The Learning Journey is celebrating with a site wide Easter sale! From now until April 5, get 15% off everything on their website, plus free shipping on orders over $50!
Website: tlji.com