Start your New Year on the right keystroke with Logitech MK470 Slim Wireless Keyboard and Mouse Combo. The MK470 keyboard measures 14.7 x 0.83 x 5.6 inches and weighs just over a pound. With its sleek, modern-looking black and silver design it's sure to be a great addition for your office or your home. And it takes up little desk space.
The keyboard has a feeling that you're using a laptop keyboard as the keys are low profile. The keyboard includes a full number pad, a dozen function keys, and hotkeys for everything from Home to LockPC
My wife is always complaining about my Logitech G403 as the clicking sound of my mouse irritates her to no end. She doesn't have that problem with the Logitech MK470.  It is extremely quiet, that you barely notice or hear any sounds at all. This combo has been tweaked for noise reduction. Click noise has been reduced over 90 % making it perfect for offices, dorm rooms and home. The mouse also has a slim, low-profile design and weighs just 3.5 ounces. You can easily store it in your laptop bag for on-the-go productivity.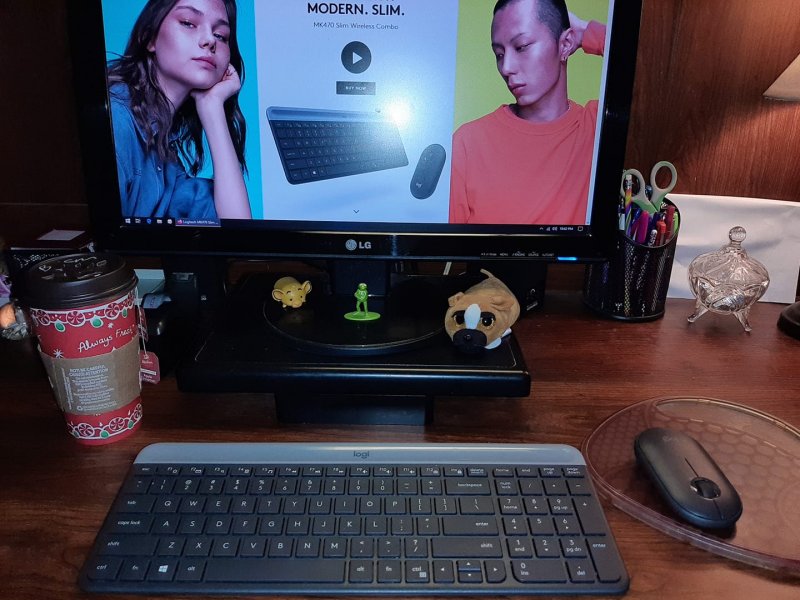 Set Up
The Logitech Slim Combo MK470 comes ready to work out of the box. There is no software installation required and it's compatible with Windows 10, Windows 8, Windows 7 and Surface.
The initial setup takes less than 5-10 minutes depending on your desktop computer setup. Simply unpack the Logitech MK470 Slim Wireless Keyboard & Mouse Combo, remove the battery tabs from the keyboard and mouse and plug-in the Wireless USB receiver.
Remove the top panel from the mouse and you will notice two red sync buttons on either side of the mouse. One of the red sync buttons are for the keyboard; and the other one is for the mouse. Push and hold the sync button for 1-3 seconds and you're done.
You're now ready to start using your new Keyboard and mouse.
Logitech MK470 uses a USB Wireless 2.4 GHz receiver that offers a wireless range of 10 meters. You'll get 18-months of battery life for the mouse, and 36-months of battery life for the keyboard. Both mouse and keyboard go into battery-saving sleep mode when not in use. This is a plus for us as it felt like we were always changing batteries in my wife's old mouse.
The bottom line
The Logitech MK470 Slim Wireless Keyboard and Mouse Combo is an exceptional addition to the Logitech line up.
Website:www.logitech.com/en-ca