Children and adults alike cannot resist the gift of a classic board game. Hasbro's all-time favorite games are a great start for anyone's game cupboard. But with Hasbro and its daunting variety of board games, it's not always easy to narrow down your search. We have put together a post containing some of our favorite classic board game gift ideas to make shopping a little easier for you this holiday season.
Monopoly is 80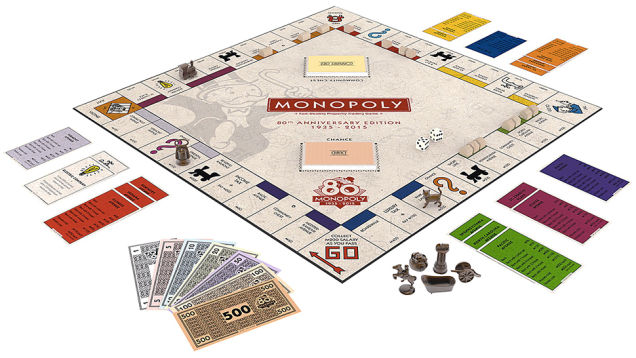 Monopoly has been a favorite board game for family and friends in one form or another for over a century. If there is a board game lover on your Christmas shopping list who has yet to start their game board collection it only makes sense to start them off with Monopoly.
My husband is a huge Monopoly fan and has been since he first played the game as a child. He has passed his love of the game onto both of our eldest children who are huge Monopoly fans; our son perhaps more than our daughter. They both have received the game as Christmas gifts years pass and we have often gifted Monopoly to other friends and family members. Monopoly truly is a fun classic gift.
In celebration of Monopoly's 80th anniversary, which was this year, Hasbro gave the popular property trading game a makeover. The Monopoly 80th Anniversary Edition Board Game is extremely unique, going back to its roots over the years by making some very nice subtle changes. Check out my husband's full review of Monopoly 80th Anniversary Edition Board Game.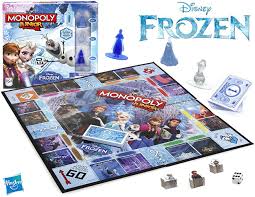 For Frozen fans, you most likely have one on your Christmas gift-giving list- why not pick up the Monopoly Junior Game Frozen Edition? The fast-trading property game meets the power of snow and ice in this Monopoly Junior game. Kids will join Anna, Elsa, and Olaf as they travel through Arendelle and buy its most magical locations. Whoever collects the most cash will thaw their freezing heart and win!
Hasbro Micro Series
Take your favorite games on the go with the Hasbro Micro Series, which features compact, portable editions of both Simon and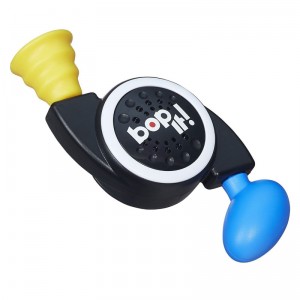 Bop It.
Kids of the 90's will remember Bop it. The game of Bop It! has just got a whole lot smaller in this new Micro Series edition from Hasbro. While this version may be smaller one still needs to move fast to keep up with the action commands in Solo mode or go head-to-head against friends in Pass It mode. The faster it gets, the harder it can be to keep up with the sequence. The new micro size is great for on-the-go fun and it makes a wonderful stocking stuffer. Bop It has always been a popular choice for family game nights.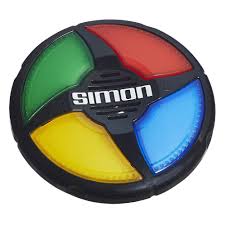 I remember playing Simon back in the early '90s. Like Bop It, Simon too has gotten smaller. This compact version of the classic Simon game is just like the original game I loved but in a smaller, portable format. You can play the Solo game on your own or the Pass It game with additional players. This year when my daughter added Simon to her Christmas wish list I opted for the smaller version of Simon because I knew the game would be compact enough for my daughter to take it with her on the go. That was the key selling point for me, aside from the game being great in solo mode as part of her brain therapy.
Classic Trouble
Do you remember the game Trouble? When was the last time you popped that Pop-O-Matic Dice Roller? Since 1965, families have enjoyed this classic game. Be the first player to move all four of your pegs around the game board until you finish and win. Trouble includes a plastic game board with a pop-o-matic die roller, 16 playing pegs, and play instructions. We recently added the classic game to our collection of board games.

Trouble is pretty much as I remember, in clear plastic with the popping die dome. The quality of the game board itself has changed a bit over the years though- now being less durable than once was. Nonetheless, you can't go wrong on the price of Trouble and it is nice to own the game for a new generation of kids to enjoy. Amazon is currently selling Trouble for $9.97.
The Olaf's in Trouble Game from Hasbro takes the classic game of Trouble and gives it a Frozen twist. Each of the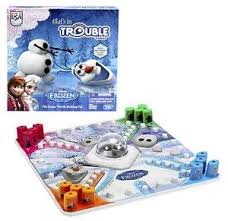 trouble pegs feature one of the film's four main characters: Elsa, Anna, Sven, and Christophe. I love that Hasbro puts a new spin on classic games for a new generation of kids to enjoy. It is a must-have game for Frozen fans.
Operation
If there is one game I love from my childhood it is Operation. I remember Cavity Sam with his light-up red nose and many ailments; Bread Basket, Butterflies in the Stomach, Ankle Bone Connected to the Knee Bone, etc. Over the years there have been many special editions to the game including SpongeBob SquarePants, Toy Story 3, Cars 2 and most recently Despicable Me 2 and Doc Mcstuffin Operation. USAopoly released a Family Guy version of the game, The Nightmare Before Christmas version, and a Rudolph The Red Nosed Reindeer version of the game (featuring the Abdominal Snow Monster as the patient, with Rudolph's nose lighting up when you hit the sides). No matter which version you choose, Operation still remains a staple of family game night.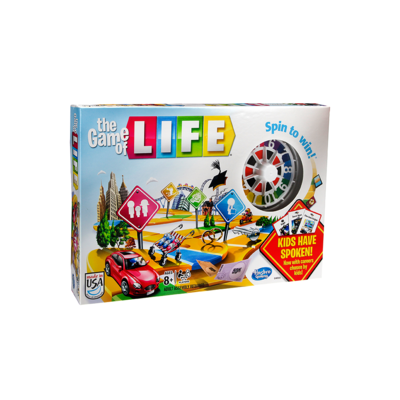 With Christmas fast approaching, your children will soon be home for the holidays. Why not keep them busy with the classic "Game of Life" from Hasbro? This is a fun-filled family adventure game that will be sure to keep everyone busy. "Life" has always been my son's personal favorite when it comes to classic board games.
This winter stay in from the cold. Gather the family together for game night and take a spin on one of these traditional board games, all of which would make wonderful classic board game gift ideas.
What is your favorite classic board game?
Hasbro, Inc. (NASDAQ: HAS) is a branded play company providing children and families around the world with a wide range of immersive entertainment offerings based on the Company's world-class brand portfolio. From toys and games to television programming, motion pictures, video games, and a comprehensive licensing program, Hasbro strives to delight its customers through the strategic leveraging of well-known and beloved brands. Shop hasbro.ca.