Your holiday family game night just got a whole lot more fun,  sweeter and messy. Under license from Rocket Games, Hasbro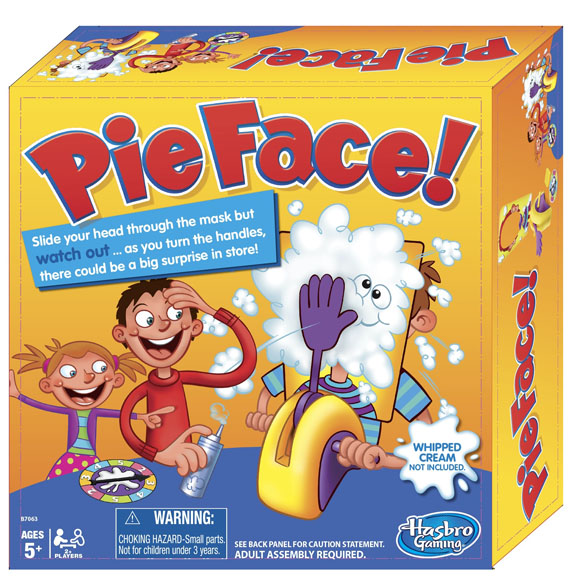 Inc. has brought forth once again the Pie Face game and it is here just in time for all those holiday gatherings. I am predicting that this will likely be the top game of the 2015 holiday season.
The excitement around the Pie Face first heightened earlier this year after a video of a grandfather and grandson (Budgie and Jayden) playing the game became a viral sensation on Youtube with more than 88 million views.
Some of you may remember that Hassenfeld Bros (Hasbro) launched a pie face game in 1968. Similar to the newly released version, Pie Face came with a spinner, score sheet, cardboard target with cut-out window, and a pie launcher.
The 15 1/2″ tall target was made of cardboard then and today it is made of plastic, which is good. I don't imagine that the cardboard survived very long.
( You can view the original 1960's TV commercial on Youtube.)
Made for two or more players to share in the  fun, the goal of PIE FACE is to reach 25 points first, with players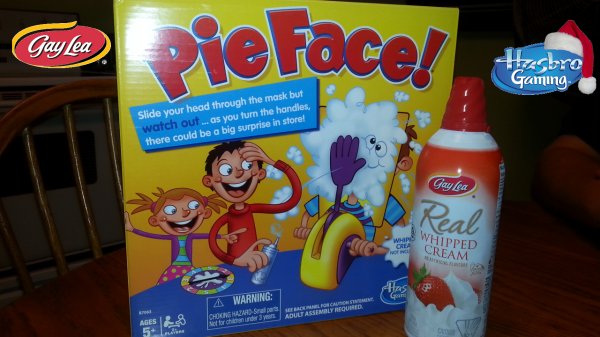 scoring a point for each turn of the handle that doesn't result in a SPLAT! If you do get pied in the face – you don't score any points, but you do get lots of laughs!
Players load the arm with Gay Lea whipped cream (not included) or the included sponge and take turns sliding their head through the mask and spinning the spinner.
Players turn the handle the number of times indicated on the spinner and the tension on the arm will build — until a player is surprised with a face full of whipped cream. Make sure to have a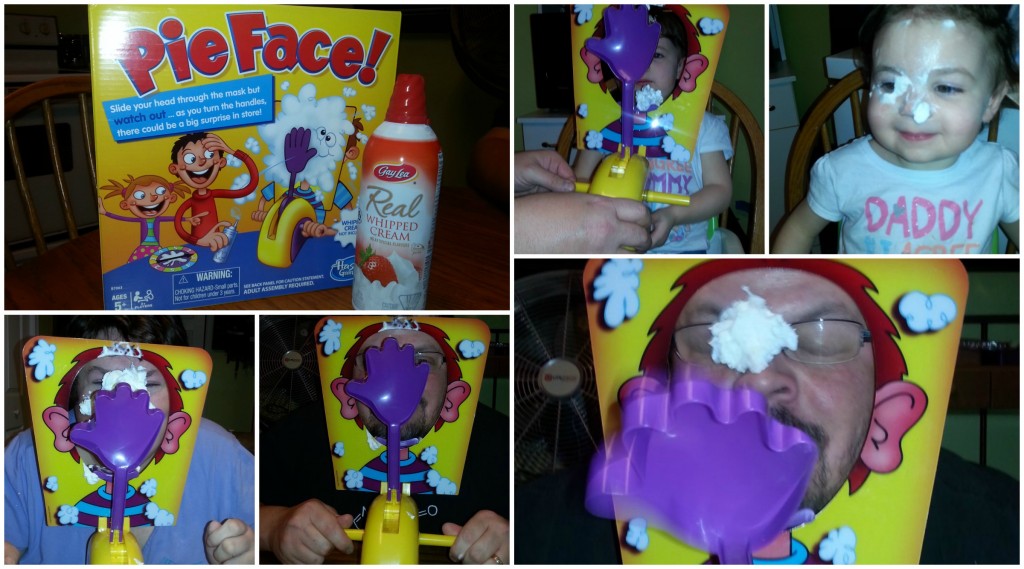 towel close by.
Though the game is recommended for those five and older, my daughter who isn't quite three didn't mind getting whip cream in her face, and of course she laughed hysterically when her dad and I were creamed. We didn't use the included sponge, because in my opinion the game is much more fun with whip cream.
Sure, PIE FACE comes with the simple set of instructions – but who says you have to follow the rules? We just took turns seeing which of us had the best pie face. My daughter wanting to play again and again; really I just think she was after the whip cream.
In my opinion this is the perfect game for any family gathering, birthday party or your Friday game night with the kids.
The PIE FACE game includes the throwing arm, chin rest, splash guard mask, spinner and sponge. Whipped cream does not come with the game, but I recommend picking up a can of spray cream like Gay Lea Regular Real Whipped Cream or Light Whipped Cream. (gaylea.com)
"Turn the handles,
hear them click,
you'll never know
when you'll be hit!
It's Pie Face!

Ask your mom
for some cream,
Pile it high,
It's a scream!

Now we spin, what's the score?
Never had such fun before!
It's Pie Face!" – Hasbro 1968
Hasbro Games' PIE FACE is available now at HasbroToyShop.com and many of your favorite retailers this Holiday season. Currently the game is on sale at Amazon for $14.88.
Have you played Pie Face yet?