In celebration of National PLAY-DOH Day on September 16, 2015, my daughter and I got into the spirit of the celebration with some Fall Play-Doh activities. We started out by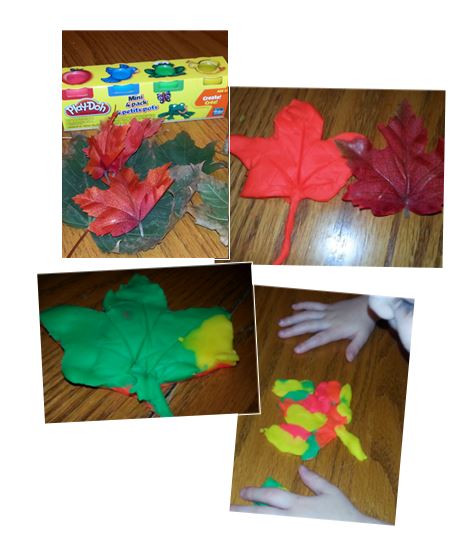 scalping Canadian leaves, which show our Canadian pride.
National PLAY-DOH Day, celebrated annually on September 16, was created by Hasbro in 2006 to honor the childhood staple that continues to captivate the imaginations of millions of children – and artists of all ages – across the globe.
Play-Doh tends to be our go to sensory material for activities since it is so versatile.
Because we were in need of more Play-Doh I took a trip to my local Dollarama on Friday evening, where I picked up a Play-doh Mini/Travel 4 Pack (Yellow, Green, Blue, Red) and a regular size can or Orange Play-Doh, along with some silk Autumn leaves.
Today before dinner and after dinner my daughter and I spent some quality time together playing with Play-Doh.
I don't know who had more fun, her or I.
How To Make Play Doh Autumnal Leaves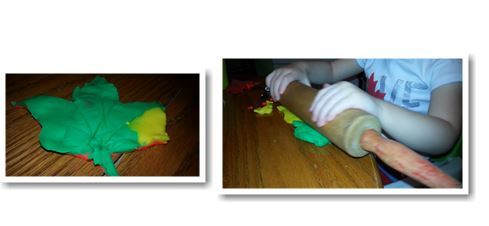 To make the leaf prints, using the rolling pin we rolled out the Play-Doh flat, then placed our leaf down onto the Play-Doh and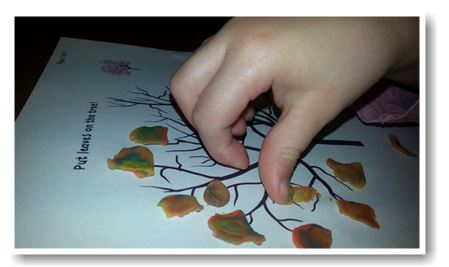 gently rolled the pin over. We then lifted the leaf to discover the pattern of the leaf remaining. With a Pencil Grip Gripable knife featuring safe, rounded edges, we cut out the leaf shapes.
We also downloaded a themed Play-Doh mat from totschooling.net and added maple leaves to the tree.
While we were making leaves out of the Play-Doh we talked about what we were making, the imprint the leaf left behind, how leaves fall from the tree, and how leaves change colors.
During our making of leaves there was also quite a bit of free, open ended play.
We even made a clown. We also used materiel around the house, like a cup, the number 3, and a Mega Blok to imprint designs into the Play-Doh, giving my daughter the opportunity to learn about the world around her.
With Play-Doh, my daughter is able to express her ideas through art and make-believe play. At the same time, she learns symbolic thinking. As my daughter made a hot dog and then pretended to eat it, she was engaging in pretend play.
Cutting Play-Doh is also a great way for my daughter to practice her knife skills.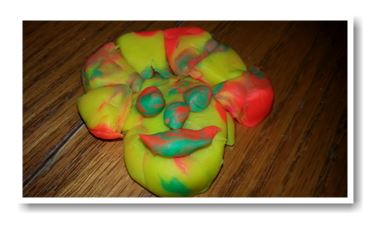 Overall, not only is Play-Doh fun, but is a powerful learning tool for so many reasons.
Learning Opportunities:
Experimenting with shapes, and cutting
Creative Thinking and concentration skills
Imagination and creativity
Oral language development
Fine motor skills and coordination
Open ended play
textural differences
How can you participate in #WorldPlayDohDay?
World Play-Doh Day is the perfect time to open up a can of Play-Doh and explore all the possibilities.
1. Create: Pull out the Play-Doh and along with your children sculpt something that shows your "National Pride."
2. Post: Share a photo of your masterpiece directly to Play-Doh's Facebook page anytime between now and September 14th.
3. Share: Send in as many of your creations as you'd like, and invite your family and friends to play too.
Please don't forget to use the #WorldPlayDohDay hashtag. No brand names, pop culture icons, or characters, please. And please keep them kid-friendly too!
For more information, connect with Hasbro on Twitter and Play-Doh on Instagram with #WorldPlayDohDay.
Are you going to celebrate World Play-Doh Day? Do you have any great Play-Doh ideas for kids to add?
About Hasbro
Hasbro, Inc. (NASDAQ: HAS) is a branded play company dedicated to fulfilling the fundamental need for play for children and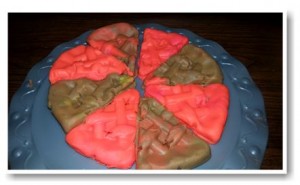 families through the creative expression of the Company's world class brand portfolio, including TRANSFORMERS, MONOPOLY, PLAY-DOH, MY LITTLE PONY, MAGIC: THE GATHERING, NERF and LITTLEST PET SHOP. From toys and games, to television programming, motion pictures, digital gaming and a comprehensive licensing program, Hasbro strives to delight its global customers with innovative play and entertainment experiences, in a variety of forms and formats, anytime and anywhere. The Company's Hasbro Studios develops and produces television programming for more than 180 territories around the world, and for the U.S. on Hub Network, part of a multi-platform joint venture between Hasbro and Discovery Communications (NASDAQ: DISCA, DISCB, DISCK). Through the company's deep commitment to corporate social responsibility, including philanthropy, Hasbro is helping to build a safe and sustainable world for future generations and to positively impact the lives of millions of children and families every year. It has been recognized for its efforts by being named one of the "World's Most Ethical Companies" and is ranked as one of Corporate Responsibility Magazine's "100 Best Corporate Citizens." Learn more at www.hasbro.com.