Don't Let Halloween Spook Away Healthy Choices
Halloween is one of the most fun and festive holidays for kids of all ages.  This year in in lieu of candy to hand out to
neighborhood trick-or-treaters, might we suggest these alternatives from the fine folks at Hasbro.
Not only will children love them , but parents will be pleased that you handed out an item that won't send their kids to the dentist with a huge dental bill.
Add an element of surprise to their bag with Hasbro bling bags. These bags make a great alternative to the Reese's peanut butter cups you normally hand out and also make great Christmas stocking stuffers. You can see that we are thinking ahead for Christmas!
Each bag contains a fun character. Choose from a Kre-O Transformers Micro-Changers Mystery Pack,  My Little Pony  or a Littlest Pet Shop Blind Bag Assortment.
We don't many kids where we live, so we don't hand out at Halloween. However Today's Woman reviewer Tanya always drops by the house with her daughter. I will be giving her a My Little Pony bling bag along with a festival Halloween pen from  Int'l Arrivals and a couple other treats all decked out in a Halloween treat bag.
If Halloween crafts are more your thing, than might we recommend the inexpensive PLAY-DOH Halloween Bag, which contains 15 palm-sized containers that hold one ounce of colorful Play-doh. The little witch at your door will be able to go home and sculpt her own black cats and pumpkins.
My daughter had fun making pumpkins with the PLAY-DOH Halloween Bag we received.
It's nice to see brands like Hasbro bringing healthy Halloween alternatives to everyone's favorite spooktacular holiday.
The idea of spending a lot of money on a costume that gets worn once can be discouraging for parents. Hasbro's Amazing assortment of masks will keep your child entertained long after the Halloween sugar rush is over.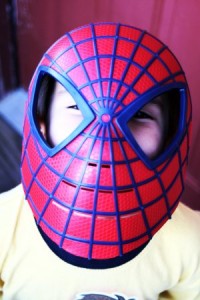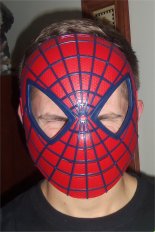 We have reviewed a number of Hasbro masks here at Today's Woman from the Spider-Man Hero Mask to the Amazing Spider-Man 2 Spider Vision Mask. Several of the masks and accessories from Hasbro also feature electronic sound effects and voices and even firing projectiles.
Most Hasbro Masks are great not only for children to wear, but also for mom or dad to wear as they feature adjustable straps on the back of the mask that allows it to be worn by a wide range of head sizes.  Dad, Marvel masks are perfect for surprising unsuspecting guests that knock on the door.
The Amazing Spider-Man 2 Spider Vision Mask has two lights that, when kids where the mask, makes the discs that come with the mask look like they are lighting up. The mask does requires two "AAA" batteries. Batteries included are for demo purposes only and it is always recommended you change them.
The newest mask we have added to our collection is the Ultimate Spider-Man Iron Spider Mask. Like other masks in the Hasbro line,  the ultimate Spider Man mask has the adjustable strap so it can be warn by both kids and adults.
Both my daughter and husband can be seen here sporting the Ultimate Spider-Man Iron Spider Mask.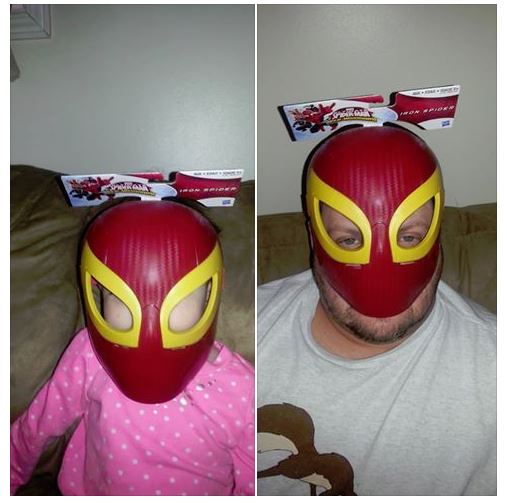 Kids will love pretending to be Rocket Raccoon as they wear this mask. The Marvel Guardians of the Galaxy Rocket Raccoon Action Mask has a mouth, eyebrows, and ears that move when kids move their mouths. The mask comes with adjustable straps to  help secure the mask onto your head. Parents won't be able to wear this mask as it was definitely made for a child's head.
Other masks include Avengers Role Play Mask, Stormtrooper Mask and Avengers Age of Ultron Hulk Muscles & Mask.
With a full range of role-play toys ranging from masks,  gloves, helmets and more, the Hasbro line of Marvel toys help parents and kids accessorize the ultimate costume based on the popular Super Heroes they have come to know and love, plus they can keep playing for months afterward.
For these and more Hasbro alternative Halloween treats visit your favorite retail online store or look for them at stores like Target,  Toys R Us and Walmart!
Hasbro, Inc. (NASDAQ: HAS) is a branded play company providing children and families around the world with a wide-range of immersive entertainment offerings based on the Company's world class brand portfolio. From toys and games, to television programming, motion pictures, video games and a comprehensive licensing program, Hasbro strives to delight its customers through the strategic leveraging of well-known and beloved brands. Visit hasbro.ca.