Learning about shapes and colors is a necessary step in your preschooler's education. Color is one of the first ways your preschooler makes distinctions among things she sees. By incorporating colors to describe various items, your child expands their vocabulary too.
One obvious reason for learning about shapes is to practice geometry skills. Recognizing shapes is also a a pre-reading skill, as letters represent shapes. And as with learning to identify different colors, knowing the name of each shape can help your child communicate clearly when labeling objects.
You can reinforce what your child has already learn by playing games using color and shapes. Colorama by Ravensburger is a non-competitive Preschool matching game that teaches color and shapes. The fun preschool learning shapes & colors game is part of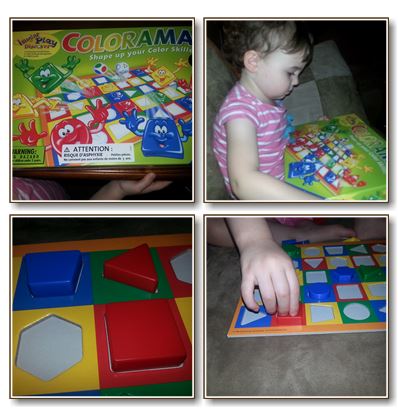 Ravensburger's Imagine – Play – Discover collection.
This simple game, designed to improve hand-eye coordination, is aimed at children age 3 and up and accommodates up to six players.
Children take turns rolling two dice. One die determines the shape and one die indicates the color. After rolling the dice, players need to find the matching colored shape. Depending on which rules players are following, they either place the colored shape on the matching space of the game board or take it off.
There are four different quick-play game variations of the game. Players work together to complete the task of rolling, matching, and then removing or placing the various pieces. In addition to color and shapes, Colorama teaches children basic gaming concepts, like taking turns and understanding simple rules.
What I really like about Colorama is that it is a game truly suitable for children 3 and up and even younger children can benefit from it. It teaches children of all ages and abilities to recognize and discover different shapes, such as circle, square, triangle, trapezoid and hexagon, as well as basic colors- red, blue, green and yellow. When my daughter discovers that a circle game piece does not go into a hexagon she is making use of her geometry skills.
My daughter is only 30 months, so we played the game at Level 1 and level 2. At level 1 you use the game board as a puzzle, taking turns putting in all the pieces. My daughter was able to identify where the shapes went, but did not always put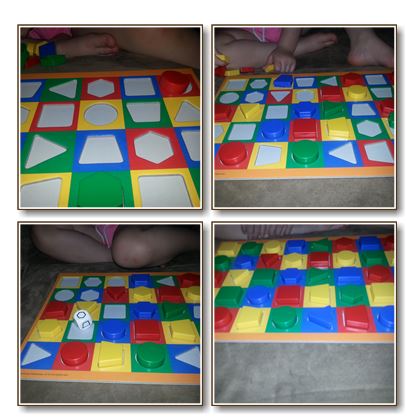 the correct colors in the correct spot. That will come with time.
Level 2 you use just the color die and not the shape, taking turns rolling the die and putting the appropriate color on the board. We didn't use the die, but instead we concentrated on just one color, taking turns placing that color on the board.
We also played using just the shape dice, placing different shapes on the board. The game is so versatile that you can really make up your own rules based on your child's skill level.
Sorting objects into groups that are alike is an important mathematical concept for preschoolers to learn. You can have your child sort all the different shapes into groups.
Level 3 you use both color and shape dice to take turns putting the appropriate piece on the board and is actually a competitive game. Level 4 is the same thing in reverse: you roll the dice to remove pieces from the board.
While the educational value of the game is shapes, colors, and the basic concepts of playing a game, my daughter has also used the game to count the game pieces.
Games to Improve Focus
For preschoolers developing focus and concentration is vital for later classroom success. Because Colorama requires several minutes of concentration it is a great activity for focus-building. My daughter remained focused throughout the few games we played.
Overall, I highly recommend this simple, and yet educational and fun game.
What's In The Box?
1 game board, 40 game pieces (4 colors: red, blue, green, yellow & 5 shapes: circle, square, triangle, hexagon, trapezoid), 1 wooden color die, 1 wooden shape die, 1 set of detailed instructions.
Look for this product at: ravensburger.com, major, specialty & online retailers such as Amazon.com & Amazon.ca.
About Ravensburger
Ravensburger has been connecting generations for generations. A family company since 1883, Ravensburger offers high-quality, age-appropriate games, puzzles, arts and crafts, and science activity kits that foster enjoyment, education, and family togetherness. Ravensburger is dedicated to the philosophy that starting children off early by stimulating their minds and hands helps not only develop fine motor, artistic, and exploring skills but also fosters a sense of accomplishment.
Ravensburger offers one of the most diverse collections of games you can find and is always creating innovative new games that are high in educational value and entertaining for various ages and abilities. Many of their games can be learned quickly, so even younger children have a good chance at beating the grownups. They have been awarded multiple awards over the years from renown institutions like Parent's Choice Foundation, Oppenheim Toy Portfolio and Family Fun.