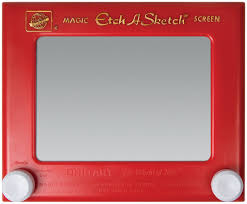 This classic toy will make you long for holiday pass. It has been a life-saver for many of parents over the years. Especially during those long holiday family road trips. Both my husband and I remember owning a Etch A Sketch back in the 70's. Even my eldest daughter recalls having an Etch A Sketch in the 90's. Fast forward to 2016, and my three year old owns a pocket-sized version of the Etch A Sketch.
Etch A Sketch History
The Etch A Sketch toy was invented in France in the late 1950s by André Cassagnes. He called it "L'Ecran Magique", the
magic screen. The Ohio Art Company bought the toy in 1959 and it was released in time for the 1960 holiday season sporting its new name "Etch A Sketch."  It was an immediate hit, selling over 600,000 units and becoming one of the best-selling toys of the year.  In fact, it was one of the first toys to appear on television.
In 1998, it was inducted into the National Toy Hall of Fame at The Strong, in Rochester, New York. And in 2003, the Toy Industry Association added Etch A Sketch to its Century of Toys List. This is a roll call commemorating the 100 most memorable and most creative toys of the 20th century. Etch A Sketch has sold more than 175 million units worldwide since it first hit stores in 1960.
Spin Master achieves a GUINNESS WORLD RECORDS title
Etch A SketchToday, the popularity of Etch A Sketch continues. The Ohio Art Company, recently sold the rights to the classic toy to Toronto-based Spin Master Corp. In July of 2016, 440 Spin Master employees around the world set a brand new GUINNESS WORLD RECORDS title for Most People Drawing on an Etch A Sketch Globally at the Same Time.
Pocket Etch-A-Sketch
Isn't it amazing how despite the vast advances in technology today that some toys have stood the test of time.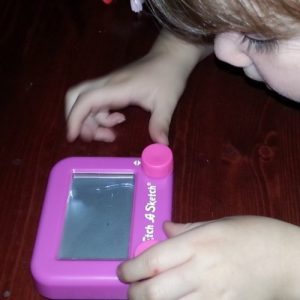 Etch A Sketch still looks the same as it did when it was first released: a large red frame, white horizontal and vertical knobs, and gray drawing screen. The miniature version of the classic toy is now in convenient pocket size. The two white knobs turn with ease for doodling or to drawing.  To erase just shake it to clear the screen and be ready for the next drawing. My daughter owns a pocket size Etch A Sketch in pink.
There is a reason this toy has stood the test of time. Its fun and will keep the kids both old and young entertained. Pick up one for their stocking today.
Website: spinmaster.com
Don't you just love toys that span generations? What toys do you remember most fondly from your childhood? Have any of them stood the test of time with your own children?