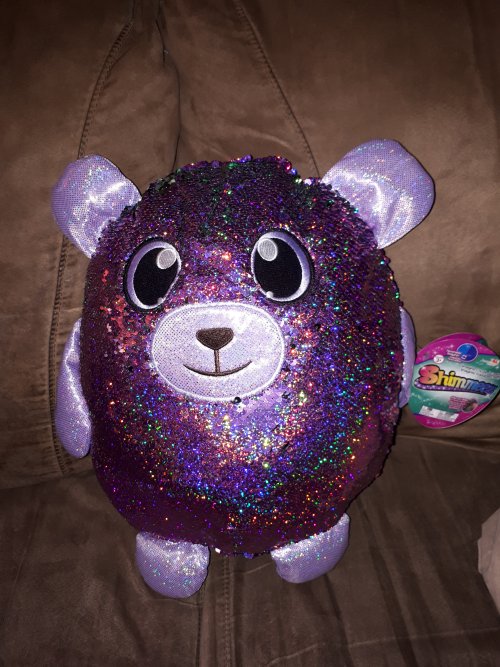 There are less than two weeks until Christmas, but it is not too late to get one of this years hottest toys if you haven't already. Do you have a child like I do who is already obsessed with the Magic Sequin? Add some sparkle, glimmer and glam to your little one's bedroom with a Shimmeez plush. From the Beverly Hills Teddy Bear Co, creator of Squeezamals and Surprizamals comes a line of plush dolls whose color changes as you rub their sequins.
Like the ever so popular sequin-flipping pillows, Shimmeez change colors with just the swipe of a hand. Simply swipe your hand across your Shimmeez plush and watch as it magically changes from one color to another.
Each Shimmeez plush features embroidered details and are available in three sizes, small 4 inch pocket size, 8 inch and large 14 inch. Your child can choose between several different  Shimmeez plush.
There are four 14-inch plush featuring the characters Cristy Cat, Benji Bear, Yaffa Unicorn and my personal favorite Leo the Owl (pictured here). And then there are six eight-inch plush featuring the characters  Polly Pig, Oliver Owl, Delilah Dog, Arlo Narwhal, Lainey Lamb and the ever so popular Maggie Unicorn. There are also 12 different characters as key chain plush.
Shimmeez are not only ideal friends for your child, but the sequenced plush also stimulate creativity. Children can draw cool designs on their Shimmeez or write on  them with their finger.
The sequins are fun to play with, soothing actually. But be warn sequence flipping is highly addictive. I do find the smaller Shimmeez don't have as good of a rub effect as the larger sizes.
Looking to add a little magic into a child's life?  Start their Shimmeez collection today and let the cuddling begin!
Please note that Shimmeez are not suitable for children under 36 months due to small parts.
https://www.shimmeezworld.com/