Every child is an artist," said Pablo Picasso. Art kits are a seriously easy, effective way to get kids creating. I have come to know and love many products by Ravensburger, including the most recent addition to our craft corner, the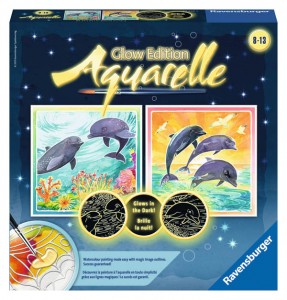 Aquarelle Glow Edition watercolor painting kit.
The Aquarelle is an introductory watercolour art kit. Similar to the other Aquarelle kits, these kits contain several different design can-vases with raised lines and mixable ink. In these kits; however, the raised parts of the canvas have the added bonus of glowing in the dark.
The theme kit my daughter owns is oceans and dolphins. It consists of two, 10 inch square watercolor boards, pre-printed with animated dolphins at play. The raised outlines are made with glow-in-the-dark material that is not easy to see in daylight, but glows brightly in a darkened room. The kit also includes 5 liquid colour vials, 1 dropper for water, 1 plastic 'pallet' with 10 depressed slots to hold the liquid colours, and 1 dual ended paintbrush (one larger brush end and one finer tipped brush end for more detailed work). Also included with this art kit is an instruction manual which includes a colour wheel and instructions on how to create different colours by mixing the colours and water.
Water is the only other ingredient you need to get started.
First make sure that you have a drop sheet or papers to work over since you are working with watercolours and mixing/diluting with water and other colours to create your desired colours. This art project can get messy so be prepared. An art smock or old shirt is also advised. Next: Lay the work area out with all the colours, a couple of cups of water for cleaning the brush and another cup of water for filling the dropper with clean water. I put the plastic pallet close to the vials of colours and chose which painting we would begin with. The next part was the fun part. We enjoyed mixing colours and water to create the desired hues and intensities of colour. In the instruction guide there is a chart of how to create different colours, including how many drops of each colour and how many drops of water. We played around with many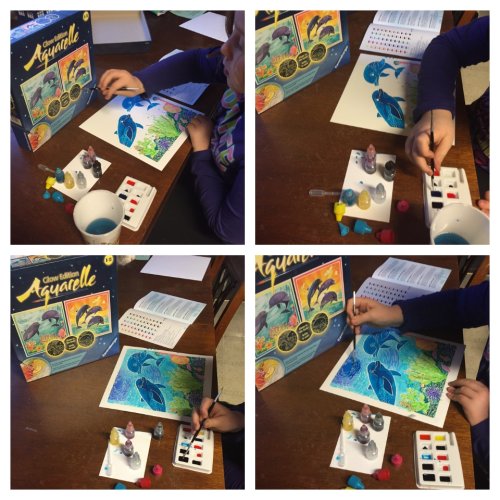 different colour combinations to create a bright underwater picture.
I have never been much of an artist and actually never done any watercolour painting, nor has my daughter. We had so much fun creating our picture. She took to the wheel initially, having fun adding colours and water to create the exact colour she desired.
I do have to admit though, our hands were stained for a few days from the liquid paints, but we were having too much fun to worry about a bit of paint on our hands. The designs included in this kit were easy to follow and clearly outlined with the glow in the dark raised lines.
Once we finished the masterpiece, we let it dry for about 30 minutes and then it was time to see if it glowed in the dark or not. Much to my surprise it glowed brightly.
Not only was the art kit fun and beautiful once finished, but also very educational. My daughter learned about how to mix colours and add water to create different colours. This would be such a great learning tool in an elementary school art class and would make a great Christmas gift that your creative artist will love.
The suggested age range for the Aquarelle Glow Edition – Dolphins art kit is 8-13 years, which I feel is right on the nose. My daughter had just recently turned eight years old and she was able to create her own masterpiece with minimal assistance.
Overall, I am impressed with the end results and the satisfaction of seeing my daughter complete such a beautiful piece of art. Ravensburger has completely lived up to my expectations with the Aquarelle Glow art kit.
Ravensburger Aquarelle Glow Edition kits are sold at national retail chains and specialty toy stores, including Toys 'R Us, as well as on Amazon.com. Readers also may visit Ravensburger.com.