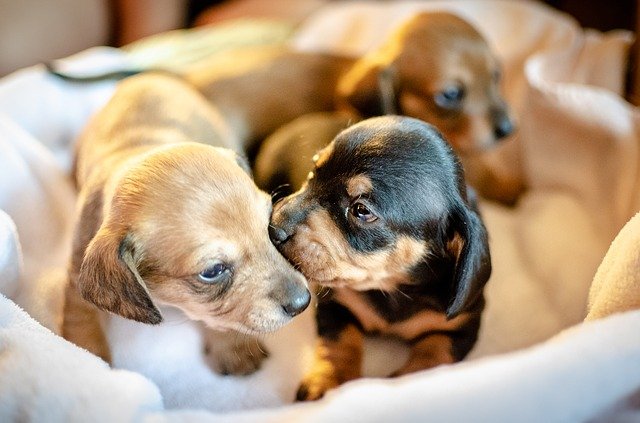 Seeing a litter of pups and having to choose only one is a difficult task for anyone. A common mistake is to select the Dachshund puppy sitting alone in the corner; the one that does not socialize with its siblings, and looks generally tired and lethargic. People tend to feel sorry for the puppy that appears to be left out, and understandably so.
However, this puppy's refusal to mix with the others and its lethargy may be signs of something more sinister than simply being the odd one out. There may be an underlying temperament problem or medical condition causing this behavior, so it is best to avoid choosing this puppy. This avoids the issue of having a sickly pet that may not survive to adult and will undoubtedly be a traumatic experience for everyone concerned.
You should also avoid the puppy trying to dominate the room (meal times are a good time to see which pup is the bossy one). With an overly dominant pup, you may be in for a constant struggle with him to see who's the boss.
Before you make a firm commitment in your mind that this is the dog for you, check him over thoroughly. Check for signs of possible illness. Checking that the eyes are clear and free from discharge; ears and nose are free from discharge or odor; gums and teeth look and smell healthy; and, no sign of diarrhea around the anal region. If everything seems to be in order, your search for a puppy is over.
Avoid puppies that don't socialize
Avoid puppies that are overly dominate
Look for signs of poor health: eyes, ears, teeth/gums
Meet the parents
Check the vet records
Make sure paper work is in order for your purebred dachshund
Already have selected a qualified vet
Make sure your home and yard has been puppy-proofed
Meet the parents
You can often tell a puppy's future temperament and disposition from the parents, and the breeder should be able to show you the parent of the puppy in which you are interested, or tell you all about them. This will help make a better decision on the suitability of the puppy for you, your family and lifestyle. Check the mother and father's temperament before making a final decision. If they show overly aggressive or nervous tendencies then it is quite likely that their offspring will carry forward. Such traits can be difficult to correct, but not impossible to correct.
Pedigrees
A pedigree puppy should already be registered by the breeder, and before you make a firm commitment you should ask to see the papers and documentation that authenticate this registration. Most breeders will show these documents to you without being asked. If there is a problem seeing these papers, look elsewhere. If and when you do purchase the puppy, the breeder must also provide you with registration papers to prove that the puppy has been officially re-registered in your name.
Signs to look for in a healthy pup
The puppy should have a healthy coat with no bald patches. Their eyes should be bright and shiny with no discharge. Teeth should be white, clean, and sharp. Ears should be clean and free of crawly things. Their butts should be clean too. There obviously shouldn't be any limping or other signs of injury. Tails should have a nice curve to them without kinks. And they should show some energy and curiosity.
Vaccinations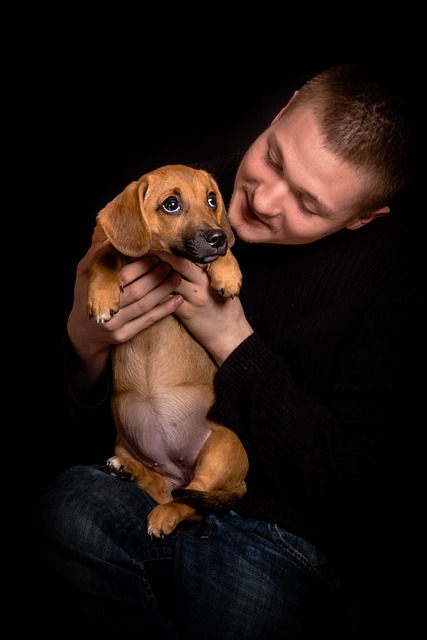 As soon as the puppy is old enough, the breeder should organize the administering of his first inoculations, and again you must ensure that you see evidence of this by way of records or an official vaccination card from the vet.
You will find reputable breeders have no qualms about you checking the puppy over, as he knows this is a very important part of puppy selection.
A good breeder will have no problem with you getting an independent assessment from a vet with regards to the puppy's health, or may have already done this in advance, in which case you need to ask for veterinary records or contact the vet in question.
Verify details on whether the puppy has been wormed, checked for genetic or other defects, and that vaccinations are up to date. Also check to see that there is no lingering illness that may come to light in a year or two.
A good breeder will not try and hide any information about possible future illnesses and diseases, and can in fact offer advice on the best course of action should a related medical situation arise.
If you need future advice on diet or if the puppy appears to be unwell, a good breeder will be happy to give you the best advice possible to keep your dog well. However, bear in mind that some questions, especially those relating to health, are best directed to your vet than to the breeder.
Puppy proof the backyard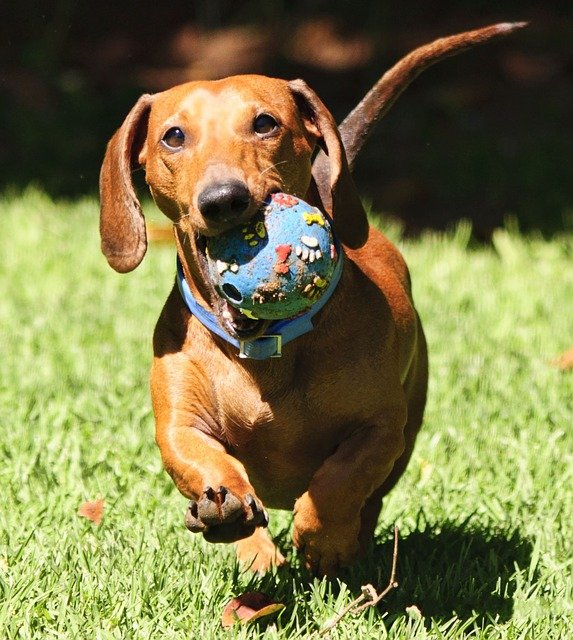 It is important to make sure your backyard is a safe environment. Check that there are no holes or gaps in your fence. Gaps do not need to be very big for a small pup – he could escape in an instant from a hole that you did not even realize was there. Make sure that all lawn and garden chemicals are safely locked away out of your pet's reach. Also, make sure that you are using only pet friendly products in the garden in case your dog or puppy decides to chew on the grass when he does go out. There are a lot of insecticides used on the lawn and in garden areas that are deadly to not only puppies, but adult dogs. One common insect control is used for slugs. It has an attractive smell that can be easily eaten by the dogs that can result in your dog's death within hours of ingesting. Read lawn and garden product labels carefully.