If you're torn on a unique gift to give someone in the family or a good friend, consider starting a Willow Tree collection for them. A Willow Tree figure is a gift they will cherish for years to come. Since the first Willow Tree figurine was created back in 1999 by artist Susan Lordi, their popularity has grown. The original of each Willow Tree® figure is sculpted and carved by Susan Lordi using special sculpting clay. Susan's originals are then sent to a factory in China. They are cast in resin that exactly captures each of her knife marks. The resin is cured, and each piece is individually hand-painted.
You will notice that none of the figurines are sculpted with any facial detail. And  yet each conveys a special expression of human sentiment.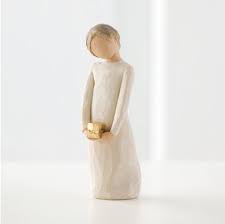 For that very special friend who always has time for you no matter what, consider the Willow Tree Figurine "Spirit of Giving". Introduced in January of 2009, its sentiment is "Generosity is your shining gift". The gold box represents that which is precious and valuable—the intangible gifts of generosity and time. A little something for those who give of themselves so selflessly, yet expect nothing in return.
"Anniversary" from Willow Tree Figurines celebrates the enduring love of lifelong partners. The figurine "Together" is for fortunate souls who have a partner with whom they share life and love. It would make a wonderful gift for mom and dad or grandparents.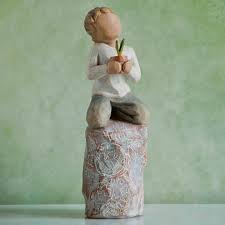 Perhaps most appropriate for the teacher on your holiday list is the Willow Tree figurine "Something Special." The gesture of something special is one of protection and caring for something precious… our children. This piece could be a symbol of newness and beginnings. A symbol for a teacher who touches lives through teaching.
Aside from figures, the Willow Tree collection also includes decorative items such as a 6″ wedding cake topper titled Promise; keepsake boxes and memory boxes, with themes such as From the Heart and Quiet Strength, which depicts the love between a girl and her horse, to beautiful plaques with themes that range from hug- a child and their dog to a portrait of Jesus, Mary, and Joseph in Holy Family.
I was introduced to Willow Tree figurines a few years ago when I received a figurine from my son as a Christmas gift. From that very first gift of a Willow Tree figure my collection grew. It's amazing how such a simple, yet gorgeous piece of art can express so much. I now have 32 willows in my collection and regularly search for any newly added items to the Willow Tree family of products.
My personal collection of Willow Tree figurines is focused on the grandparents with grandchildren, the couples/parents collection-. Although I do own a few Willow Tree Figures from the "Angel" category of figurines. I have also added single figures to the couple/ mother/grandparents to create family grouping.
I appreciate the way that Susan Lordi has created her Willow Tree figures, leaving the interpretation of each individual sculptured piece open, allowing us to decide for ourselves the intimate, personal meaning of each figurine or grouping.
The Willow Tree figurine collection is timeless. Give them a gift that will carry a story for years and years to come.
You can purchase the various Willow Tree collectibles both in store at Carlton Cards, Hallmark and online.
Do you own any Willow Tree figurines? Do you have a favorite piece?
Website: enescocanada.com