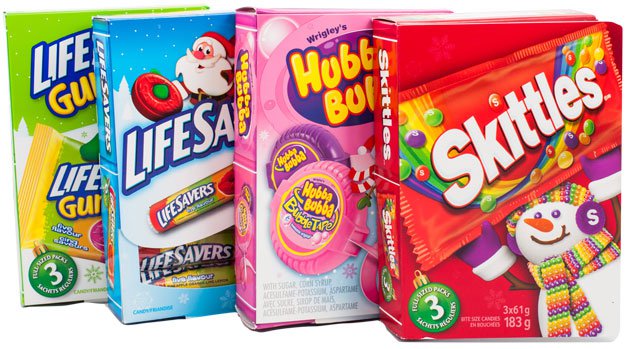 For those looking for unique and affordable gifts this holiday season, Wrigley's holiday gums, mints, lifesavers and candies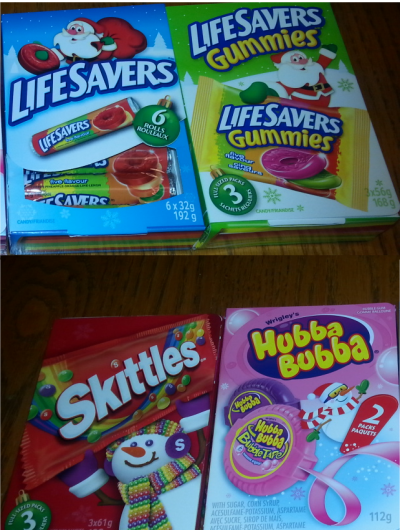 provide many fun and memorable ways for those young and old to enjoy the holiday. Wrigley Candy storybooks are a delicious way to celebrate. No Christmas stocking would be complete without these little gems. I remember as a young child every year at Christmas without fail, my brother and I would receive a Life Saver Storybook.  The box of sweet goodness was wrapped by Santa Claus and placed under our tree. My favorite flavors were Butter Rum, and assorted.
My mom carried on that tradition with her grandchildren up until she passed away. I then took on the tradition and still give the storybooks to my now adult children.
Today each Lifesaver storybook contains 6 flavored rolls compared to the 10 rolls the old books use to carry and the 5 rolls are all the same.
In addition to the classic LifeSavers Storybooks, you will also find Hubba Bubba Storybooks, Skittles Storybooks and LifeSavers Gummies Storybooks. Skittles ordinal storybooks contain 3 packages of Skittles Original 61g, Lifesavers Gummies 5 Flavour Storybooks contain 3-56g Packages, and the Hubba Bubba Tape Storybook  contains 2-56g Packages.
This holiday season why not share a holiday classic from your childhood for a new generation of kids to enjoy!
What was your favorite stocking stuffer as a child?
About Wrigley
The Wm. Wrigley Jr. Company is a recognized leader in confections with a wide range of product offerings including gum, mints, hard and chewy candies, lollipops, and chocolate. The Company has operations in more than 40 countries and distributes its world-famous brands in more than 180 countries. Three of these brands – Wrigley's Spearmint, Juicy Fruit, and Altoids – have heritages stretching back more than a century. Other well-loved brands include Doublemint, Life Savers, Skittles, Big Red, Boomer, Pim Pom, Winterfresh, Extra, Starburst, Freedent, Hubba Bubba, Orbit, Excel, Creme Savers, Eclipse, Airwaves, Solano, Sugus, Lockets, P.K., Cool Air and 5. Wrigley is headquartered in Chicago, Illinois and operates as a subsidiary of Mars, Incorporated, based in McLean, Virginia. Mars is a $30-billion, family-owned company that produces some of the world's leading confectionery, food and petcare products and has growing beverage and health & nutrition businesses.