Mary Macleod's Shortbread hand-shaped, all-butter cookies is a heartfelt way to share warm greetings this upcoming season. They come in a mighty variety of flavors from the classic to dutch crunch to Mary's signature Chocolate Crunch shortbread recipe that took over 18 months to develop.
Toronto Sun image of Mary Macleod when she first opened her doors.

Mary's legacy began back in 1981 when Mary Macleod opened Canada's first-ever shortbread shop under the marquee of Toronto's Capitol Theatre.

This tiny bakeshop was the origin of the signature small-batch shortbread and uncompromising quality. Mary would stay up all night baking for the crowds of cookie lovers who would line up outside — often selling out by noon.

Raised in Scotland, Mary learned to bake from her mother and French grandmother. As a breast cancer survivor, Mary opened her bakery when she was in her mid-40s to support her family. Even after losing her home in the 1980s recession, Mary kept the shortbread shop open out of sheer will and hard work.

Sadly, Mary passed away in 2016.

Her daughter-in-law Sharon has continued growing the business with Mary's original mission in mind: If it's not the best, why eat it?
The dough for the cookies consists of only the finest ingredients — including generous amounts of creamery butter — and is still mixed by hand.
Mary Macleod's Shortbread cookies are just not enjoyed by Canadians. The cookies were once stocked at Macy's, have been brought by a longtime customer to Antarctica for Christmas and have shipped as far as Hong Kong. And Mary has certainly left a lasting impression around the world with her delicious cookies. Celebrities such as Mick Jagger and Elton John have sang her praises. Even the Queen of England herself has enjoyed Mary Macleod's Shortbread cookies.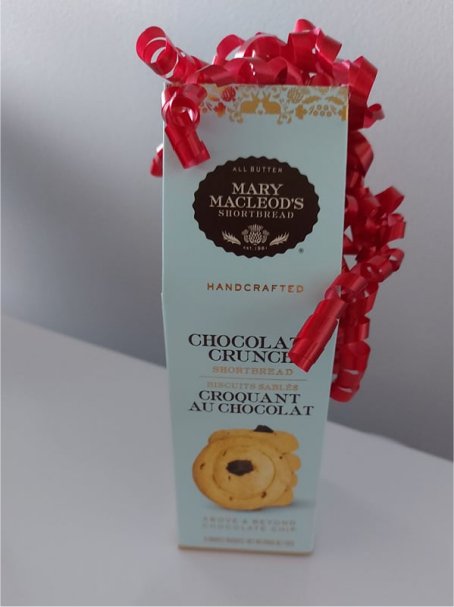 My Thoughts
Mary Macleod's Shortbread cookies are an always-welcome Christmas gift that seems to say Merry Christmas. Even my husband who isn't normally a fan of shortbread cookies enjoys Mary Macleod's Shortbread cookies. I find the chocolate crunch not to be overly sweet. They are nicely crisp and deliciously buttery. The signature Chocolate Crunch cookie, contains bits of heavenly Belgian chocolate.
A fun fact: When Mary's chocolate crunch was first released the flavor was considered scandalous, by the Scottish Society of Canada who sent Mary a strongly worded letter. They insisted that she could not put chocolate in a cookie and call it shortbread! Mary responded to this claim, by mailing them a sample of her chocolate crunch cookie. They replied with an apology and agreed that her Chocolate crunch was in fact an exceptionally delicious shortbread cookie.
Mary Macleod's Peaked Boxes are great for hostess gifts, teacher gifts or to gift to a neighbor or colleague. Pair it with their preferred tea. Mary Macleod's Shortbread chocolate crunch cookies is nicely coupled with a cup of my favorite Earl Grey Vanilla Tea.
Mary Macleod's Peaked Box with 6 handcrafted Dutch Chocolate Shortbread Cookies make the perfect companion to hot coco. The cookies contain decadent Dutch cocoa  with a big chocolate chunk on top. These didn't go over as well in our household as the chocolate crunch ones do. Then again we are not a fan of dark chocolate. The Dutch Chocolate Shortbread Cookies do have a very strong chocolate cocoa taste.
All in all, Mary Macleod's Shortbread Cookies allow you to enjoy something sweet without feeling like you need to spend an extra hour at the gym. Holiday splurges don't have to turn into holiday binging. One Mary Macleod's Shortbread cookie at only 100 calories is a nice sweet desert treat after a day of holiday shopping. They are also a nice treat to offer guests at afternoon tea.
Yes, the cookies are more expensive, but I can assure you that they are worth it.