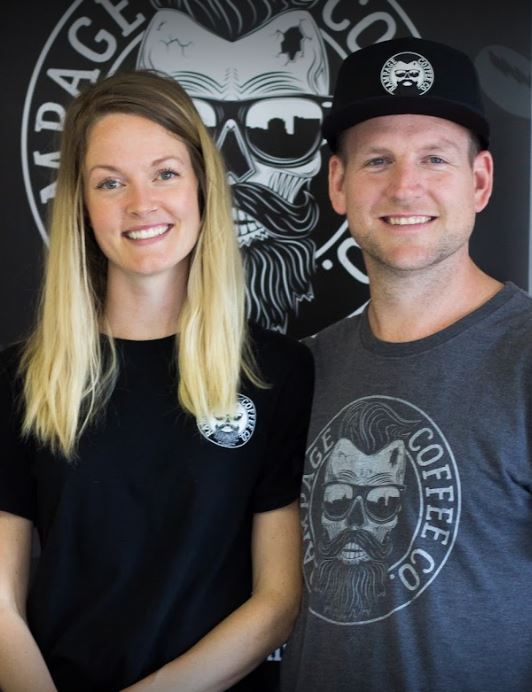 For most parents coffee is a need, not a want. You might have begun drinking coffee around your teen years. But you most likely did not know you needed it until parenthood when energy drinks just were not cutting it. Coffee is that one widely used by parents, socially acceptable psychoactive drug in the world.Every morning starts with me turning off our alarm, a stop at the bathroom and then I creep to the kitchen. Within seconds I am followed by my husband, or sometimes he makes it to the kitchen first, and our morning begins with a freshly perked pot of coffee. One cup of coffee has about 95mg of caffeine. I am not sure how much I need to get through my day with an eight year old who talks 12 hours a day non-stop. If caffeine IV was a thing, I would say to that, hook me up. I am not the only parent who uses coffee fuel to get through their day. Dustin Blanchard and his wife Lauren do. Ironically, the inspiration for their business Rampage Coffee was the pure exhaustion that parenthood brings on.
The young couple had gotten into the habit of visiting a local coffee shop in their home town Martensville, Saskatchewan, where they would drink plenty of coffee to fuel their workday. It was from there they decided to come up with their own blends. The company launched in 2019 by handing out 100 bags of coffee for free, simply requesting recipients to share their thoughts on social media. From there the small business became a success.
The small batch coffee roasting currently makes four different and very unique blends of coffee. The coffee is crafted in micro batches to produce a premium quality blend.
In the RIOT blend you will find premium coffee beans sourced from South America that are medium roasted. You can expect mellow acidity and a strong caramel sweetness with a nutty undertone".
In the CODE BLK blend you will find premium coffee beans sourced from Central America. It's dark roasted to create intense flavor with a toasty, nutty, low acid and bittersweet chocolate after tastes.
In the C – 4 blend you will find premium Central American and South Asian coffee beans specifically blended in a way that will punch you out of your morning slippers. Be careful with this blend as it is their highest caffeine blend and it has been known to start wild, out of control RAMPAGES!
In the IGNITION blend you will find premium Central American, South American and South Asian coffee beans specifically blended for espresso. Ignite your day with this 'must have' crema rich blend. Add it to your arsenal of beans because it is so delicious that there's no doubt it's a lethal weapon!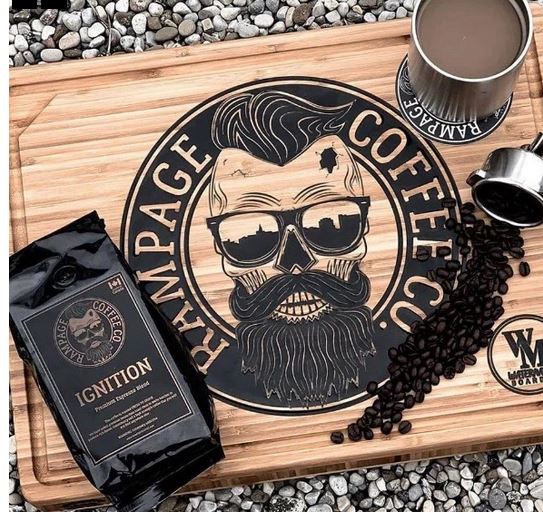 There is also a diet blend (decaf) of the different roasts. For those that want to try Rampage Coffee, you can see which blend is your favorite by ordering the Sampler Bundle, which includes all four options.
Subscription options for coffee include 7, 14, 30 or 60 day subscriptions and on your first order, you will receive 10 % off.
Our Thoughts
We ordered the medium roast. Rampage Coffee is smooth, not bitter, great tasting coffee. The first time my husband tried it he said "Now that is a good cup of coffee."There was also a very fresh taste to the coffee too. The acidity was also low compared to many coffees I have tasted. The aroma was wonderful too and full bodied. When you open the Rampage Coffee Bag for the first time, you will notice it has a dog bone imprinted tag that you pull off to open the bag. This ensures your Rampage coffee is always fresh. Dustin and Lauren also insure coffee is always fresh as the coffee comes in a resealable bag.
More than just Coffee
As we approach November, many of us are beginning to think about Christmas gift ideas.
Rampage Coffee doesn't just provide you with quality coffee, but they also have gift cards, gift baskets and numerous merchandise options available.
The skeleton coffee spoon is made of high-grade stainless steel with an extra thick ergonomics handle. It is an ideal gift for spoon collectors or those obsessed with skulls. The opening for eyes and nose make it perfect for shaking off excess sugar to help curb your sugar consumption.
For those who suffer from OCD (obsessive coffee disorder) why not gift them these EPIC RCC Rubber Logo Coasters. Not only will they add style to their coffee table, but they will add protection to any surface in their house.

Perfect for gun enthusiasts and coffee drinker why not gift them The Golden Roscoe Mug! This epic mug is like no other mug you have ever seen with its gold plated handle and midnight black mug body. Going on a Rampage? You better bring your Golden Roscoe Mug with you!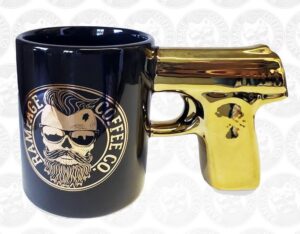 If you have a coffee fanatic on your list visit https://rampagecoffee.com
Facebook: https://www.facebook.com/rampagecoffeeco
Instagram: https://www.instagram.com/rampagecoffee
Win The "Starter Kit" Bundle | Rampage Coffee Co.
Now is your chance to win this starter kit from Rampage Coffee. The giveaway is open to  those living in Canada who are 16 years and over. One entry per household. You must leave a comment on this blog post telling us why you want to try Rampage Coffee or let us know if you already have and your thoughts. If you are entering for someone else be sure to tell us about their coffee drinking. The winner will be drawn on November 20th 2021.
Shop Local Saskatchewan