Meet Julie Wiener, a Canadian gal and the face behind Granolust. This lusty granola was started in 2017 in Montreal, Canada after the owner of Montreal's hottest local juice bar fell in love with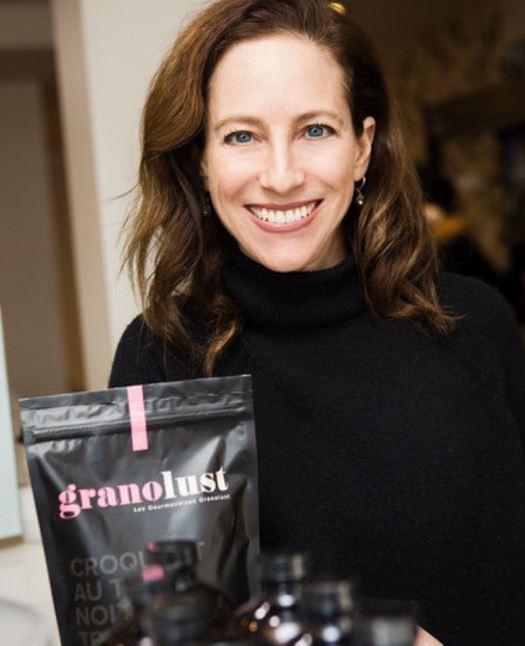 the granola Julie was making at home. Having tasted it, I can see why. Now, 4 years later, you can satisfy your cravings for GRANOLUST at over 200 of Canada's finest gourmet & health food stores, fitness clubs, restaurants, hotels, juice bars, in monthly subscription boxes and gift baskets and many online sites, just to name a few!
Granolust is all-natural, vegan and gluten-free. Did I mention that it is highly addictive? There are three traditional flavors. They are Maple Quinoa Crunch, Triple Nut Crunch and Mocha Chocolate Crunch. I will take one of each flavor, please!
Other flavors are: Rosemary Parmesan Crunch, Mango Chili Savoury Granola Clusters, and Montreal Bagel Savoury Granola Clusters.
All of the ingredients are plant based. The Parmesan in their Rosemary Parmesan Savoury Granola Clusters is actually a vegan parmesan blend, produced by a local Montreal company called Raw Vitality. The chocolate chips in the Mocha Chocolate Crunch is dairy-free and organic. When they say plant-based  they really mean it!
What about gluten? Julie uses gluten-free Canadian oats from Saskatchewan in all the company's flavors. In addition, their manufacturing facility went through a thorough gluten-free certification process and their bags proudly carry the GF Certified logo.The oats come from dedicated gluten-free facilities and all the rest of the ingredients they use are naturally gluten free.
Granolust- A favorite
Granolust is my new favorite breakfast cereal. When paired with a bit of yogurt or oatmeal, it is tasty, fresh and keeps me full until lunchtime. It is also nice on its own with a splash of almond milk and some raspberries. The Mango Chili is a great salad or soup topper. It isn't my favorite due to the spice, but I really enjoy the Maple Quinoa Crunch. It is the company's most popular flavor with pure Canadian maple syrup and a subtle mix of salty and sweet flavors. Whether you're looking for a crunchy snack with a touch of sweetness or a granola for breakfast, I highly recommend Maple Quinoa Crunch from Granolust.
For a granola parfait, put Greek yogurt (0% fat) in a bowl, add a few blueberries or blackberries and top with sprinkles of Granolust. Blueberries are full of vitamins, and antioxidants.
Why Granolust ?
Ironically, even though some brands of granola are praised to be healthy for you, store bought Granola such as Quaker Harvest Crunch apple contains over 400 calories in half a bowl. For a person trying to lose weight or a diabetic on a healthy menu plan, Quaker Harvest Crunch Apple provides one third of the calories needed for the day. Granolust is half of those calories making it the healthy alternative.
When eaten in moderation Granolust is an excellent addition to your meal plan. For those trying to lose weight, Granolust helps keep you feeling fuller for longer. Mix together 1/2 cup of Maple Quiona Crunch Granolust (240 calories)  and 1/2 cup of organic oatmeal. Oatmeal, by itself, is low in calories and high in fiber.
Nutrition Information for Granolust Maple Quinoa Crunch:
1/2 cup = 240 calories, 16 g total fat, 22 g, carbs, 4 g fibre, 4 g protein
1/4 cup = 120 calories, 8 g total fat,  11 g crabs, 2 g fibre, 2 g protein
Note: If you are trying to gain weight, Granolust is a healthier snack for you.
I hope I have made your next shopping trip easier for you by recommending this vegan-friendly granola. Add Granolust to your cupboard.
Granolust as a gift
Granolust is also a great holiday gift for co-workers, family members or neighbors. If you'd like to add something extra to your gift of Granolust, you can add a spoon, tube of honey and place them in a bowl. You could also do up a gift basket of Canadian made breakfast foods and include Granolust in it.
One final thought: I am out of Granolust and now have a lust for more!