Put your fashionable foot forward with the perfect summer shoes. When it comes to warm-weather footwear, it's all about keeping cool. You want something a little lighter on the foot and a little cooler. From sandals to running shoes Skechers has some of the best shoes to see you into fall. Our choices of Summer shoes will help keep the feet of the whole family cool, in all senses of the word.
Sandals are one of the most popular summer shoes. From flip flops to closed-toe sandals to wedges, a new pair of sandals is a great addition to anyone's summer wardrobe.
Sporty Sandals for Women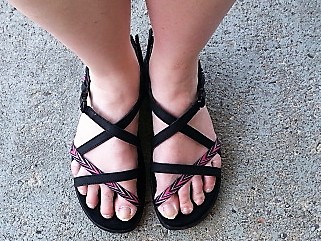 Nothing flatters the foot more than a beautifully made sandal. Every woman has her own idea when the word "sandal" is mentioned. Some may think casual, some may think dressy, and some sporty.  In my opinion, this sandal is a combination of all three. For summer I wanted a sandal that was both dressy and yet casual. The Reggae Slim – Keep Close sandals are fashionable, sporty, and yet highly functional. I actually wore them to a summer wedding.  And yet the same cute, sporty sandal with a 1" built-in heel is perfect for a day of Saturday yard sailing. The strappy sandal features a smooth synthetic upper, stitching accents, adjustable closures, and a supportive comfort midsole. Memory foam and a cushioned insole provide me with all-day comfort. I actually find myself wearing these sandals more than my Columbia's. 
Closed-Toe Sandals for Kids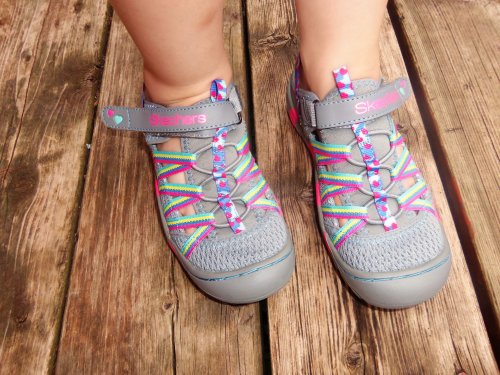 Closed-toe sandals provide excellent protection for all kinds of summer activities. Whether your child needs closed-toe sandals for daycare or you as a parent prefer a close-toe sandal, Summer Steps – Summer Sandals from Skechers will become an instant favorite.
They have all the support and protection of a shoe but with the added ventilation and lighter weight of a sandal.
The shoes feature breathable fabric uppers, rugged rubber traction out-soles, gel-infused memory foam insole, and easy velcro straps and bungee laces.
My daughter has wide feet and these shoes accommodate her feet perfectly. The wide forefoot, let my daughter's toes have room to expand and spread out. She has no problem taking the shoes off or putting them on.
The shoes feature a closed-toe front and a sturdy toe bumper wrapped up and around the front of the shoe for added protection. They also dry quickly after a run through the sprinkler.
Girls Light up running shoes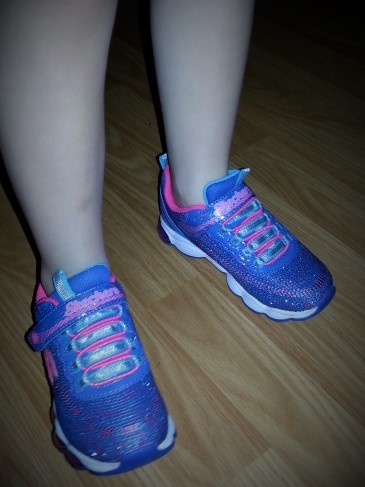 Light-up shoes have become very popular. Not only are they stylish, but kids love them and they catch the attention of everyone that see's them.  When it comes to light-up shoes, Skechers is always coming up with new shoe styles. Skechers S lights and Twinkle Toes feature fun colorful light action.
Children need arch support, heel cushion, and shock absorbency in their running shoes. It is often difficult to find these features in shoes for toddlers. However, as a mom, I can shop with confidence knowing that Skechers delivers just that in their toddler and children running shoes.
S lights- Air lights running shoes for girls are lightweight and comfortable shoe, which provides a flexible fit. Not only are they stylish, but they are highly functional. The shoes feature a bungee lace front panel for easy slip-on. They also feature an on/off switch on the side of the shoes to deactivate the light-up feature, with the exception of sizes 10.5 to 13.5, which do not have the deactivation feature. S lights- Air lights feature breathable glitter finish fabric and provide cushioned comfort with each and every step. A flexible rubber traction outsole enhances durability.
There is lots of wiggle room in the S lights- Air lights running shoes for my daughter's growing feet with no pinching on the heel or sides. They fit nice and snugly around the ankle proving maximum benefit when she is running.  And most of all my daughter likes them due to the light-up factor and I like them due to them being highly functional, so it is a win for both of us.
 White lightweight running shoes for Men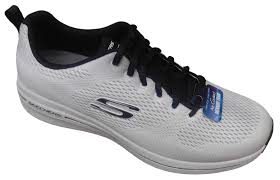 These all-white running shoes are perfect for summer. SKECHERS Burst 2.0 – Debore shoe features a nearly seamless one-piece knit mesh fabric upper, air-cooled memory foam insole,  and a burst midsole. The shoes are also equipped with a flexible outsole with a burst grip traction design, which can withstand rainy conditions. A soft responsive burst compound allows maximum flexibility and the shoes are extremely lightweight. In fact, at 7 1/2 oz, the shoes are so lightweight that you might just forget they are on. Soft responsive burst compound technology makes this a perfect training shoe for tempo and distance runners. These white running shoes also pair well with a plaid button-down shirt and a pair of knee-length shorts for a polished outfit that is perfect for a summer wedding or lunch out with the guys.
It's easy to see that Skechers has many different types and styles of summer shoes for you to choose from. It's all about your personal preference.
Visit the official Skechers website to see the full line of Skechers summer shoes for your family!