I have read various posts on Facebook that state the Amazon baby registry is a scam. It isn't actually.  There are a few steps you need to follow in order to claim your welcome box from Amazon though. Most moms-to-be already have an Amazon account, so creating an Amazon Baby Registry is super easy.
Step 1: Create an Amazon baby registry.
2: Sign up for a free trial to Amazon Prime.
3: Add 20 items to your baby registry.
4: Buy $25 worth of eligible products from your registry.
5: Claim your amazon baby registry welcome box!
Your eligibility to redeem your free baby box will be available two days after shipment. The Baby Registry Welcome Box contains product samples for Mom and baby from Amazon's most trusted partners.
Creating a Baby Registry on Amazon


Though I am not expecting a baby I created my own Amazon Baby Registry to find out how easy the process is. Amazon makes it easy to add all the products I would need for baby.  Once I got to the sign-up page, the rest of the registering process was a breeze. I put in all my info — name,  due date — and had a brand-new registry within seconds.  There is even an option to add my spouses info so that he can add items he wants for baby.  I used the registry checklist to add my favorite products — from a stroller to diapers — right within the registry page.  You can add products to your registry from the individual product pages or look at Amazon's Registry Checklist like I did, which shows you all the popular products without ever having to leave the registry page. Overall, the registry is the perfect option for new parents.  Your registry isn't just for friends and family. It's also for you. It can be a check list of things you need to prepare yourself for the arrival of baby.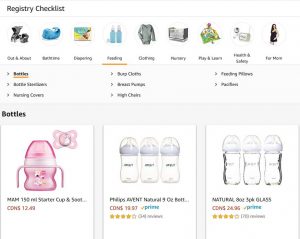 Amazon Baby Registry is super convenient for people purchasing gifts for you and your baby. Anyone from anywhere can order you a gift, even if they live out of the province or country. And it can easily be shipped directly to your home. This is perfect for friends and family who might be unable able to come to your shower.
If you are looking to save on baby items be sure to check out Amazon deals. Amazon Canada usually updates their Deal store on Tuesdays.
Amazon Family
Don't forget to also join Amazon Family which provides Prime members exclusive family-oriented offers, coupons, age-based recommendations and 20% off diaper subscriptions. And an Amazon Prime member, you will get 15% off eligible items on one order, compliments of Amazon Family.   That means you can save the big-ticket items  until closer to your due date. Amazon customer service makes it super-easy to make returns and exchanges within 90 days. Plus Prime members automatically get free two-day shipping on their orders.
Amazon.ca's Baby Registry Sweepstakes
Enter Amazon.ca's Baby Registry Sweepstakes and you could receive a $3,000 Amazon.com Gift Card to spend on your little one.
Participating is easy, just follow these steps:
Create an Amazon Baby Registry
Add a minimum of $50 worth of Pampers items to your registry to be automatically entered into the Sweepstakes.
One (1) winner will be selected each month.
Winners will be contacted on or about the 6th of each following month