Imaginative play is the cornerstones of a young child's world. When it comes to pretend play toys, little girls have this tendency to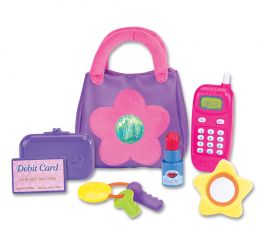 imitate their mothers, with everyday activities such as washing dishes, shopping at a grocery store, cooking, and even talking on a phone.
International Playthings, Kidoozie brand offers a wide variety of toys to enhance your daughter's imaginative play. This fun high quality toy line is age graded for toddler and preschoolers.
Some of the roles playing toys include: dress up shoes and jewelry, various dolls, a picnic basket, garden fresh fruits and veggies, doctor kits, a playhouse and purse.
My First Purse
The extremely well made purse measures about 7 inches wide by 9 inches tall and about 2 inches deep. It is the perfect size for small hands to carry. The purse is made from durable vinyl with a polyester lining. The handle is a soft plush. The purse has a Velcro closure for easy operation. Included with the purse are the following accessories: cell phone, lipstick, mirror, and debit card, coin purse and car keys. The coin purse opens to store the debit card and will even store pretend cloth money, which is something I added. You could also add a pair of sunglasses to the purse too.
My first purse stretches my daughter's imagination beyond just using the purse to store the included accessories. She has used the purse as a shopping bag for her pretend food, a storage bag for her little people figures, and as a diaper bag for her dolls accessories.
She doesn't care much for the lipstick that comes with the purse, but then I don't normally wear makeup, so it isn't something she would think to mimic me doing. The included mirror has somehow been lost over the holidays and the keys I often find at the bottom of her toy box.
Her favorite asseccory in the purse is the cell phone. One of the most significant benefits my daughter has experience as a result of engaging in imaginative play with the cell phone
is the development of her language skills.
As she engages in the pretend scenario of talking on the phone, she tend to use words that she hears my husband and I using while we are on the phone, which helps her develop further communication skills.
Overall,  I think the Kidoozie My First Purse was the perfect age appropriate choice.  It replaced her Laugh n Learn purse that she played with in her baby days nicely.
Dress up play is a favorite among all ages of children. Dress up play allows your child to use their imagination in a fun way through role play and acting out adventures. Though my daughter hasn't engaged in dress up yet, I know the purse will be the perfect accessory when that time comes.
Your child probably watches you prepare and cook meals daily. Kidoozie has several cooking toys available that allow your child to have hours of entertainment. Be sure to check out my review of the 'Picture Perfect Picnic set' from Kidoozie.

For all the young gardening enthusiasts, these pretend play food fruits and veggies from International Playthings are a great way for toddlers to learn about the rewards a garden can bring. Each lifelike fruit and vegetable can be pulled apart, peeled, or sliced as if it were the real thing. I have added it to my wish list for Miss P.
Probably the only time your child will enjoy doing dishes is when they are young. Be sure to check out my review of the dish drainer from Kidoozie. This is one toy my daughter has played with daily sense Christmas.
Kids love to do things around the house just like dad or mom, especially anything to do with tools. Cool Tools Activity Set is a great carrying case full of fun tools for your little carpenter! Though this is one of those toys geared to boys, there is no reason girls cannot play with it too.
Imaginative play is an important part of play. The above suggested toys from Kidoozie will let your child try out various domestic roles and engage in hours of pretend play.
About International Playthings LLC
Since its inception in 1967, International Playthings LLC has excelled in the delivery of innovative and entertaining products with integrity, superior play value and child developmental qualities to consumers.
Over the course of its 45-year existence, International Playthings LLC has grown to become one of the largest and most respected suppliers of quality products to North America.
A subsidiary of Epoch Company Ltd., affiliate company International Playthings LLC offers a comprehensive range of proprietary and distributed brands comprising a wide variety of award winning play things including games, infant toys, preschool toys, dolls, educational toys and activity toys.
Additional information on International Playthings LLC, its brands and individual products can be found at intplay.com.