Roylco Lock Blox is a new STEM building block set that can be used at home or in the classroom. It is sure to keep your child(ren) entertained for hours.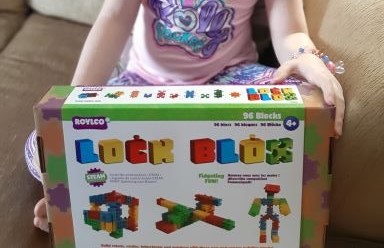 The blocks include 8 different peg-and-groove configurations that hold the blocks together. I will admit that the knobs that allow the blocks to twist can make connecting the blocks very difficult. This is something my daughter struggles with. However, once your child gets the hang of how the blocks fit together it is really quite easy and a lot of fun to play with.
We started by building the robot. We used the step-by-step instructions included in the guide. The directions were very easy to follow, however as I previously mentioned my daughter had some difficulty interlocking the blocks. Although with my assistance it took us no time to put the robot together.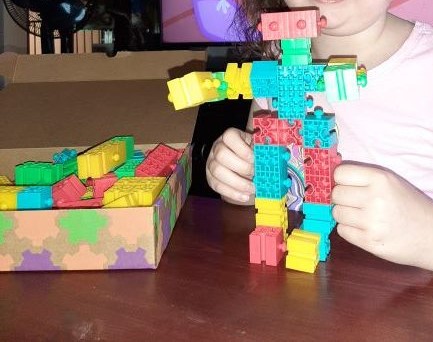 Once your child(ren) has tried building the creations featured in the direction guide, why not invite them to make their own creations? We built Robots, and giraffes and have even used them to spell out words, make numbers, and for patterning.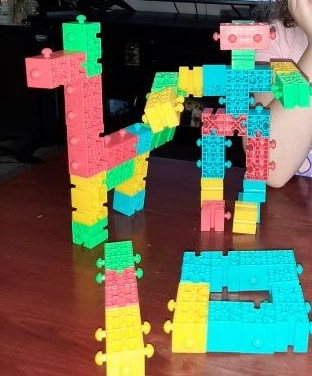 During these troublesome times in the midst of a pandemic children's anxiety is even more heightened. Fidget toys can help ease anxiety. An outlet for sensory and tactile play, Roylco Lock Blox helps improve attention and offers stress and anxiety relief. It is also an ideal homeschooling product as well.
Roylco Lock Blox sets come in a 32-piece set that retails for $24.99 or a large pack with 96 pieces that retails for $69.99.
About Roylco
Roylco develops and manufactures over 400 products in art, science, math, special needs, physical education, language arts, foreign language, multicultural, and social studies that meet the National Standards for education. With a focus on educational arts and crafts materials, Roylco's creative products are designed to make learning fun! See more at https://roylco.com/