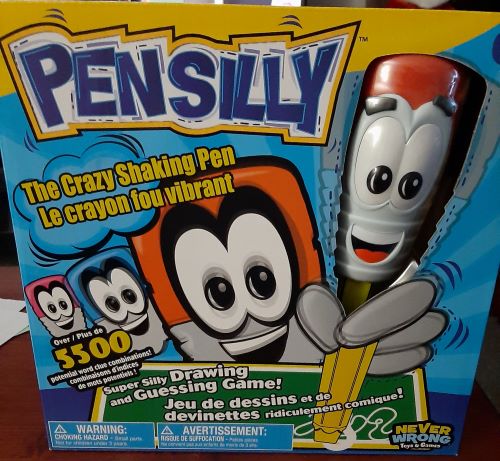 In the quest for virus-safe fun during the pandemic why not gift your loves ones a new board game. People stuck at home during the pandemic have spent more time than ever before playing board games together. If you're shopping for a board game this holiday season, why not take a look at Pensilly. This super silly guessing game is ideal for the whole family.
How to play PenSilly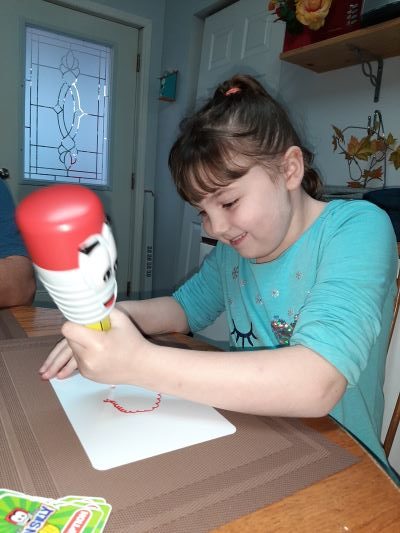 To play the game you simply pick a description card and a subject card and draw one picture that incorporates both words. So for instance you could pick a Subject card saying ' Christmas Tree' and the Description card 'Daydreaming' meaning you have to draw a daydreaming Christmas Tree. While you are drawing your teammate(s) are attempting to guess what you are drawing. Does this sound like Pictionary? While it may sound similar there are even more laughs to be had with PenSilly. The huge Pensilly pen, wibbles and wobbles uncontrollably while you draw making your pictures more difficult to comprehend.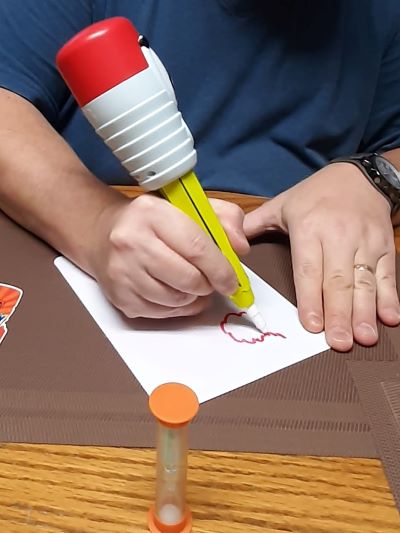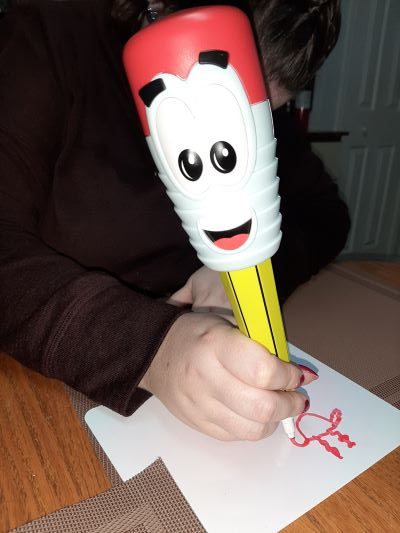 There are over 5,500 word combinations that you can randomly pick. The large pencil has 2 settings one fast and one slightly slower. I prefer the faster setting.
The winner of the game is the first person to reach 10 points, each card has a points value marked in the bottom right. If the team guesses the word on just one card you keep that one if they get both then you keep both.
Our Thoughts on PenSilly
The game is recommended for children age six and up, so it really is a fun game the family can enjoy. My daughter did need some assistance reading some of the cards. I love that she is working on her reading through play without her realizing.
It's a shame that the game didn't come with a cleaning cloth for the whiteboard drawing boards and extra markers. I can see the pens running out quickly and the giant silly Pen takes a certain size marker.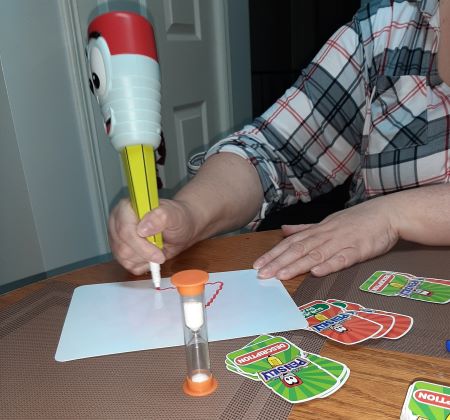 The PenSilly box contains:
1 PenSilly Pen
1 minute sand timer
75 Subject Cards
75 Description cards
2 whiteboard Markers
2 Drawing boards
You will also need to get 3AAA batteries
We had so much fun playing PenSilly. It would make a perfect Christmas board game during these trying times when families are spending more time together.