In the midst of a pandemic, remote learning has never been more necessary. COVID-19 has many schools across the globe closing and remote learning becoming the new norm. If you are a parent or know someone who has made e-learning part of their 'new normal' after experiencing this holiday season why not get them a gift that makes learning at home more hands-on?  You may already be well aware of the Griddly Games Just Add a line of Steam kits.  We have reviewed several Griddly Games Just Add kits in the past on Today's Woman.  In 2016, Griddly shined a light on solar power with its "hot" new Just Add Sun solar-powered craft kit. Just Add Sun joined Griddly's STEAM (Science Technology Engineering Art Math) product category that already included the company's Just Add Milk science activity craft kit. In 2017 Griddly Games came out with Just Add Glue. Last November Just Add Egg was added to toy shelves. 
Griddly Games continues to develop more activity products that encourage and engage children's interest in science. For 2020, old fruit or vegetables get recycled into experiments and crafts when you Just Add Fruits and Veggies. In Just Add Baking Soda Griddly Games offers some new and different explosively fun experiments that burst into super cool crafts.
Why we love Griddly Games Just Add
Miss P is being home-schooled and is also taking part in remote learning. As a mom of a seven year old I'm always looking for new S.T.E.M. projects that we can do at home. Already familiar with Griddly Games line I was pleased to see that they have added new. These S.T.E.M. kits from Griddly Games are perfect for homeschooling parents like me as almost everything you need comes in a kit. During a pandemic, it is even more difficult to shop for all the items you need for a project. Therefore, I am pleased when a kit has everything you need within it. Extra items that we need are already within my home, which allowed us to get started right away.
Just Add Egg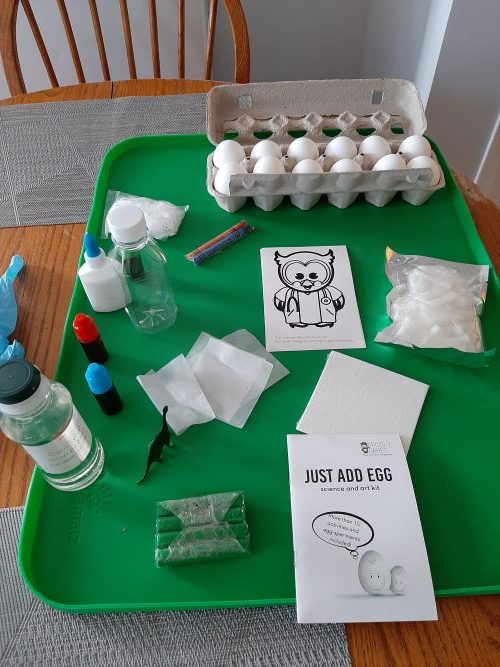 We started with the Just Add Egg Kit which includes more than 10 activities and egg experiments for you to do with your child. It's made for children ages 5 and up.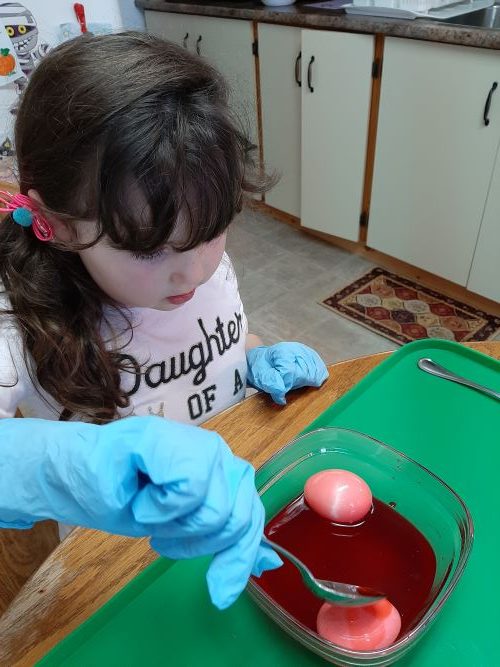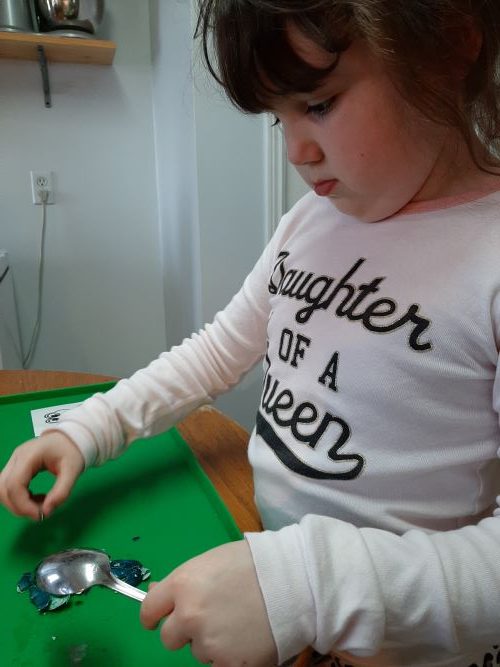 We selected to do the Egg Blowing project first. You will need a few raw eggs, a thumbtack, and a small bowl. Miss P needed help blowing out the egg. Once you have the egg blown out you'll be left with a hollowed-out egg shell. You can use the egg white and yolk for another project in the booklet, so don't toss them out! Once you have your hollowed-out egg you can use it in several different projects in the book.
Next for us was the Egg Shell Dying project. We used the included food colors that came in the kit and just added our own white vinegar. Pour a little vinegar into a dish. I used a glass bowl which worked well. Add in a few drops of the included food coloring. Place your hollowed-out egg into the coloring and let it sit. The longer you let it sit the darker the color will be.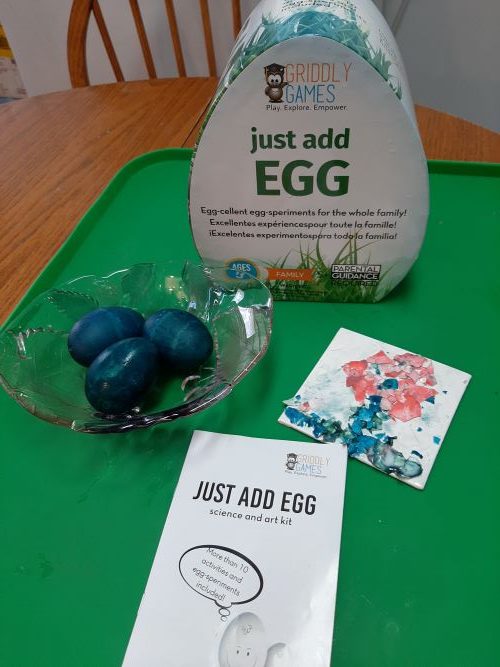 Once dried Miss P used the included soap to draw designs on the eggs and placed the eggs back into the bowl of dye for a few moments. When she took her eggs out of the bowl her design was visible.  She learned through this experiment that if you apply beeswax or soap to an area, it will seal in the color underneath.
For deeper colors, place the eggs in the dye in your refrigerator and leave overnight. Once the dyeing process is complete, remove the eggs from the dye. Place on a paper towel to dry.  You can also rub the eggs with olive oil to add shine.
Just Add Fruit
With Just Add Fruit your kids can make a lemon volcano, a potato battery, fruit powered battery, fruit & veggies stamping, and so much more!
The kit includes:
Food Coloring
Bamboo Skewers
Star-Shaped Cookie Cutter
LED Light
Rubber Bands
Black Marker
Paint
Paint Brush
Alligator Clip Wire
Instruction Booklet
We have only had the ability to explore two of the many projects in this Kit, which was the Veggie stamping and Osmosis with Potato Slices.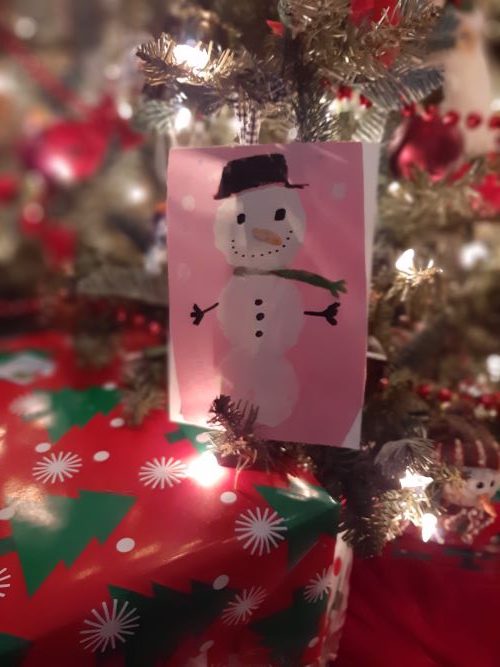 Cut your potato in half. You only need one potato half for your craft. Use a cookie cutter and cut out a shape. Squirt some paint onto a paper plate. Take the potato "stamp" and rub it in the craft paint, until it's completely covered. Now take it and stamp it onto your paper. You can also use the other half of the potato dip it in white paint and make a potato-stamped snowman. This is the perfect winter's day kids' craft!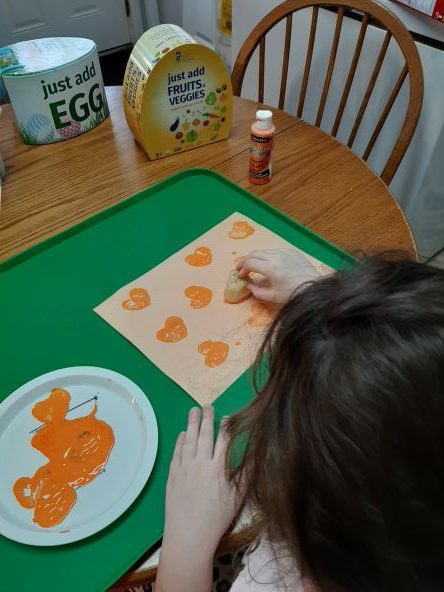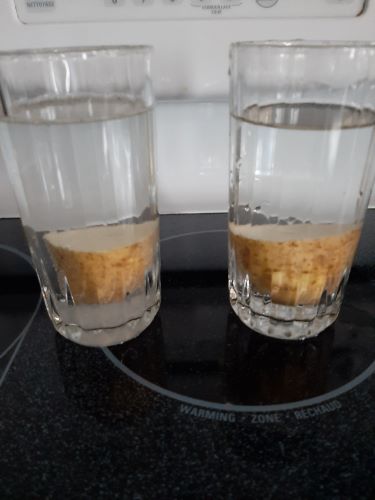 Fill two glasses with about one inch of water. In one of the glasses add 2-3 tablespoons of salt, and stir it in. Cut a potato in half. Dunk the pieces in the water, and then let them sit for about an hour or overnight. You will notice some immediate differences in the potato slices in an hour. This was a fascinating experiment.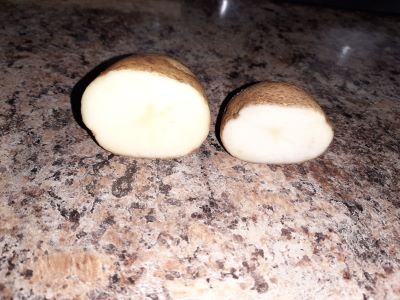 Just Add Baking Soda from Griddly Games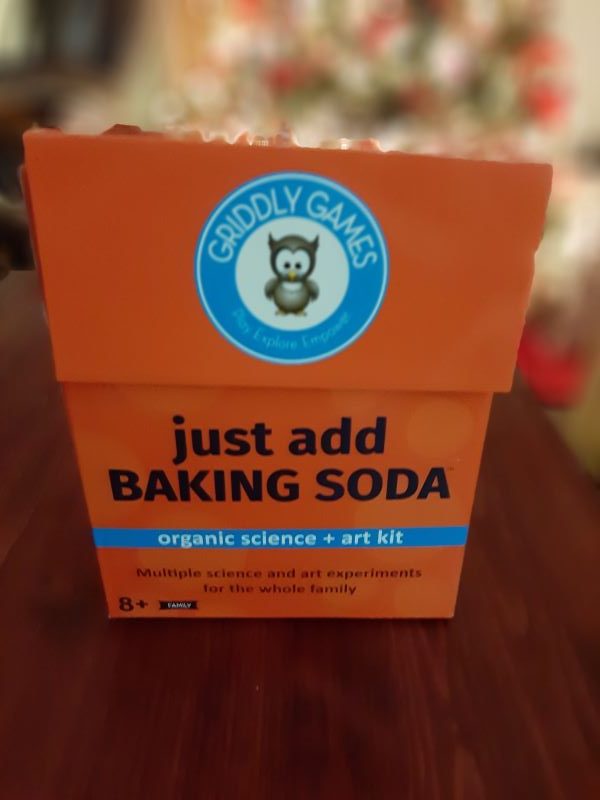 With Just Add Baking Soda, your kids can make bath bombs, ornaments, a baking soda volcano, and more. The kit includes a bottle, a funnel, a silicon ice cube tray, a plastic dinosaur, squeezy bottles, an eye dropper, a balloon, a straw, syringes, a mold, latex gloves, food coloring, a star-shaped cookie cutter, white glue, paint, watercolor paper, wax paper, a paper clip, yarn, and instructions.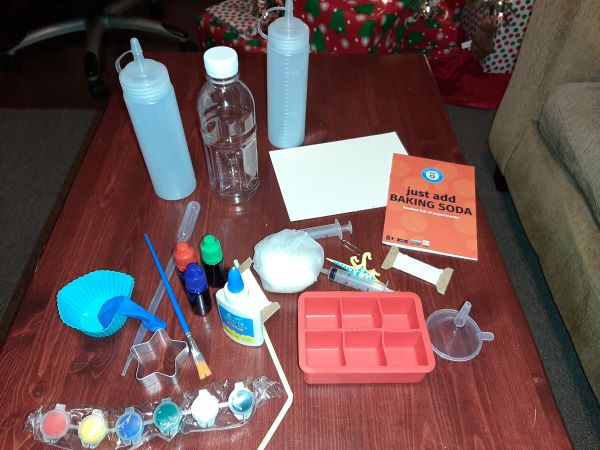 How to Grow Baking Soda Crystals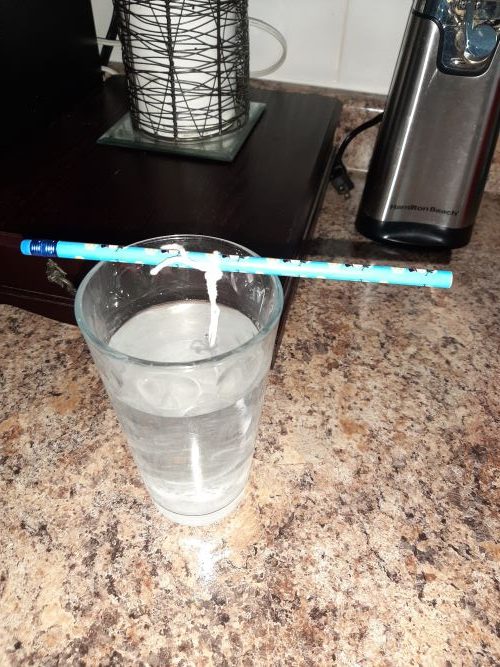 My daughter selected the How to Grow Baking Soda Crystals project to do. You need to supply the baking soda, glass jar, and water, but the rest of the items you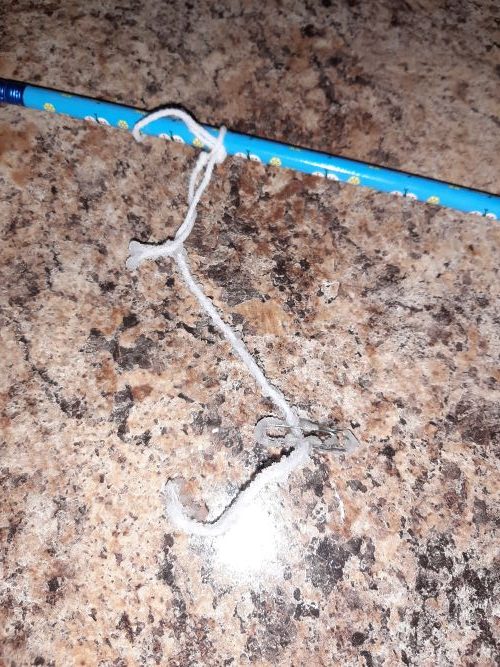 need come in the kit. We found a large glass works perfectly for this project. It will take approximately 30 minutes to put together and then for best results you need to allow 1 week for your crystals to grow. We only let our crystals grow overnight. Boiling water is involved with this project which is best done by an adult. To start boil water on the stove. Once boiling add 7 approximately seven tablespoons of baking soda. Be sure to add slowly.
Next, tie a piece of string onto a pencil and add a paper clip halfway down. Pour your baking soda solution into your glass. Set the pencil across the glass and have the string hanging in the glass a bit from the bottom. Ensure your string is not touching the bottom of the glass or sides. Overnight you will see results. Take out and let dry. My daughter was very impressed by this experiment.
We are going to continue to explore other projects in the three kits until all the projects are completed. My daughter has been having a lot of fun working on the projects that she has done. Just Add (blank) science and craft activity kits, which are sure to stretch the imagination!
The new kits join a cornerstone line that already includes the multi-award-winning STEAM (Science Technology Engineering Art Math) kits: Just Add Milk, Just Add Sun, Just Add Glue, Just Add Sugar and Just Add Egg.
Reisa Schwartzman, founder and president of Griddly Games, said, "Expanding off of our Just Add (blank) science and craft activity kits, we continue to develop more activity products that encourage and engage children, boys, and girls, about the fun and interest in science."
In addition to its STEAM kits, Griddly Games' family of products includes its top selling games, Rocket Lander, Wise Alec™, Wise Alec™ Junior, Wise Alec™ Expansion Packs (Body Works, Bright Ideas, Civilize This, Nature Nuts, and Sports Buffs), Oversight, Rainbows and Storms, Words of the Wise and Chronicles of the Mind.
About Griddly Games: We are the creators, manufacturers, and marketers of original games and activity kits that are designed for the entire "grid" of people. Our mission is to inspire creativity, imagination, out-of-the-box learning, healthy living, and lively interaction through the fun of games and activities. Our multi-award-winning line of STEAM (Science. Technology. Engineering. Art. Math) activity kits and STEM games continues to "Just Add" more and more new "ingredients" that cultivate natural curiosities and memorable experiences. All of our products inspire and engage people in a lifetime of play and learning about themselves and their limitless capabilities. The company, based in Richmond, near Vancouver, British Columbia, was founded in 2007 by Reisa Schwartzman, a mother of three boys, who took it upon herself to deliver wholesome family fun that multiple ages could enjoy at once. Griddly Games instills a strict company philosophy to encourage social interaction, learning, strategy, and challenges that anyone (from across the grid) can enjoy.  To discover more about Griddly Games, visit www.griddlygames.com and get all of the most up-to-date, immediate information by interacting with the company on Facebook, Instagram, and YouTube.