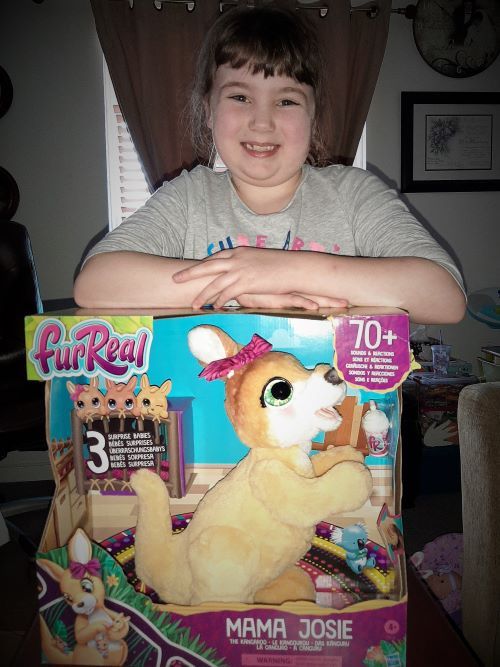 This upcoming holiday season your child(ren) are going to fall in love with furReal Mama Josie the Kangaroo from Hasbro. Mama Josie is a gorgeous golden color kangaroom featuring a pink bow in on one of her ears.She also comes with some surprises too. Not only does Mama Josie have more than 70 different super cute, funny, and lovable sounds and motions, but Hasbro has added a fun unboxing experience to Mama.
She comes with 3 cute baby joeys for your child(ren) to love and take care of.  One baby' joey is a boy, the other a girl, and the third one is a surprise! Unbox all 3 for the big gender reveal. We unboxed a boy joey. The three little joeys also come with must-have accessories like bottles, little animal toys, and more.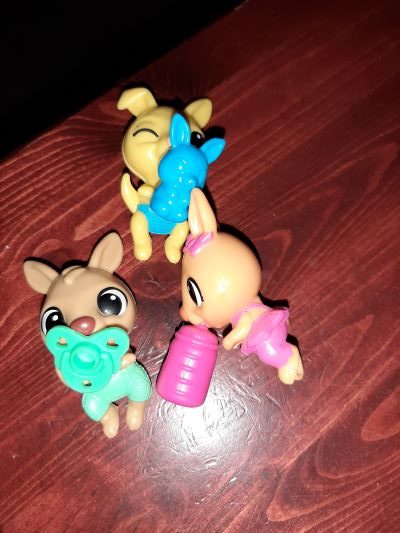 So many sound-and-motion combinations
To activate furReal Mama Josie the Kangaroo simply switch the botton to on- which is located underneath Mama Josie's bottom. As soon as Mama Josie is on she will begin to make sound. She will also dance. Press down on her right hand to activate music for her to hop to. She can even move her head and arms; hold her babies in her paw (one at a time, of course) and kiss them.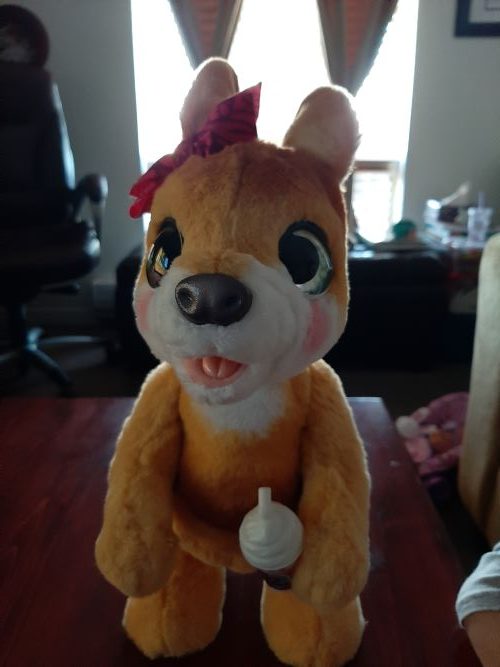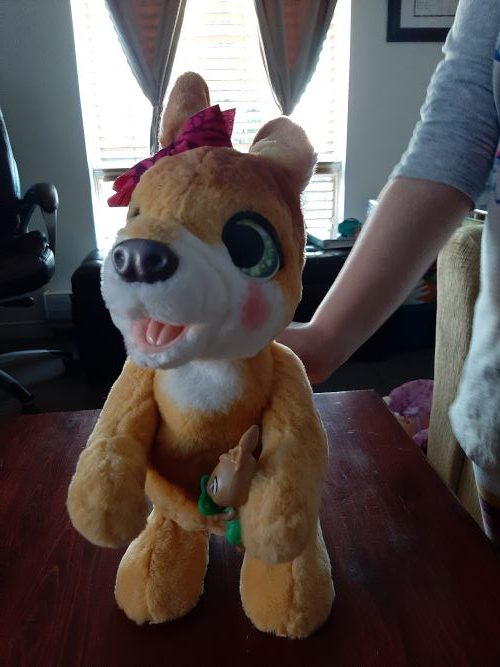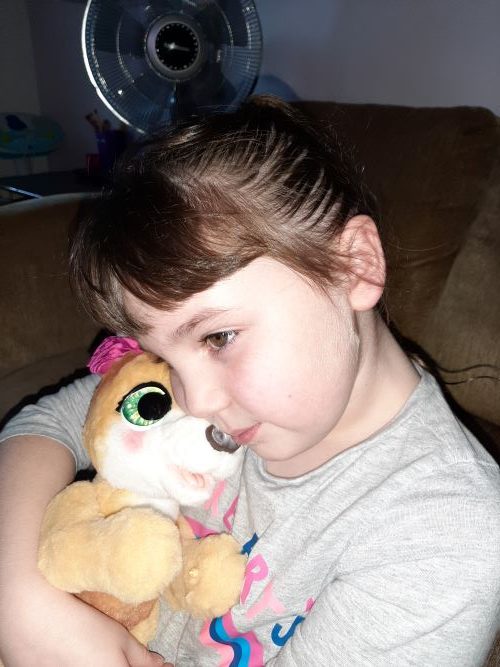 Mama comes with four accessories, one of them is a frappe to keep mama awake and alert for her joey babies.
When she's ready to drink, put the drink against the bottom of her mouth and press down- this will activate slurping sounds. She makes all kinds of sounds when drinking such as munching, slurping, and hiccuping. Mama will even let you know when she is full by burping.
Mama has two nobs on each hand that will hold her frappe and a Joey. You can clip a baby joey on her left hand and clip a  bottle on the right hand to feed her. The two other Joey babies will fit in her pouch.
Miss P has been wanting a FurReal for some time now and absolutely loves her Mama Josie the Kangaroo. The different sounds make it enjoyable to play with and it is certainly getting lots of play in our household.
The only drawback i that I wish Mama Josie bounced. My daughter doesn't really care either way though. She loves her new Kangaroo and has asked for furReal Walkalots Big Wags Unicorn for her birthday.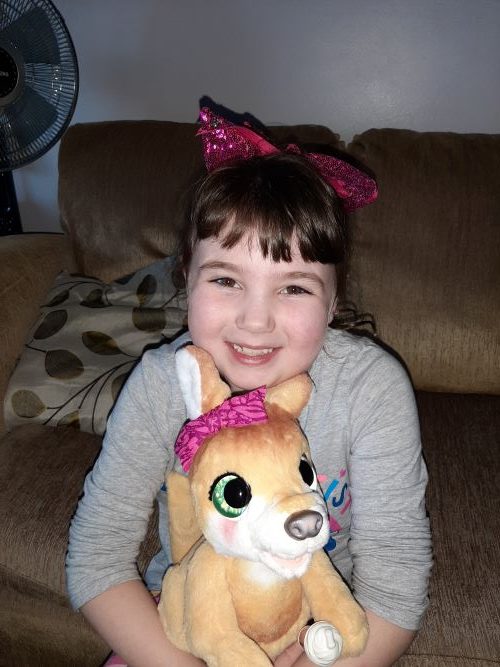 Mama Josie is sure to captivate young ones this holiday season! She requires 4 "AA" batteries. Mama Josie is available at most major toy retailers.
About Hasbro

Hasbro, Inc. (NASDAQ: HAS) is a branded play company providing children and families around the world with a wide-range of immersive entertainment offerings based on the Company's world class brand portfolio. From toys and games, to television programming, motion pictures, video games and a comprehensive licensing program, Hasbro strives to delight its customers through the strategic leveraging of well-known and beloved brands such as TRANSFORMERS, LITTLEST PET SHOP, NERF, PLAYSKOOL, MY LITTLE PONY, G.I. JOE, MAGIC: THE GATHERING and MONOPOLY. See they inspire play through their brands at hasbrotoyshop.com