Baby Alive dolls are one of the most popular doll brands in the world.  Designed for children age 18 months and up Baby Alive offer various models with different functions and levels of interaction. The common size of baby alive dolls are 12 1/2 inches from head to toe.

The first Baby Alive dolls were introduced by Kenner in 1973. By the mid-1970s the doll was in huge demand. The general idea behind the doll was to create a doll that would teach kids responsibility. The very first Baby Alive dolls could be fed food packets mixed with water, and came with a bottle, diapers, and feeding spoon.There was a lever in her back that you'd move up and down to make the baby "swallow" the food. Without revealing my true age, I had one of the first Baby Alive dolls ever manufactured. Kenner company eventually became a part of Hasbro who redesigned the Baby Alive brand in 2003.
Baby Alive Happy Hungry Baby takes us back to the first classic dolls of the early 70's. However,  Baby Alive has now received a huge makeover.
Baby Alive Happy Hungry Baby
Baby Alive Happy Hungry Baby comes complete with a bib, a feeding tray, a sippy cup, two packets of powdered doll food, two diapers, a comb, an interactive spoon, and a bowl.
When you insert the spoon or sippy cup into the doll's mouth, you'll hear eating noises and see the doll's mouth move. After eating, the doll poops and pees in her diaper just like the classic doll of the 70's.
Unlike the traditional doll of the 70's Baby Alive Happy Hungry Baby talks. She has more than fifty sounds and phrases.  With an "uh-oh" when it's time to change her diaper Baby Alive will tell you exactly what she needs. Kids can play with her in Mommy or Daddy mode. With the flip of a little switch on the back, baby changes from asking "mama" to do things to asking "dada."
There are three different styles of dolls available: curly blonde hair, straight brown hair, and straight black hair.
Baby Alive Happy Hungry Baby introduces kids to what it is like to care for a real baby! From diapering to feeding, Baby Alive Happy Hungry Baby your child will participate in realistic development experiences. Four AA batteries are included for the in-store try-me features,but I do suggest changing these out.
Miss P has asked Santa for Baby Alive Happy Hungry Baby and Baby Alive – Doll Play Yard for Christmas.
Littles by Baby Alive, Carry 'n Go Squad
New for 2019 comes a new line of Baby Alive dolls from Hasbro. Meet the Littles by Baby Alive: a playful squad of busy toddlers with lots to do. Each 9 inch doll in the Carry 'n Go Squad arrives wearing a cute onesie. The doll also comes with a doll carrier, pretend headphones, and a comb for styling their hair.  Each doll in the Littles by Baby Alive line also comes with a character bio, too. Little Chloe loves to tell jokes, do magic, and be silly!
There are several dolls for both boys and girls in different skin tones. That is one thing I love about Baby Alive dolls in general is that there isn't one specific doll suitable for all children. Baby Alive are available in both male and female dolls. They are are available in different skin tones. I really think that's important so that children can culturally identify with their doll.
The new line are the perfect size for small hands to grasp. I can see these being a huge hit with toddlers and would be a great gift for a child welcoming a new baby into the home.
Littles by Baby Alive Accessories
Miss P can also dress Chloe up in mix-and-match outfits from the Little Styles dress-up assortment which is sold separate. There are several cute outfits to choose from. The fun doesn't stop there though. Children can go on a playtime adventure with Littles by Baby Alive! Take your doll for a walk with the Baby Alive Littles Stroller and Doll! When kids push the included Little Ana doll in her adorable doll stroller, her legs kick up and down like a real toddler's would! There is also room for a 2nd doll.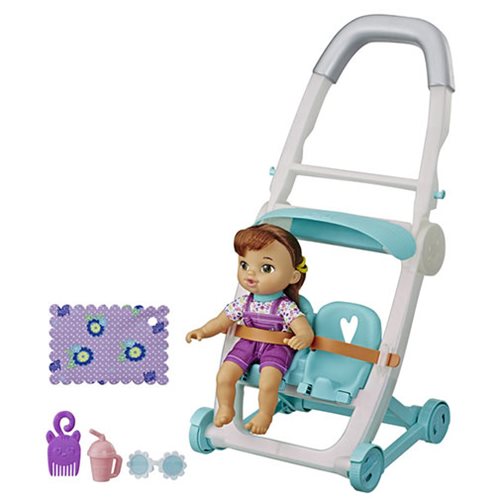 To discover more about Little Chloe and the rest of the Littles by Baby Alive squad, characters, fashions, and accessories, parents can visit www.babyalive.com.
Dance Class Baby
My six year old daughter who just took an interest in dolls this years has a few Baby Alive Dolls. In fact her favorite doll is Baby Alive Dance Class Baby- aka Katie. Baby Alive Dance Class Baby is her comfort object. She takes her everywhere accept to school.
This past summer Miss P was in a horsing accident. She was riding a pony when the saddle completely slid under the pony she was riding and she fell off. She obtained a left supracondylar fracture type three. Because the pieces of bone were significantly out of place she required surgery. Baby Alive Dance Class Baby was with her throughout her hospital stay and was even in the operating room with her throughout the surgery.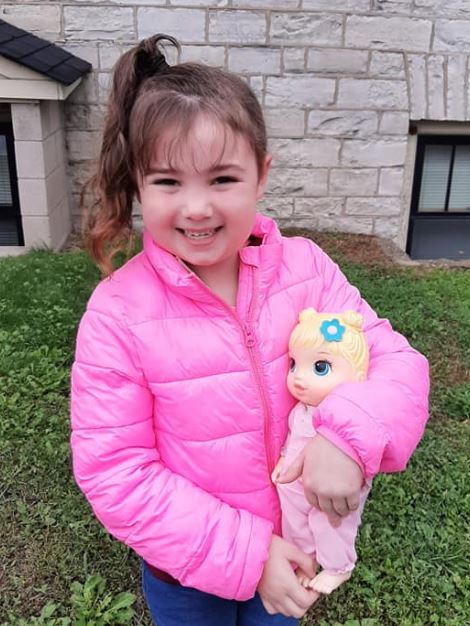 Top Baby Alive Dolls
If you are looking for a doll for a little one to enjoy this Christmas there is nothing quite like a Baby Alive doll. Baby Alive dolls are truly a classic that has been enjoyed for generations. With Baby Alive children will love and nurture their baby creating a special bond that will last long after the childhood years are over. While there are many  Baby Alive Dolls now available, Hasbro holds three of the top fifty spaces on Amazon.com for dolls with their top selling doll Baby Alive Sweet Spoonfuls Baby Doll coming in at number 10 and four spots on Amazon.ca with their top doll being Baby Alive Sweet Spoonfuls.
Be sure to check out the Baby Alive Happy Hungry Baby and the Littles by Baby Alive from Hasbro, as well as the full Baby Alive line and Baby Alive accessories at www.babyalive.com.
About Hasbro

Hasbro, Inc. (NASDAQ: HAS) is a branded play company providing children and families around the world with a wide-range of immersive entertainment offerings based on the Company's world class brand portfolio. From toys and games, to television programming, motion pictures, video games and a comprehensive licensing program, Hasbro strives to delight its customers through the strategic leveraging of well-known and beloved brands such as TRANSFORMERS, LITTLEST PET SHOP, NERF, PLAYSKOOL, MY LITTLE PONY, G.I. JOE, MAGIC: THE GATHERING and MONOPOLY. See they inspire play through their brands at hasbrotoyshop.com
Shop Amazon for Baby Alive Dolls