Dino Crunch by Goliath is definitely one game that should be on your holiday gift list this year. It will have the recipient sitting on the edge of their seat.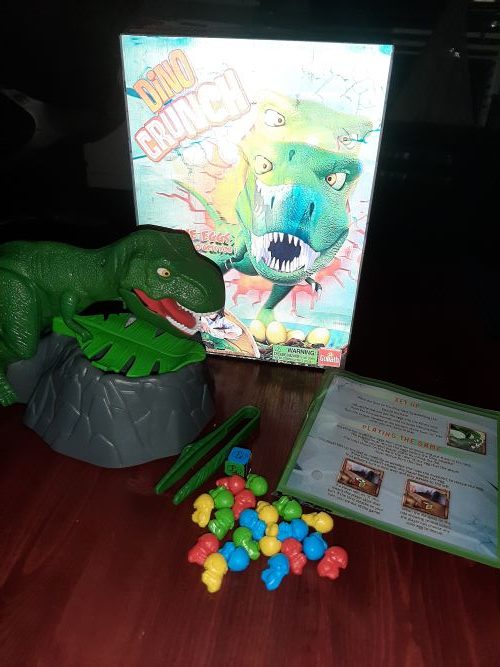 Setting up the Game
Dino Crunch takes 2 AA batteries to operate. Insert the batteries into Dino. Place the Dino on the Dino Nest by attaching the feet to the base. Lift up the leaf and put the eggs into the Dino's nest. Push the Dino backward until he locks into position. Turn the switch to "ON."
Contents include Dino,  Dino Nest Playing Base,  Die with Sticker Sheet, 20 Eggs (5 Blue, 5 Red, 5 Green, 5 Yellow), 1 Pair of Tweezers, and complete instructions.
How to Play Dino Crunch Game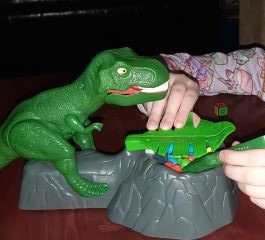 The first player rolls the die to find out which color egg to rescue. The player carefully lifts the leaf over the nest and uses the tweezers to rescue the egg. If the Dino doesn't attack, the player keeps the egg, and plays passes to the left. If the Dino attacks on your turn, you are out of the game! The game continues until all but one player has been attacked by the Dino. The last player remaining is the winner! Alternative gameplay has players count their rescued eggs after the Dino attacks, and the player with the most eggs wins.
Our Thoughts
The anticipation had me on the edge of my seat wondering if the Dino would attack me. It truly brought lots of laughs to our living room considering every time we played Miss P won and it was I who was being attacked. Those laughs made the game even more fun. During these troublesome times of uncertainty, we all need some laughter in our lives, and Dino Crunch by Goliath certainly brings it.
Develops fine motor skills
Dino Crunch is not only a fun game to play, but it also helps develop hand-eye coordination and fine motor skills.
Availability
Dino Crunch is available at Target, Walmart, and Amazon. It's made for 2-4 players, ages 4 and up. Connect with Goliath Games on Facebook, Twitter, Instagram, and YouTube.