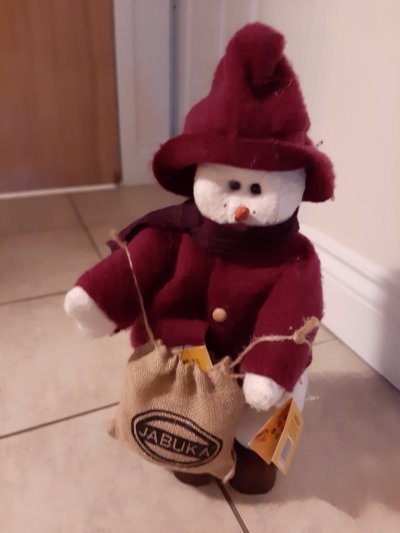 I predict that a lot of people will be staying indoors this Winter season due to the novel coronavirus pandemic. In these times of social distancing, when we are spending more time inside with our immediate household playing games has become a great way to pass some time. In fact, games exploded in popularity during the first wave of Covid. With seemingly no end in sight of the stay-at-home recommendations, I have been spending a great deal of my time playing Hasbro's Yahtzee and a new game on the market called Jabuka word game.
The Jabuka Word Game is for ages eight and up and features 100% recycled wood coffee bean-shaped letters and letter pairs that magically morph into new words with just a simple twist.
The man behind Jabuka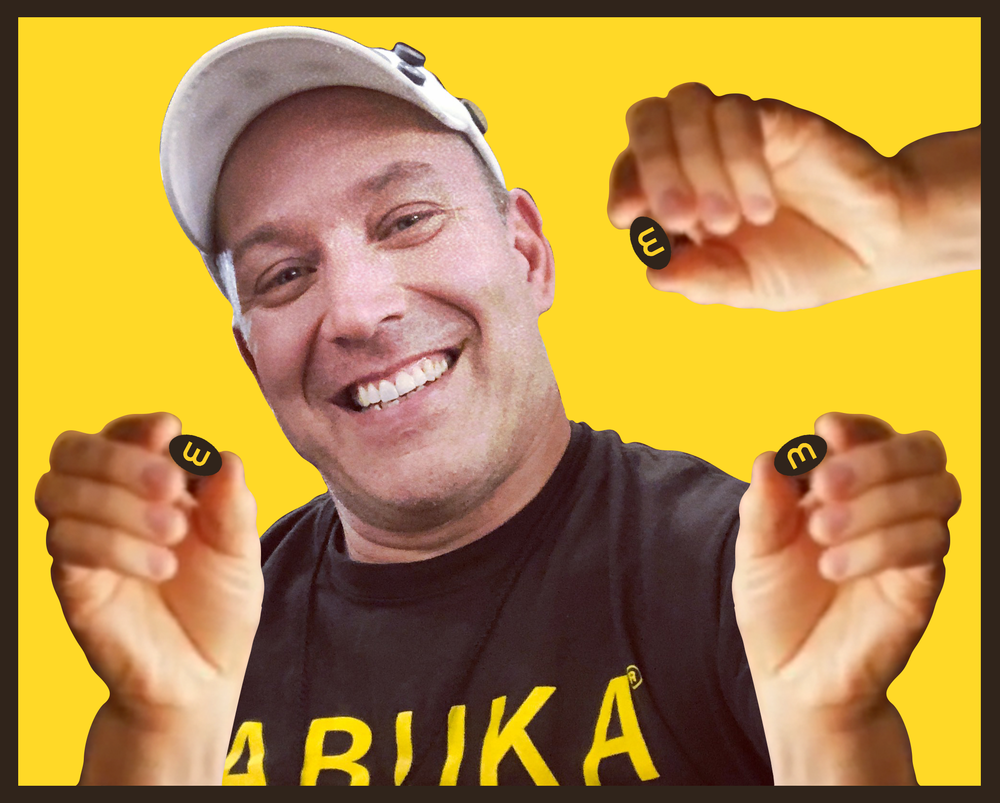 The idea for JABUKA started in a coffee shop when Russocki was fiddling with a coffee bean on the table. He looked around at the digitally detached people typing phonetic abbreviated texts. Pondering the deterioration of language skills, he scribbled his initial "M" on the coffee bean and spun it around. The "M" magically morphed into a "W" and then into an "E". Russocki immediately began to invent a multipurpose new alphabet. Because the coffee bean was a good fit to spin the letters, the theme stuck.
Recently, some of the nation's top toy testers spilled the beans about Jabuka when the game received the Oppenheim Toy Portfolio Gold Seal Award 2020 and the 2020 PAL (Play On Words) Award, which is now added to its: Best Game of the Year Award from Creative Play Magazine, Moms Choice Gold Award, ASTRA Top Toy of the Year Finalist, and the National Parenting Publications of America Winner.
How to Play Jabuka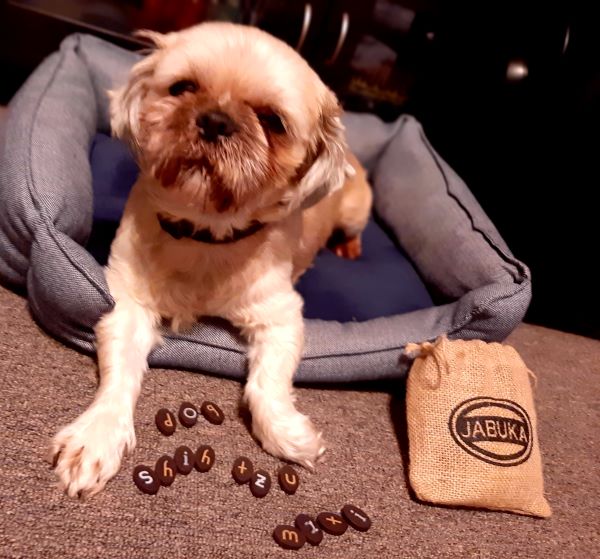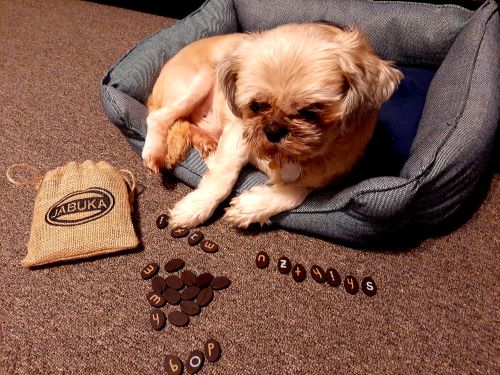 Jabuka's gameplay is so easy. Players spill the beans and start a battle of words with the coffee bean-shaped letters. Game play begins with each player taking two blank tiles that may serve as any letter with the rest of the tiles scattered on the table, some face-up and some face-down.
Jabuka adds another layer of competition by allowing players to take words from one another by twisting, adding, or rearranging letters. For example, added letters are endless when: M can be a W or an E. The word dorm suddenly becomes the word rode. You can also add an s to a word to make it plural.
Players can also use one of their blank beans which counts as any letter. Furthermore, dual-letter tiles even pair up letters to turn "nd" to "pu" or "om" to "wo. Upon finding a word, you call out the word and grab up the tiles to arrange them. The game continues until players are ready for a new round, with each player flipping over two of the previously face-down tiles. When the last tile is flipped you call out Jabuka, and players have one last chance to make a word, and the game ends. The player with the most tiles overall wins. Jabuka can either be played by two players or the players can join two teams.
 Jabuka Rules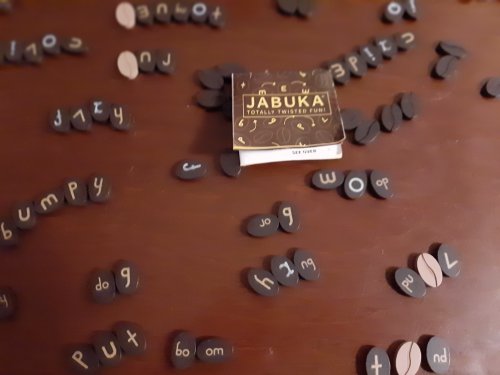 If both players/teams come up with the same word at the same time the player/team to grab the beans first will get the word. If a player can't remember what letter their blank bean represents they must return the word to the center of the table face down. You can add letters to your own word, but you can not rearrange your own letters. Players may form the same word multiple times during the game. You can also challenge a player to a word if you don't believe it is a word. This is when having a dictionary comes in really handy.
You can also change gameplay and pick a theme for words. For example, my oldest daughter has started a game where we find words with a Christmas theme only.
My Thoughts on Jabuka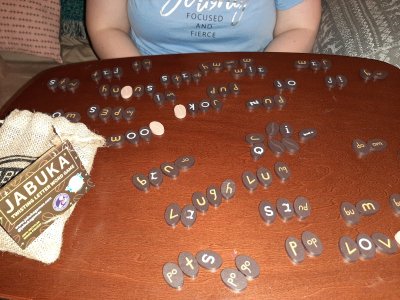 Let me tell you that this little bag of letters has now become my new favorite word-making game. With a great number of children enrolled in remote learning, this is also the perfect game for students to practice their spelling skills in a fun way.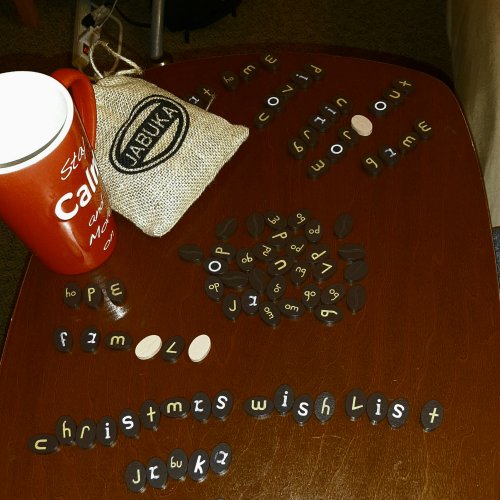 The game really encourages you to think outside the box. It is the perfect occupational game for brain injury survivors like my oldest daughter as it fosters speed, memory, word formation, spatial cognition, and neuroplasticity.
It is also a fantastic educational tool for younger children like my soon-to-be eight-year-old daughter who is just beginning to learn to spell.
Of course, payers with stronger vocabularies will have an advantage in the game, however, that does not mean that those without a strong spelling ability won't enjoy the game. A dictionary really helps.
The speed element of the game also gives players a reason to form shorter words, which my oldest daughter and I tend to do a lot, but that doesn't mean that you can't spell the largest words like Christmas for example.
I have to admit that word games (spelling games in particular) aren't my favorite genre of games, but Jabuka certainly ranks up there with my favorite game to play along with Yahtzee.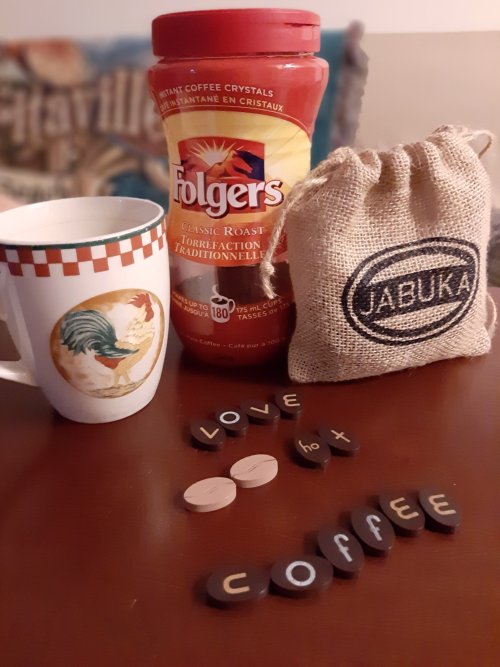 Are you up to the caffeine-fueled challenge that is Jabuka? While you don't necessarily need caffeine to play Jabuka it doesn't hurt to have some of your favorite coffee on hand.
Jabuka makes a wonderful Christmas Gift. Why not pick up a couple for those hard-to-shop-for people on your Christmas list? It can be a stocking stuffer and a great suggestion for fans of games like Scrabble, and Bananagrams, and as an alternative to card games too.
About Jabuka Games
Jabuka Games Inc. was founded in 2017 and sold over 60,000 games to date.  The coffee bean concept has interesting ties with the centuries-old tradition and relationship between coffee and games.  Going back to the first coffee houses in Turkey, it was common to find people congregating to drink coffee, play games, exchange ideas, and do business.  Jabuka is available for purchase online at Uncommon Goods, Indigo and www.Jabukagames.com