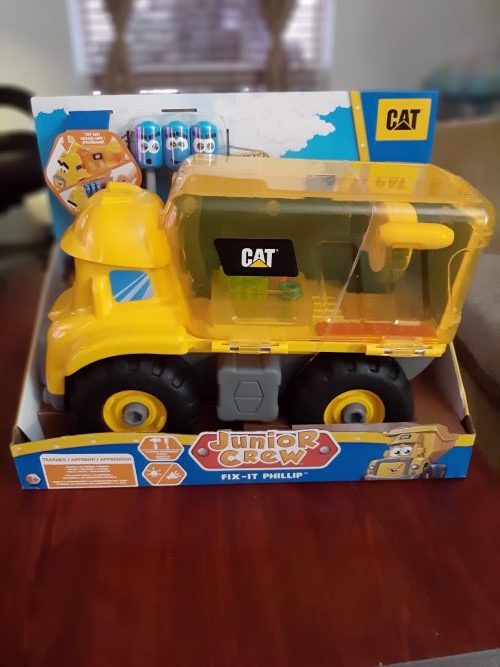 The 2020 holiday season is fast approaching, but it will not be the same this year due to the Coronavirus Pandemic looming over us. Regardless of the situation, it does not mean that you can't make Christmas cheerful for the little ones. Today's Woman's Holiday Gift Guide wants to share some fabulous and affordable gift options. One of this year's top toys and my personal favourite is Fix-It Phillip by Cat Junior Crew.
Specially designed for preschool kids to kindergarten, ages 2 and up, Fix-It Phillip makes learning so much fun and interactive. Measuring 12" tall, Fix-It-Phillip assists young children in developing and fine-tuning their motor skills and hand-eye coordination while playing with age-appropriate toy tools.
Fix-It Phillip comes equipped with three tool pals: a hammer and screwdrivers. The tools can be detached and moved around when playing and re-attached on the magnetic pegboard when they are done. This, of course, keeps everything organized for their next adventure with Fix-It Phillip. Plus, it teaches children about cleaning up and keeping their toys organized by making a game out of it.
Fix-It-Phillip has an organized set of learning objects on his back for kids to learn about different shapes and an array of colours to learn too. It is an ideal learning toy for young children in the two to five year age range.
Plus, while playing with Fix-It-Phillip, kids will figure out that each tool has its own unique shape and purpose. Each tool can only be used for the specific task on hand.
For example, You cannot remove Fix-It-Phillip's large wheel using a hammer. Your child will need to use the proper tool for this job. When your child matches a tool correctly with its shape on the bench, the Fix-It-Phillip vehicle will make sounds and light up to show that your child was successful at the task. Even when your child uses Fix-It-Phillip's miter saw, it makes realistic sounds.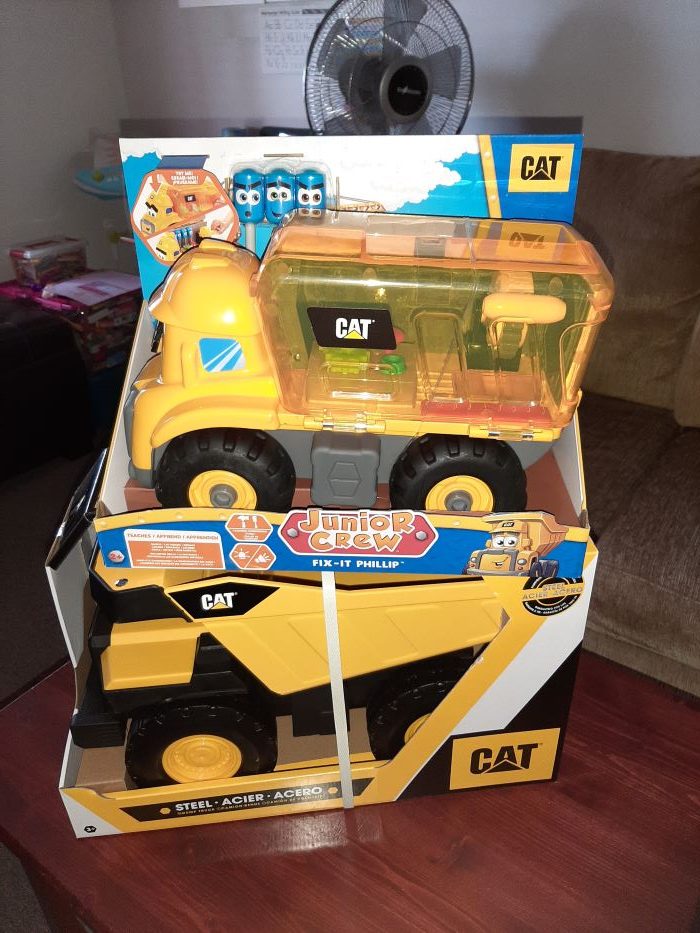 There are various ways to play with Fix-It-Phillip and his pals. By allowing your child to develop and use their imagination to fix and build something interesting, it will give them a sense of accomplishment. This, in turn, builds their confidence and self-esteem.
The back of Fix-It-Phillip contains a storage container, plus a workbench, with several devices and three tool pals for kids to interact with and play. When playtime is over, everything can be placed in the storage section on Fix-It-Phillip's back and you simply close the back door for a safekeeping.
At first glance, parents will instantly see an inviting toy that draws a child's interest. Cat Junior Crew even made Fix-It-Phillip's face animated, with eyebrows that move when the vehicle is moving or being pushed along the construction site. Plus Fix-It-Phillip's construction hat moves, and you can hear realistic sounds of a construction site bringing the adventure to life.
Overall, Cat Junior Crew's Fix-It-Phillip is a kid-friendly construction truck. It is available for purchase via Amazon, Canadian Tire, Walmart, and Toys "R" Us.
Fix-It Phillip is accompanied by the rest of the Cat Junior Crew, including the Junior Crew Construction Buddies assortment, Junior Crew Power Tracks Friends Train Set, and the Junior Crew Lil' Mighty RC assortment.
The entire Cat Junior Crew ranges in price from $7.99 to $24.99 and is perfect for young children and preschoolers ages 2 and up, to engage in safe and imaginative play.
For more information about Cat Junior Crew, visit www.cattoysofficial.com and at their social channels @cattoysofficial on Instagram and Facebook.
Cat Steel Dump Truck
Plus, Cat Junior Crew has a Cat Steel Dump Truck that looks just like the real thing. With large wheels, and a dump bin that can be filled with sand, rocks, or even dirt as it's made of sturdy steel with a protective coat of yellow paint. Your child can push or dump the materials it needs for the job until their hearts are content.
I remember way back — when I was a young boy, I too had a Cat Steel Dump Truck that I use to push all over the yard. These are very durable and can withstand a beating from the weather elements and whatever you load them up with.
So why not carry on with traditions you remember and get your kids a Cat Junior Crew Steel Dump Truck that will bring up fond memories for years to come. The Cat Steel Dump Truck is for kids 3 and up, and it's also available at Amazon, Canadian Tire, Walmart, Toys "R" Us this holiday season.
About Funrise
Funrise is a global innovator and industry leader in the design, manufacturing, marketing, and distribution of toys worldwide. Delivering fun for kids of all ages, Funrise portfolio consists of its own brands including BFF BRIGHT FAIRY FRIENDS™, GAZILLION®, HERODRIVE™, FART NINJAS™, and RBUK, as well as licensed properties from premier partners.
https://funrise.com/