Wooden toys have been around for centuries. These are the simple toys that get passed down from generation to generation. These toys need no batteries. They operate solely on your child's imagination. Not to mention by nature, wooden toys tend to be more solid and stable. This year instead of opting for the latest interactive child's smartphone why not go back to the basics with wooden toys.  Founded in 1995, Le Toy Van creates high quality traditional wooden toys with a contemporary styling.  Over the last 25 years Le Toy Van has become a trusted partner in the world of wooden toys having won numerous awards. Le Toy Van is now available in more than 50 countries worldwide through its network of official retailers. Your kids will love playing and learning in their very own grocery store! Le Toy Van sells a wide selection of grocery store role play wooden educational toys for children.
Le Toy Van Vintage Phone
Growing up I love to play grocery store with my best friend Carol. I have discovered my youngest daughter does too. She was super exited when her DIY paper phone was replaced with a wooden phone.
Just like my daughter, your little one will love taking and making calls on the Vintage Phone by Le Toy Van. Suitable for children age two and up the phone is made from rubber-wood painted in iconic red and finished with a touch of luxury gold. Inside the handset it features a ringing bell.
A rotating dial helps with fine motor skills.  Written digits and realistic spinning wheel encourage number recognition. Be it they are practice numbers or having conversations with Nana this Vintage Phone from Le Toy Van is sure to provide hours of fun.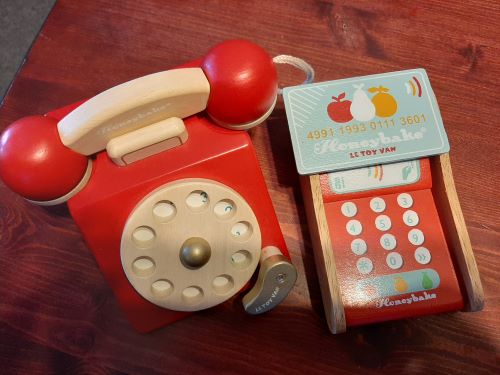 Le Toy Van Wooden Card Machine
Le Toy Van's card machine helps children improve numerical skills whilst providing hours of fun. It is perfect for grocery store role playing. The little wooden machine comes complete with one machine, one receipt and one payment card. I absolutely love this little credit card machine and the credit card is super cute. Extra receipt designs can be cut out from the gift box for extended play value.
As a wooden toy company, Le Toy Van is passionate about responsibly sourced natural materials. Le Toy Van toys are made from high quality replanted woods, such as Rubberwood, plywood, and high-grade MDF. Rubberwood is a by-product of the rubber industry.  They use it once its life as a rubber tree has ended and then recycle to become beautiful wooden toys. Parents can rest assure that Le Toy Van paints all their toys with non-toxic paint.
Le Toy Van believes in a healthy balance between real play time, screen time and physical activities to aid development of senses, refine motor skills, create problem solving skills, improve social interaction and creative imagination. Be sure to check out other fun wooden grocery store items such as the sweets and candy set, grocery set and scanner, apples and pears market, as well as the fresh farm egg set.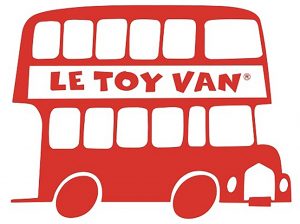 ABOUT LE TOY VAN
Le Toy Van is a small, proudly family-orientated company with a big heart. Georges Le Van founded the company in 1995 when he made his first doll house. Today his son Steven is at the helm as Chief of Fun! The award-winning toys are now available in more than 50 countries worldwide through its network of official retailers. With a motto, Passionate about Play, this toy company truly believes that childhood should be enjoyed to the fullest. That's why this toymaker with the red double decker bus logo has been making imaginative wooden toys – designed in London with love and a touch of French je ne sais quoi – for almost 25 years. To see their wide selection of wooden playthings, visit letoyvan.com.