It has always been said that Dog is Mans' Best Friend, well I think that bond depends on what sex is holding the bag of Northern Biscuit Holiday mix! With Northern Biscuit Bakery Holiday Mix two holiday classics, turkey cranberry and pumpkin pie biscuits come together to form the perfect treat.
Turkey Cranberry Biscuits:

Tasty as a Thanksgiving Dinner! Baked with fresh, food-grade, grain-fed Turkey, raised locally on Ontario farms. The company adds in whole cranberries, which are also a great antioxidant as well as being helpful in maintaining a healthy urinary tract. The biscuits are then slowly baked with whole barley and rolled oats grown and milled locally.
Ingredients: Barley, Turkey, Oats, Brewer's Dried Yeast, Cranberries, Rosemary, Apple Cider Vinegar.​
Calories (per 5 g biscuit): approx. 18 Guaranteed Analysis:Crude Protein 13% min. Crude Fat 6% min. Crude Fiber 4% max. Moisture 10% max.
Pumpkin Pie Biscuits:
Excellent for sensitive stomachs and overall digestive health. They bake pure, local Ontario pumpkin right into these hard, crunchy treats. Northern Biscuit bakers also add in hand harvested Atlantic kelp — a super-food immune booster! They are then slowly baked with whole barley and rolled oats grown and milled locally. Vegan formula: ZERO Animal Products.
Ingredients: Barley, Pumpkin, Oats, Kelp, Brewer's Dried Yeast, Rosemary, Cinnamon, Apple Cider Vinegar.
The Northern Biscuits Bakery is one of my favorite companies producing healthy dog treats. Their reputation is outstanding and truly speaks for itself. To say this company to me really stands out in the massive doggie biscuit "world" is an understatement. The biscuits are formulated to be hard and crunchy to aid in maintaining healthy, white teeth. Northern Pet Products has three basic food package sizes for its Northern Biscuits brand: 190-grams, 500-grams, and 1.5-kilogram versions, with specific brand types. In addition to the holiday flavor Northern Biscuit the company also makes Cheesy chicken, Canadian Bacon, Poutine, Craft Beer, Peanut Crunch, Smoked Fish and Maxi's new "addiction", Pumpkin Pie. There are 15 flavors in total including two biscuits that are formulated for specific needs. We are starting to think our dog is eating better than us.
For smaller dogs with little mouths and big hearts. A mini version of Northern biscuits baked with only the freshest, human-grade meats and ingredients sourced from Canadian growers packaged in 100% composable bags. These mini 1 gram biscuits also make for a great training treat for medium to large, sized dogs at only 3 calories each!
About Northern Biscuit Bakery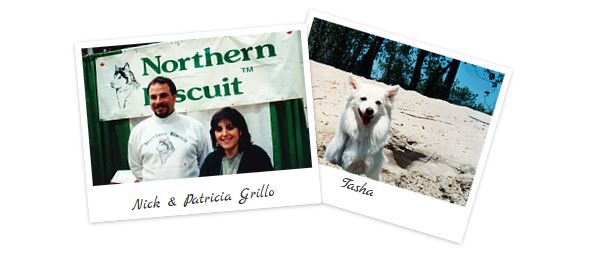 This truly Canadian brand is dedicated to sourcing fresh, local ingredients from Canadian food growers to make your dog's favourite treat format as healthy and delicious as possible.
Since the beginning, Northern Biscuit has made their treats to order, maintaining freshness, consistency and quality in their products. The company started back in 1991 when Nick and Patricia set up a table to sell the very first Northern Dog Biscuits.
Patricia was making homemade baby food at the time and made all the family meals from scratch. It made perfect sense to create something for their dog Tasha as well. Many months were spent on animal nutrition in order to come up with the perfect biscuit for Tasha.
Tasha began sitting in front of the "cookie cupboard" waiting for Patricia to give her a treat. A winning recipe was found at last. Even the neighbors dog Max was eager to sample the treats. Max approved so Patricia realized she had stumbled upon something highly addictive dog biscuits. She began giving out biscuits to friends, family and her husband's colleagues. These cookies were becoming very popular and now I was baking to order. The most economical packages in which I could transport the biscuits were brown paper lunch bags. Growth came quickly and she had to figure out ways to bake faster without compromising the quality. Nick began working by Patricia's side at night not only to help with the baking but also in converting the recipe to a larger scale in order to source ingredients in larger quantities. Together, they transformed their apartment into a small bakery. With a hand-held mixer, a small meat grinder, extra oven racks in their small electric oven her young son's bedroom converted into a walk-in cooler (leaving the window open for cold air to come in), midnight jaunts from the underground parking lot secretly carrying bags of flour, liver and other supplies into one small two bedroom apartment hoping to be unnoticed, they began a small dog biscuit bakery operation.
Possessing that wonderful home-cooking mentality, she began packing the dog biscuits in economical but classical brown paper lunch bags. Endless hours of baking, toddlers at their feet, eating meals standing was the begging. Baking became an essential part of their lives. Thankfully with the help of some family members in providing extra hands, they were able to keep up with the growing demand. In Woodbridge, Ont. in 1993, they set up a small bakery getting them out of their Toronto condominium. In 1995, the company moved to its current location in Concord, taking over a single unit. In 2000, Northern Pet Products took over an additional two units in the same building, expanded again in 2008 to 8,000 square feet. Lastly at the end of 2017, they took over every unit within the building, now occupying a robust 14,000 square feet. From that small apartment to an international healthy dog biscuit business with some 64 SKUs at its 14,000-square-foot facility Northern Biscuits is a well know Canadian name.
Final Thoughts
We feel great giving these to Maxi because they are a healthy alternative to most dog treats on the market.
And as you can see Maxi approves. He liked them enough to sit in a box and quietly ask for more. They are a new favorite! As you can see by our happy shihtzu It's no wonder that Northern Biscuits is one of the top-selling premium brands of healthy dog treats in North America.
Website: https://www.northernbiscuit.ca/
Let's get social:
Facebook: https://www.facebook.com/northerndogtreats/
Instagram: https://www.instagram.com/northerndogtreats/
ibusiness: https://www.ibusiness-directory.ca/listing/ontario/concord-1/dog-treats/northern-biscuit