I love the new concept of learning called STEM. IF you have never heard of STEM allow me to tell you about it. STEM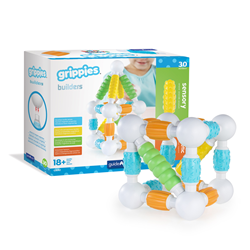 educates students in four specific disciplines — science, technology, engineering and mathematics. Toy company Guidecraft has incorporated the reinforcement of science, math and engineering into one of  STEM toys. Grippies, introduces children to the basic concepts of magnetism, engineering and geometry at a very early age. As early as 18 months to be exact. The textured, colorful magnetic rods and balls combine tactile exploration, magnetic play. Therefore providing a fun, rewarding experience as toddlers discover the joy of making a 3 dimensional object all by themselves.
Grippies – First Magnetic STEM Toy for Toddlers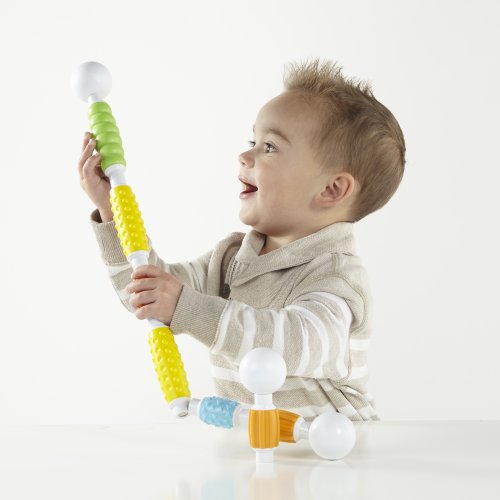 It is quite clear that the best practice in early childhood education is to break away from passive instruction and allow for more investigation through play. Grippes are a genius way to turn the concepts of STEM into a fun toy. Grippie Builders are the first STEM toy for toddlers.
Parents will be please to know that Grippies, are uniquely designed for toddlers' small hands making them easy to grasp. They are super soft, and toddlers will love the different textures and colors. The toy can serve as developmental sensory toy as well, because of the different ridge patterns on the Grippies. The pieces are quite large. Therefore, young children can easy get a good grip on the pieces without any help from mommy or daddy. The brightly color magnet rods connect to themselves or one of the magnetic balls.
Grippies- Teaching STEM to Early Learners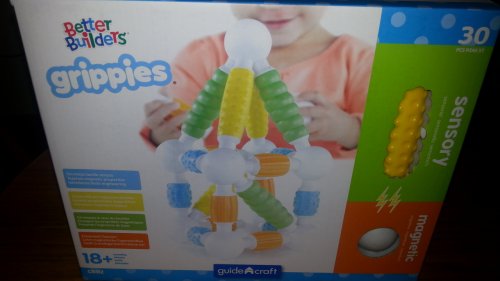 Children need to be presented opportunities to learn and Grippies provide just that. I love how the magnetic play teaches children how to build and construct, but yet they are having fun at the same time. And while playing they are learning engineering concepts. Young preschoolers are sure to enjoy Grippies too.
Grippies™ are available as 20 and 30 piece sets and available at Guidecraft.com and participating retailers.