This upcoming Christmas season why not give the gift of reading. Available on Amazon, uKloo Early Reader Treasure Hunt Game is proven effective for early readers, reluctant readers, ADHD, ADD, and children on the Autism Spectrum. This multi-award-winning children's literacy game gets kids physically active as they read clues and search to find a hidden surprise.
The game has already won numerous awards such as:
Dr. Toy 10 Best Games; Dr. Toy Best Vacation Children's Products
National Parenting Publication Awards – Silver Winner
American Association of Educators 10 Best Classroom Games and Toys
Mom's Choice Award, Family Choice Award, PAL Award, PAL Top Ten
The uKloo Early Reader is for children ages 4+ and up. Included in the box is a "Picture Helper" reference poster, 54 clue cards, with three color-coded levels of achievement, a Picture Helper reference poster, 12 blank "surprise" cards, and 12 blank "write your own clue" cards.
How to play uKloo Early Reader Treasure Hunt Game
Choose a few of the cards.  If your starter card is "Look in the toy box", you will place the next card "Look under the couch" in the toy box. Then, place the "Look in your sink" card under the couch, etc. When the clue cards are positioned, place a surprise card in the last spot of play. At the end of the hunt, your child finds the colourful "Surprise!" card. You  can use the card as a reward of its own, or you can write out a special prize. The surprise can be anything that might motivate your child. Some examples are stickers, a small toy,  a craft kit, a chocolate kiss, a sucker or a bigger price like an end of the week outing.
Our Thoughts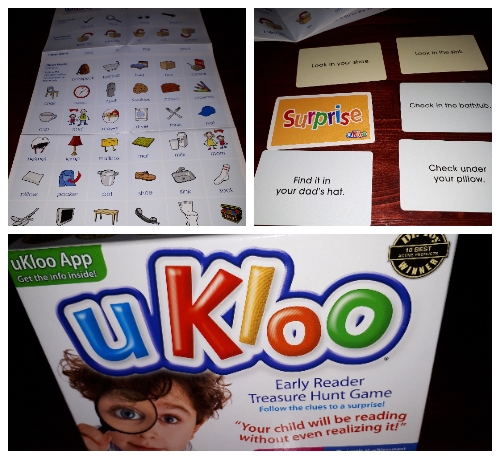 While Miss P loves having her father or I read her a book she has found learning to read challenging. Since we have started the uKloo Early Reader game she has become more eager to learn to read.  We find the poster which comes with the game really useful as Miss P is not-so-confident on her reading abilities yet. We also find that some of the words on the poster are actually site words that she has been working on in class.
The first week we played the game Miss P was really dependent on the poster. After a week of playing though she began to recognize some of the words on the cards without the need to use the reference sheet. One of the bonuses is that you can make the game as long or short as you like. You can also start with just the same verbs/nouns/adjectives until your child has mastered those. We spent about two weeks doing level one before we moved onto level two. We slowly added in level two to increase her progress and confidence.
If you have a pre-reader in your household give them the uKloo Early Reader Treasure Hunt Game. Not only does it a make fantastic gift, but kids will love playing it and you get to sneak in learning at the same time!
Be sure to also check out the uKloo Riddle Edition and the FREE uKloo Reading Adventure App!
Looking for more family friendly/cooperative games to give or receive this holiday season then why not visit www.ContinuumGames.com.
Shop Amazon