Do you have a child on your list that is crazy about horses? Is a pony on the top of their Christmas wish list? While Santa may be unable to fulfill their wish for a pony he can deliver them a Piccoli plush horse.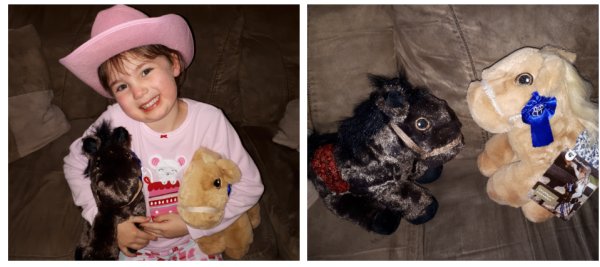 There are a variety of colors and types of Piccoli plush horses to choose from. These award winning plush horses are super soft and cuddly featuring bean-filled
feet which makes it possible for these plush horses to stand up during play time. Each horse wears a harness with blue ribbon, a patterned fabric saddle, and features an embroidered "Kentucky United States" logo on its side.
Under the saddle is a special code. Enter the code into the Piccoli App or website, and the horse's show name will appear. Your child can then continue to give their Piccoli plush horse a nickname. This is a nice feature.
There is also an interactive app that can be downloaded called Piccoli Zoo which teaches children how to improve motor skills and language development.
The quality of craftsmanship of Piccoli plush horses make them heirloom quality that your child will cherish for years to come.
My youngest daughter is a huge fan of Horses. We take her a couple times of the year to ride the ponies at Diomond J Ranch. She loves her two Piccoli plush horses. They are great snuggle companions and  fun horses for use in imaginative play.
What do you think about Piccoli plush horses?
Whether you're buying for a young child, older sibling, or a senior who simply wants a snuggly new plush friend, a Piccoli horse makes the perfect Christmas gift no matter their age!
Purchase a Piccoli horse on Amazon, or PiccoliHorses.com.
Have your little ones any horse toys they simply adore? Let us know in the comments below.