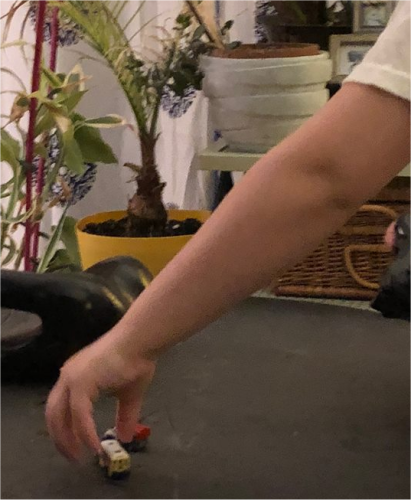 Tonka Tinys is the newest, Tonka toy. The Tonka Tinys range is a collection of palm-sized Tonka vehicles that are perfect size for kids to take on the go and for small scale adventures. These micro mini vehicles are built Tonka tough and feature the same great styling as the classic Tonka vehicles that we all know and love.
The Tonka Tiny's remind me of the Micro Machines, which were a line of toys originally made by Galoob (now part of Hasbro) that were popular with kids in mid-80s and throughout the 1990s.
Each Tonka Tiny vehicle comes packed in a "garage" that is both connectable and stackable, allowing kids to make their own layouts. Children won't know which vehicle they are going to get until they open the garage, making them a favorite among children who like surprise toys.
Series 7 includes 13 vehicles, while series 8 includes 17 trucks, including construction and rescue vehicles, haulers, urban vehicles and more.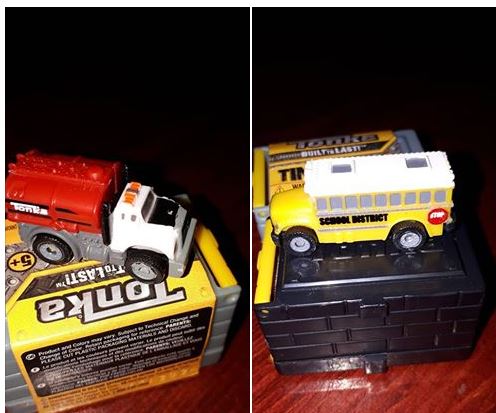 With their small size, big play value, and low price, kids will want to collect them all. Make it easier for kids to store their Tonka Tinys with the Tonka Tinys Car Carrier.
Tonka Tinys Car Carrier
The Carrier holds twelve Tinys vehicles in their interlocking garages on its bed. Plus, the launcher in front allows you to send your Tinys vehicles racing forward! Load the vehicle and press the launcher button to get your Tinys rolling! Carrier includes one exclusive Tinys vehicle and garage.
Funrise Toys has now made available Tonka Tinys Playsets! As a parent I love that these playsets can be connected to together to expand ones very own Tonka Tinys world. And Tonka Tiny vehicles are compatible with all play sets which means kids can grow their collection.
Tonka Tinys Tune-Up Garage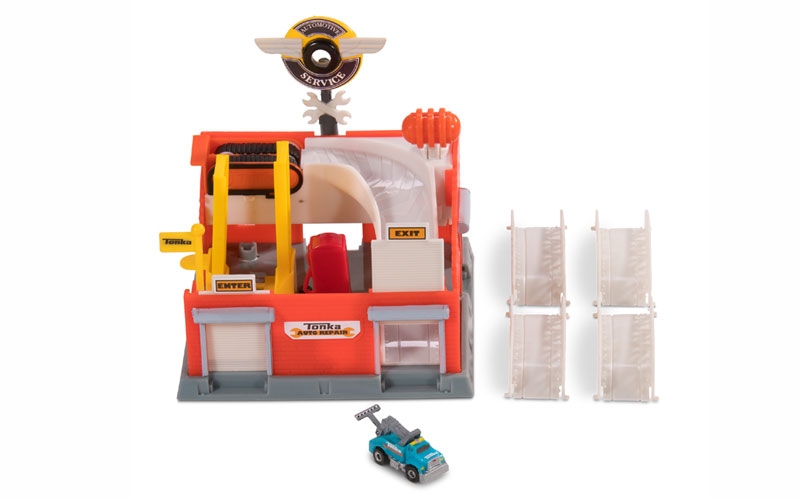 Keep your Tonka Tinys in tip-top shape at the Tune-Up Garage! Featuring a working vehicle lift, conveyor belt, three bridges and a rotating garage sign, this play set will provide your little ones with hours of play! The tune-up garage Playset includes an exclusive Tonka Tinys vehicle and is compatible with every vehicle in the line.
All in all the Tonka Tinys toy vehicles and playsets offer a great opportunity for open-ended play.Just imagine all the imaginative things your kids will come up with?
Look for the Tonka Tiny Playsets at Walmart and Toys R Us locations across Canada.
Funrise will continue to innovate the vehicle category by introducing several new product segments starting Fall 2018, just in time for the 2018 Christmas season.
About Funrise:
Funrise, Inc. is a global innovator and industry leader in the design, manufacturing, marketing and distribution of toys and games worldwide. Delivering fun for kids of all ages, Funrise creates toys and games for high-profile brands including TONKA, GAZILLION®, LUNA PETUNIA™, SPACE RACERS™ and SUNNY BUNNIES™, is the global master toy partner for Paramount Pictures' highly anticipated animated feature, AMUSEMENT PARK™, and is a co-production partner and toy creator for the upcoming TV series RAINBOW BUTTERFLY UNICORN KITTY™. Funrise is headquartered in Van Nuys, CA, with additional U.S. offices and showrooms in Minneapolis, MN and Bentonville, AR, and international offices in Canada, Mexico, United Kingdom, France, Spain, Australia and Hong Kong. Funrise is a wholly-owned subsidiary of Matrix Holdings Limited. For more information, visit www.funrise.com.