Move over Transformers! There is a new morphing toy in town from Alpha Toy. Based off the animated YouTube show,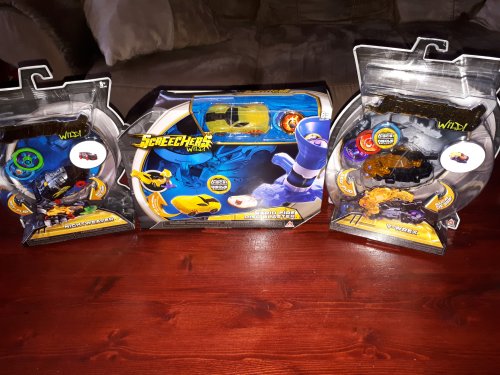 Screechers Wild are vehicles that transform into menacing creatures with 360-degree flip morphing action.
Recommended for children age 6 and up the transformation feature of these cars are pretty impressive, and your child(ren) will enjoy watching the cars flip and turn into a beast. Kids will love recreating their favorite scenes from the show.
Right now there's 19 toy vehicles to collect, split into categories: Level 1, Level 2 and Level 3. Each Level 1 and 2 vehicle includes 2 collectible discs to activate its epic flip-morphing action, while level 3 includes 3 discs. Discs are usable with any Screechers Wild vehicle, so kids can mix and match sets.
The vehicles transform into beast when you launch them at the discs or when you fire the discs at them. Shifting the creature back into a vehicle is easy too. Once transformed back into vehicle there is a lever on the bottom of the vehicle. Flip it to keep  them in vehicle mode.
Aside from the vehicles, there's also a Rapid Fire Disc Launcher and a Speedlauncher. The Rapid Fire Disc Blaster includes Sparkbug. Instead of launching a car, you shoot the discs at the cars. Once the disc makes contact, your car will flip over and transform into a Sparkbug creature. The blaster comes with two launch discs.
Screechers Wild Nightweaver is from the level 1 release and transforms from a sports car to a spider. The car includes 2 launch discs.
Screechers Wild toys are definitely entertaining. You can check out all the Sreechers Wild characters via alphatoys.com.

About Alpha Toys
Built on a foundation of Toys and Animation, Alpha Group US is redefining the traditional to deliver the great play and entertainment experiences for kids of all ages. They are a wholly owned subsidiary of Alpha (Guangdong Alpha Animation and Culture Co., Ltd), one of the largest and most successful animation, toy and entertainment groups in Asia. Their portfolio of brands, include Super Wings™, Screechers Wild!™, Miximals™, Sky Rover™, Drone Force™ and Regal Academy™. There is something for everyone, and much more on the horizon! Visit http://www.alphatoys.com/.